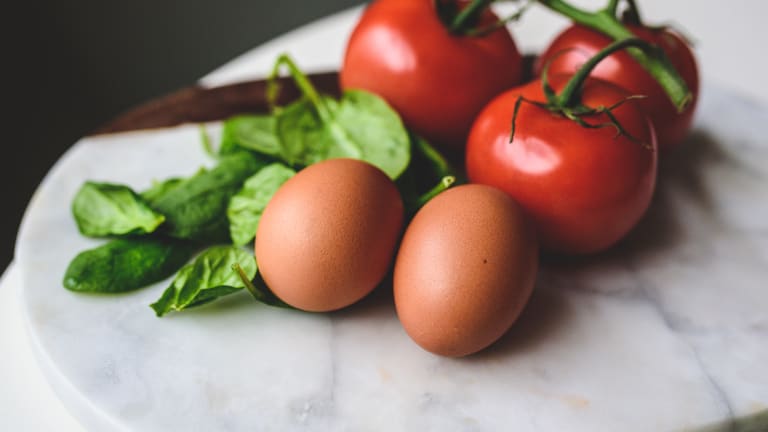 Frittata with Tomatoes & Basil
Frittatas are the best—economical, easy, and oh-so-flexible. You can eat it hot, warm, or at room temperature. And I love breakfast for dinner!
Duration

Cook Time

Prep Time
Ingredients
10 large eggs

1/2 cup grape tomatoes, quartered

2 garlic clove, crushed

1 1/4 tsp. salt

3/4 tsp. freshly ground black pepper

2 TBSP ghee or olive oil (to grease pan)

2 TBSP. chopped fresh basil
Preparation
1. Position a rack in the middle of the oven and preheat to 350 degrees.
2. Whisk the eggs, then add the tomatoes and other vegetables, garlic, salt, pepper..

3. Warm a medium nonstick oven-safe saute pan (or cast iron skillet) over medium heat on the stove top. Melt the ghee (or heat olive oil) to grease the pan, and then add the egg mixture and the basil.
4. Using a heatproof rubber spatula, pull the edges of the eggs towards the middle a few times, tipping the pan to distribute the egg. Cook for about 4 minutes.
5. Finish the frittata in the oven for about 6 minutes or until the eggs are just set (no longer runny).
6. Remove from the oven and let the frittata sit for a couple of minutes. Cut the frittata into slices and serve!