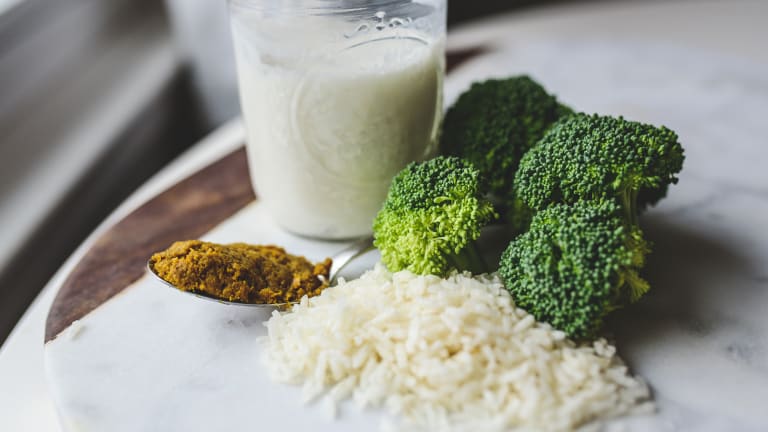 Farmer's Market Veggie Green Curry
I love the farmer's market—so many delicious and beautiful veggies! Get creative with this one if you so choose—you could sub in just about any veggie. Add chicken if you're looking for some protein in this dish, too. 
Paleo: Substitute vegetable oil with olive oil. Substitute jasmine rice with cauliflower rice and soy sauce with coconut aminos.
Duration

Cook Time

Prep Time

6-8

Servings
Ingredients
2 TBSP. vegetable oil

1/4 cup Thai green curry paste

2 TBSP. finely chopped garlic

Two 14-ounce cans unsweetened coconut milk

4 tsp soy sauce or Tamari (GF) or coconut aminos (Paleo)

4 tsp finely chopped ginger (fresh root or in jar like garlic)

1 large head of broccoli, cut into florets (about 3 cups)

2 red bell pepper, cut into chunks

3 cups green beans, sliced into 2-inch pieces

1 cup loosely packed chopped fresh basil

Cooked jasmine rice (cook your own or buy a pre-cooked pouch); approx 2 1/2 cups.
Preparation
1. In a skillet, heat the oil over high heat; stir in the curry paste and garlic and cook for 1 minute.
2. Stir in the coconut milk, soy sauce and ginger.
3. Then add the broccoli, bell peppers, and green beans, or other vegetables you desire.
4. Cover and simmer, stirring occasionally, until vegetables are crisp-tender, about 4 minutes.
5. Stir in the basil.
Serve curry over jasmine rice.