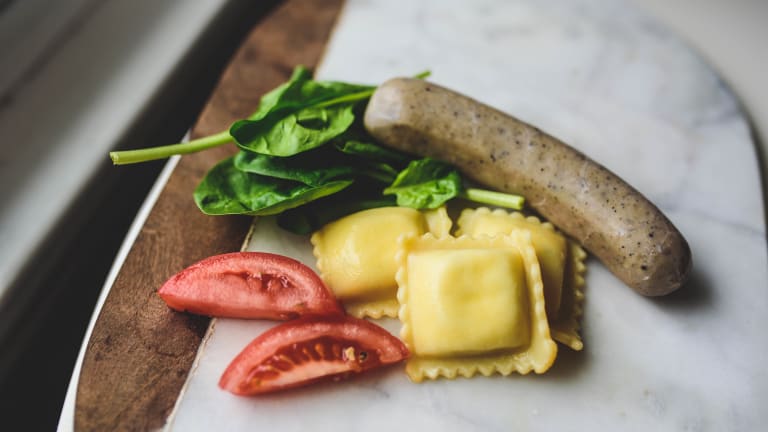 Creamy Ravioli with Chicken Sausage, Tomatoes, and Spinach
This recipe is the epitome of quick and easy! Ravioli cook up very quickly, and the hardest thing you'll do is slice the chicken sausage.
Vegetarian: Omit chicken sausage.
Gluten-free: Use gluten-free ravioli, tortellini, or pasta.
Paleo: Use spaghetti squash or Paleo-friendly pasta of choice. Use dairy-free cream cheese. 
Ingredients
1 package (19 oz) frozen cheese ravioli

2 tsp olive oil

12 oz Italian-style chicken sausages, sliced

14.5 oz can diced tomatoes

6 oz package fresh spinach

4 oz reduced-fat cream cheese, cubed
Preparation
1. Cook the ravioli according to package instructions.
2. In a large skillet, heat the olive oil over medium heat. Add the chicken sausage and cook until browned.
3. Add the tomatoes and spinach and cook until the spinach has wilted.
4. Stir in the cream cheese until melted. Drain the ravioli and add to the skillet. Stir to combine.