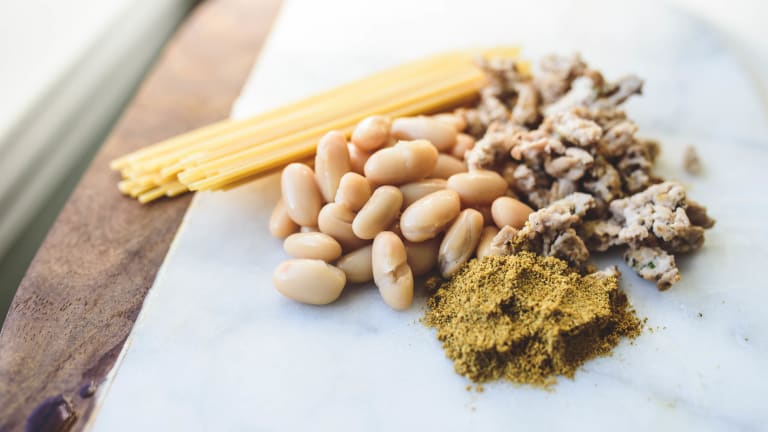 Cincinnati Chili
Do not let the long list of ingredients scare you! If you have to purchase a new spice for this chili, don't worry; you'll be making it again before you know it. There is so much flavor, and though there are many ingredients, it all just gets dumped into one big pot, so it's super easy. You're going to love it!
Vegetarian: Omit beef; add 1 can pinto beans and 1 can black beans.
Gluten-free: Use gluten-free spaghetti or omit.
Paleo: Omit brown sugar and spaghetti. 
Duration

Prep Time

6

Servings
Ingredients
1 Tbsp olive oil

1 lb ground beef or turkey

1 c chopped onion (about 1 onion)

2 garlic cloves, minced

1 c water

2 Tbsp brown sugar

2 Tbsp chili powder

3 Tbsp barbecue sauce

½ tsp kosher salt

4 tsp white vinegar

¾ tsp ground cumin

¾ tsp ground cinnamon

½ tsp ground allspice

½ tsp black pepper

¼ tsp ground coriander

1 Tbsp baking cocoa

28 oz can crushed tomatoes

1 15 oz can kidney beans

8 oz spaghetti

Shredded cheddar cheese (optional)

Sour cream (optional)
Preparation
1. Heat a large Dutch oven or pot over medium-high heat. Drizzle plan with oil.
2. Add meat to pan and cook 5 minutes or until browned. Add the onion and garlic; cook about 7 minutes or until onion is tender, stirring occasionally.
3. Stir in 1 cup water and next 12 ingredients (through crushed tomatoes); bring to a boil.
4. Add kidney beans. Cover, reduce heat, and simmer about 30 minutes, until slightly thickened.
5. Cook pasta according to package instructions.
6. Serve the Cincinnati chili over a small serving of pasta in individual bowls. Top with shredded cheese and/or sour cream if you please!