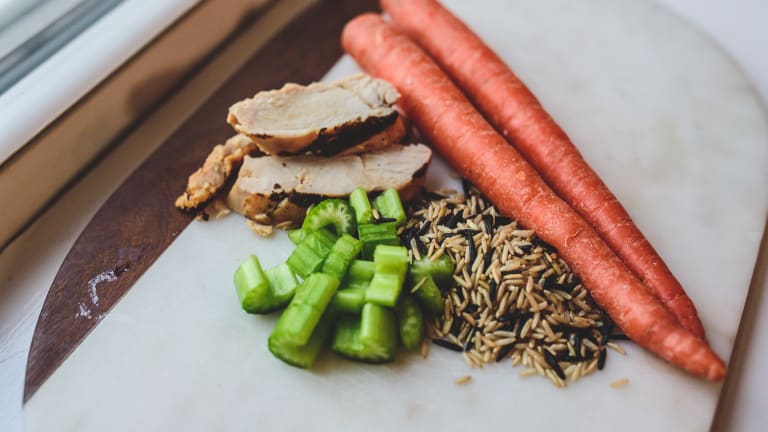 Chicken Wild Rice Soup
This soup is a family favorite! Feel free to cook your own rice, but the pre-cooked package reduces your prep time considerably. If you cannot find wild rice in your region, you can substitute any rice blend.
Paleo: Use riced broccoli instead of rice, tapioca flour instead of all-purpose flour, full-fat coconut milk instead of half and half, and ghee instead of butter.
Vegetarian: Use 1/2 cup frozen corn (thawed) and 1/2 cup frozen peas (thawed) instead of chicken. 
Duration

Cook Time

Prep Time

6-8

Servings
Ingredients
½ onion, finely chopped

1/2 cup diced carrot

1/2 cup diced celery

6 Tbsp butter, cubed

1/3 cup all-purpose flour

32 oz container chicken broth

1 cup cooked, diced chicken

1/4 tsp pepper

Salt to taste

1 tsp dried thyme

8-10 oz pouch of pre-cooked wild rice

1 cup half-and-half
Preparation
In a large Dutch oven or soup kettle, sauté the onions, carrot and celery in butter for about 8 minutes, until almost tender.
Stir in flour until blended. Gradually add broth. Bring to a boil; cook and stir for 2 minutes or until thickened. Reduce heat.
Add the chicken, pepper, salt, thyme, and wild rice. Cover and simmer for 5-10 minutes or until vegetables are tender.
Reduce heat. Add half-and-half and heat through (do not boil).