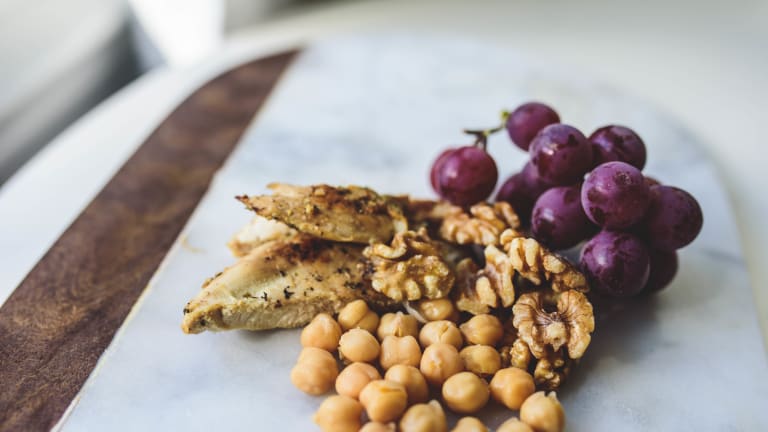 Chicken or Chickpea Salad Croissants
Chicken salad is a perfect batch recipe! It's great on croissants or served over salad greens and can be served for brunch, lunch, or dinner.
Gluten-Free: Use gluten-free bread. 
Paleo: Use Paleo-friendly mayonnaise and mustard. Serve over mixed greens.  
Vegetarian: Use our chickpea salad recipe.
Duration

Cook Time

Prep Time

4-6

Servings
Ingredients
4 c diced, cooked chicken (rotisserie chicken works well, or leftover chicken from a roast chicken)

1 stalk celery, cut into 1/4-inch dice

4 green onions, thinly sliced

1 c red grapes, halved

1 Tbsp finely chopped fresh dill

1 c mayonnaise

2 tsp freshly squeezed lemon juice

1 tsp brown mustard (or Dijon)

2 tsp kosher salt

Freshly ground black pepper

Croissants or mixed greens for serving
Preparation
1. In a mixing bowl, whisk together the mayonnaise, lemon juice, mustard, salt and pepper.
2. Add the chicken, celery, green onions, grapes and dill.
3. Serve on croissants or with mixed greens.