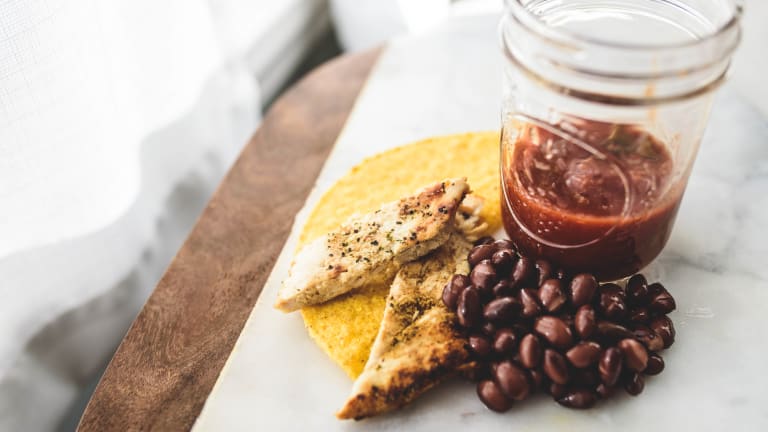 Tostadas with Chicken and Black Beans
Tostadas are always such a treat. These tostadas are an extra special treat! They are so flavorful. If you're feeling adventurous, you can buy regular corn tortillas and fry them in about ½ inch of oil in a skillet. It's worth it, but also definitely adds some time. Pre-made tostadas are a great, convenient option.
Vegetarian: Omit chicken; add diced avocado, red onion, and/or tomatoes.
Paleo: Use this recipe for homemade Paleo tostadas. For the coleslaw dressing, use 2 Tbsp olive oil instead of adobo sauce and brown sugar. Omit sour cream. Top with diced jalapeños, if desired. 
Ingredients
4 corn tostadas (found by the taco shells)

15 oz can black beans, drained and rinsed

1 tsp ground cumin

¼ c low-sodium chicken broth or water (add more salt if using water)

Salt and pepper

1 clove garlic, minced

1 Tbsp adobo sauce (from a can of chipotle peppers in adobo sauce)

Juice of 1 lime, divided

2 tsp brown sugar

3 c coleslaw mix

½ bunch fresh cilantro, chopped

½ cup sour cream

1 ½–2 cups cooked, chopped chicken (Rotisserie is a good option)
Preparation
1. Heat the black beans in a small saucepan. Add cumin, chicken broth (or water), and salt and pepper, to taste. Smash the beans with the back of a spoon and cook until saucy, and fairly thick.
2. Heat up the chicken, if needed.
3. Whisk together 2 Tbsp lime juice, garlic, adobo sauce, and brown sugar. Toss the dressing with the coleslaw mix and cilantro in a medium bowl.
4. In a separate bowl, mix sour cream with a couple squeezes of lime juice.
5. Assemble the tostadas in this order: tostada, beans, chicken, cabbage-cilantro mix, sour cream. Enjoy!