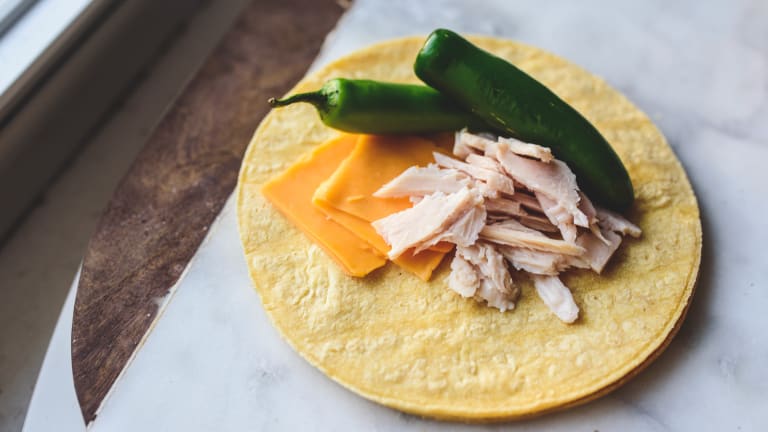 Cheesy Chicken-Green Chile Enchiladas
Duration

Cook Time

Prep Time

8

Servings
Ingredients
1 lb cooked, shredded chicken

1 large onion, chopped

½ c chopped green pepper

1 tsp brown sugar

1 tsp garlic powder

1 tsp ground cumin

1 tsp chili powder

1 can (28 oz) crushed tomatoes, divided

1 package (8 oz) reduced-fat cream cheese

¼ c sour cream

1 can (4 oz) chopped green chiles

1 c salsa

8 flour tortillas (8 inches), warmed

1 c shredded cheddar cheese
Preparation
Heat a little olive oil in a large nonstick skillet; add the onion and green pepper and cook until tender. Add the chicken, followed by brown sugar, garlic powder, cumin, and chili powder. Stir in 1 cup crushed tomatoes. Reduce heat; simmer, uncovered, for about 5 minutes, stirring occasionally.
In a small bowl, beat the cream cheese, sour cream and chiles until blended; set aside. Combine salsa and remaining tomatoes; spread 1 cup into a 13-in x 9-in baking dish coated with cooking spray.
Spoon about 3 tablespoons cream cheese mixture and ⅓ cup chicken mixture down the center of each tortilla. Roll up and place seam side down in baking dish. Top with remaining salsa mixture; sprinkle with cheddar cheese.
Bake, uncovered, at 350° for 20-25 minutes or until bubbly.