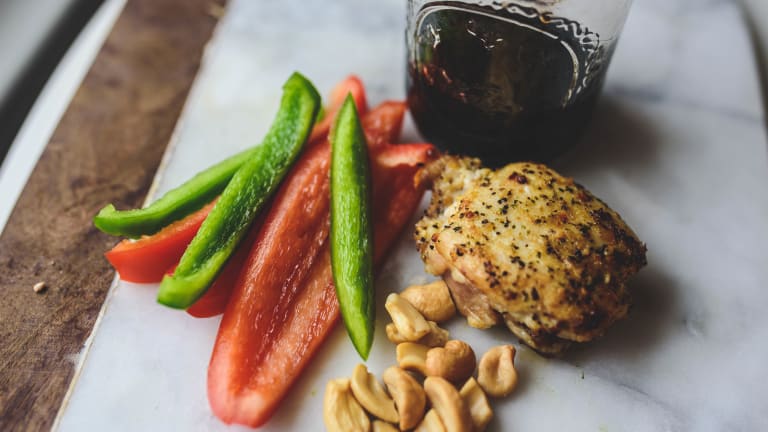 Cashew Chicken Stir Fry
Serving a stir fry over green beans is a great low-carb option. If you'd prefer, you can definitely serve it with rice or cauliflower rice. If you don't have Hoisin, fresh ginger, or sesame oil, they are all worthwhile investments. You can store the fresh ginger in the freezer and just break off a chunk whenever you need it. Also, if you happen to have other vegetables on hand, you could substitute those for the onion and peppers.
Vegetarian: Use tofu or additional vegetables instead of chicken; use vegetable broth instead of chicken broth.
Paleo: Use coconut aminos instead of soy sauce. Use arrowroot or tapioca instead of cornstarch.
Duration

Cook Time

Prep Time

4

Servings
Ingredients
½ c chicken broth

1 Tbsp Hoisin sauce

1 Tbsp soy sauce or tamari

2 tsp cornstarch

1 Tbsp sesame oil (or canola oil)

12 oz boneless, skinless chicken thighs, cut into ½-inch pieces

1 onion, chopped

½ red bell pepper, chopped

½ green pepper, chopped

1 Tbsp peeled fresh ginger, grated (or ½ teaspoon ground ginger)

2 cloves garlic, minced

½ c roasted cashews

2 c frozen green beans, steamed
Preparation
1. Whisk together the broth, Hoisin sauce, soy sauce and cornstarch in a small bowl. Set aside.
2. Heat the sesame oil in a large nonstick skillet or wok pan over medium-high heat. Add chicken and cook about 5-7 minutes, or until browned and cooked through. Remove chicken from pan.
3. Add a little more oil to pan if needed. Add onion, red bell pepper, green pepper, ginger, and garlic. Cook for about 5-7 minutes, stirring occasionally, until onion and peppers and slightly browned and softened.
4. Stir in cashews. Add the sauce mixture and bring to a simmer. Simmer about 1-2 minutes until the sauce has thickened.
5. Serve the stir fry over steamed green beans.