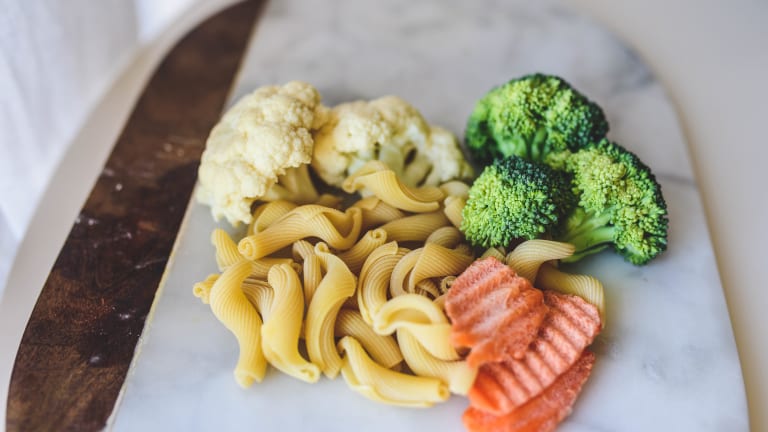 Campanelle Primavera
With pasta dishes, the shape of the pasta can make all the difference! Campanelle is one of my all-time favorite pasta shapes—and in this primavera, it holds the cream sauce in all snug and tight, making every bite delicious. If you're feeling creative, though, choose whichever pasta shape makes you happy or whichever shape you have in your pantry! The frozen veggies make this a quick meal.
Gluten-free: Use gluten-free pasta.
Paleo: Use 2 cups full fat coconut milk.
Duration

Cook Time

Prep Time

6

Servings
Ingredients
¾ lb campanelle pasta

3 Tbsp salted butter

3 cloves garlic, minced

12 oz package frozen California medley veggies (broccoli, cauliflower, & carrot mix)

1 c frozen green beans

½ c frozen peas

2 c heavy cream, at room temperature

½ c grated Parmesan cheese
Preparation
1. Cook the pasta according to package instructions.
2. Heat a large skillet or wok pan over medium heat. Add the butter to the skillet.
3. When the butter is melted, add the garlic, California medley, green beans, and peas. Cook, stirring periodically, for about 8-10 minutes or until the veggies are tender.
4. Add the heavy cream to the pan and let it come to a light simmer (you don't want it to boil rapidly). Simmer for about 3 minutes.
5. Add grated Parmesan and stir constantly for about 2 minutes. Let the sauce lightly simmer another 2 minutes or so.
6. Add the pasta to the pan with the sauce and vegetables and stir to combine.
7. Add salt to taste and top with more Parmesan cheese, if desired.