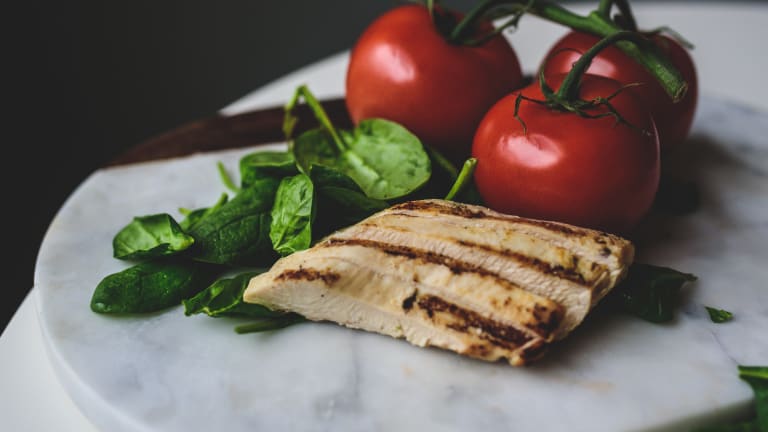 Burst Tomato, Spinach, & Chicken Spaghetti
This dish reminds me of summer! In the summer, it's fun to grab tomatoes and basil from our tiny garden and throw this together, but it's also nice to have a taste of summer in the off-season.
Gluten-Free: Substitute noodles for gluten-free noodles.
Vegetarian: Omit chicken, substitute with another vegetable, if you desire.
Paleo: Substitute noodles for zucchini or spaghetti squash noodles. Omit cheese.
Ingredients
1 lb. spaghetti

1 pint grape tomatoes

2 tsp. salt, divided

Sprinkle of pepper

2 cups rotisserie chicken, roughly chopped

1/2 cup fresh basil, sliced

4 cups spinach, chopped

¾-1 cup pasta water

4 TBSP shredded or grated Parmesan cheese

5 TBSP olive oil, divided

4 cloves garlic, smashed
Preparation
1. Bring a large pot of water to boil. Cook spaghetti to al dente, according to package instructions. When draining the pasta, reserve 1 cup pasta water.
2. Heat a cast iron skillet over medium heat and drizzle with 2 TBSP of olive oil.
3. When the oil is hot, add the grape tomatoes. Cook for 5 minutes, then add the garlic cloves, 1/2 tsp. salt, and pepper. Cook another 5 minutes, or until tomatoes are starting to burst.
4. Add the chopped rotisserie chicken, basil, and chopped spinach and cook another 3 minutes.
5. Add cooked pasta to the cast iron skillet with the chicken and vegetable mixture and mix with a pair of tongs.
6. Add ¼ cup pasta water to the pan, along with 2-3 TBSP of olive oil. Add more pasta water if you need to loosen up the sauce a little.
7. Serve, topping each serving with a sprinkle of Parmesan cheese.