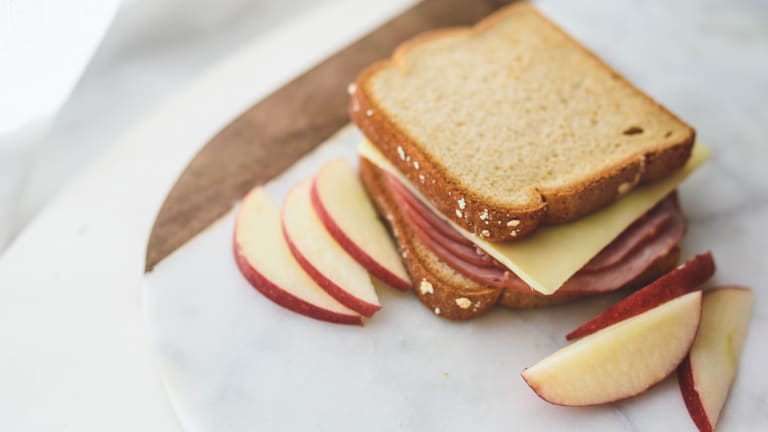 Broiled Open-Face Ham and Cheese Sandwiches
This meal takes some typical lunch ingredients and turns them into a delicious dinner. If you don't have a baguette, thick slices of bread will do.
Vegetarian: Omit ham; add thinly sliced pears along with the apples; double the amount of cheese.
Gluten-Free: Use gluten-free bread.
Paleo: Use Paleo-friendly bread and cheese. 
Ingredients
1 small/mini French baguette

1 Tbsp Dijon mustard

8 oz sliced, smoked deli ham

1 Braeburn or Pink Lady apple, thinly sliced

4 thick slices Havarti cheese

3 c spring mix lettuce

1–2 Tbsp olive oil

1–2 Tbsp red wine vinegar

Salt and pepper
Preparation
1. Preheat the broiler on low.
2. Slice open the baguette, then cut it in half to make four even-sized pieces.
3. Lay each piece on a cookie sheet and spread each with Dijon mustard. Layer ham and thinly sliced apples on each piece of bread. Top with Havarti cheese. Place the cookie sheet with the open-faced sandwiches in the oven and broil for about 5 minutes or until cheese is melted and lightly browned.
4. While the sandwiches are in the oven, toss the spring mix with olive oil, vinegar, and salt and pepper to taste.
5. After you remove the sandwiches from the oven, top each sandwich with a mound of the dressed spring mix.