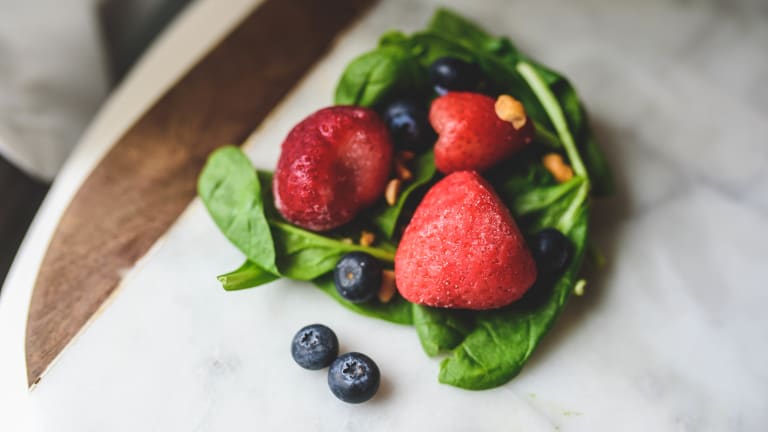 Berry Spinach Salad with Homemade Balsamic Vinaigrette
This vinaigrette is my go-to. I love it! And with spinach and berries and nuts and cheese—oh my, oh my. It's so good. When you realize how amazing this vinaigrette is and find yourself wanting to make it again, consider using red or white wine vinegar—also delicious.
Vegetarian: Omit chicken; add avocado or a hard-boiled egg, if desired.
Paleo: Omit canola oil and use 2 extra tablespoons of olive oil; omit feta cheese.
Ingredients
Salad:
1 bag fresh spinach

1 c sliced strawberries

½ c blueberries

½ c walnuts or pecans, toasted

½ c crumbled feta

1 ½ c cooked chicken, sliced
Homemade Balsamic Vinaigrette:
½ Tbsp mayonnaise

½ Tbsp molasses

½ Tbsp brown mustard

¼ tsp salt

2 Tbsp balsamic vinegar

¼ c extra-virgin olive oil

2 Tbsp canola oil
Preparation
For the dressing:
1. Combine mayonnaise, molasses, mustard, and salt in a 2-cup jar with tight-fitting lid (like a Mason jar). Stir with fork until mixed well and no lumps.
2. Add the balsamic vinegar, seal jar, and shake until smooth, about 10 seconds.
3. Add half of the olive oil, seal jar, and shake until thoroughly combined, about 10 seconds.
4. Repeat, adding remaining olive oil and canola oil in 2 additions, shaking until thoroughly combined after each addition. Refrigerate for up to 1 week.
5. To assemble salad, layer spinach, strawberries, blueberries, nuts, feta and chicken in a large salad bowl or on individual plates. Drizzle with dressing.