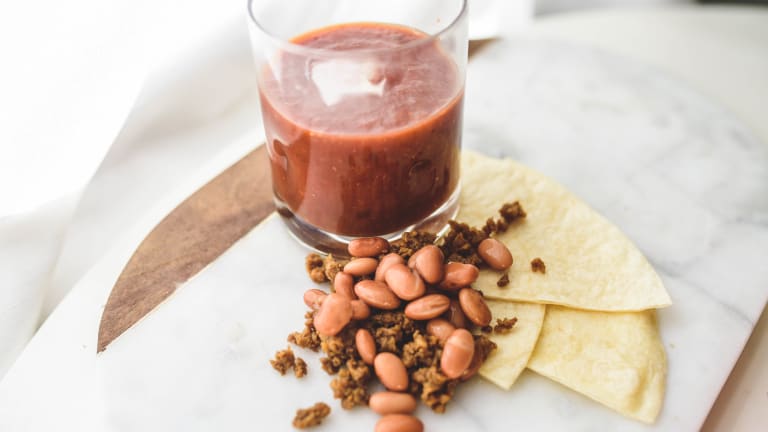 Beef and Pinto Bean Tacos
We eat tacos about once a week at our house, but I get bored if they're always the same! This recipe is a riff on classic tacos, really just with the addition of beans. The beans come through with almost a refried bean flavor. The other big bonus is that the beans are an easy and cheap way to make the taco filling stretch a little farther, meaning you'll have more leftovers for later in the week!
Vegetarian: Omit ground beef; add 1 green pepper (diced) and ½ onion (diced) to the skillet with a little oil and cook until onion is translucent and peppers are lightly softened and browned; add one more 15 oz can of pinto beans; gradually add in the liquids (tomato sauce and water) so it does not become too soupy
Gluten-free: Use corn tortillas.
Paleo: Omit beans; add green pepper, following vegetarian instructions for adding. Use Paleo-friendly tortillas. Omit sour cream and cheese. 
Ingredients
Tacos:
1 lb lean ground beef

15 oz can pinto beans, drained and rinsed

8 oz can tomato sauce

1 packet taco seasoning

1 c water

8 flour tortillas
Toppings:
Shredded lettuce

Chopped tomatoes

Diced avocado

Shredded cheese

Sour cream

Salsa
Preparation
1. Add a little drizzle of oil to a large skillet over medium heat. Add the ground beef and cook until no longer pink.
2. Add the beans, tomato sauce, taco seasoning, and ½ cup of water. Add the remaining water to loosen the sauce, if needed.
3. To serve, spoon the beef and bean mixture into a tortilla and top with desired toppings.
4. Use leftovers for more tacos or try a taco salad or nachos!