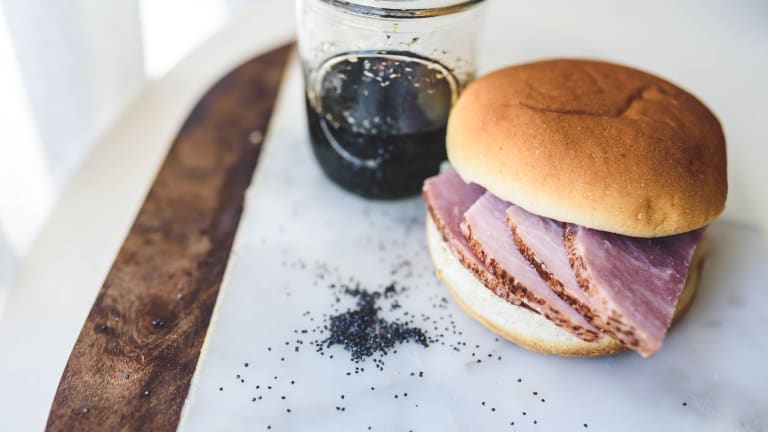 Baked Ham and Swiss Sliders
We often think of a quick and easy recipe as one that you can whip up quickly at night. This is one that will take zero prep the night you want it, but you do have to put it together the night before. These are really delicious—adults and kids alike will love them!
Gluten-free: Use gluten-free rolls.
Paleo: Make or purchase Paleo-friendly rolls. Omit cheese; substitute with sautéed mushrooms, if desired. Use ghee instead of butter. 
Duration

Cook Time

Prep Time

6

Servings
Ingredients
1 package King's Hawaiian sweet dinner rolls

1 lb deli sandwich ham

6 slices Swiss cheese

⅓ c butter, melted

½ Tbsp poppy seeds

¾ tsp Worcestershire sauce

¾ tsp brown mustard

½ tsp onion powder
Preparation
1. Remove entire package of rolls from package (keep them all connected). Carefully slice tops from rolls and place bottoms in baking pan.
2. Layer ham and cheese on rolls. Put tops of rolls on top. Combine butter, poppy seeds, mustard, Worcestershire, and onion powder in a glass measuring cup and mix well. Drizzle over rolls. Refrigerate until butter is firm (or overnight).
3. Cover with foil and bake at 350° for 30 minutes or until cheese melts. Uncover and cook for 2 additional minutes. Serve warm.