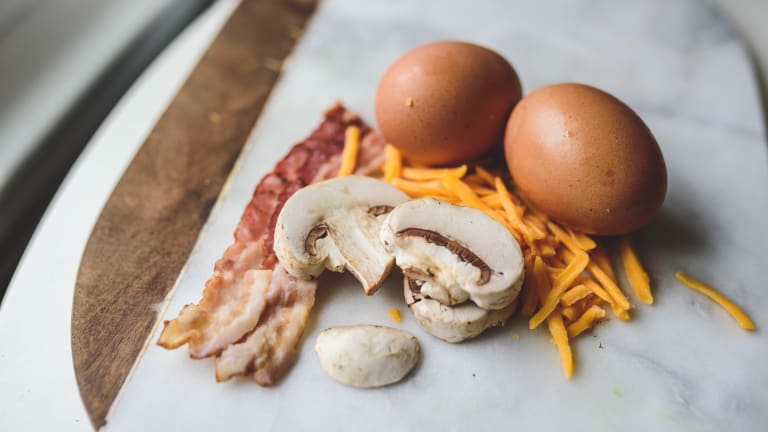 Bacon and Mushroom Quiche
Quiche is a wonderful batch meal because it can be breakfast, lunch, or dinner. You can also eat it at room temperature or hot, so it is super versatile. Whenever you need a quick, filling meal, just grab a piece—packed with protein and really satisfying. This recipe is easily doubled for even more leftovers!
Gluten-free: Use a gluten-free pie crust or omit crust.
Vegetarian: Omit bacon; add 1 cup chopped fresh spinach to the egg mixture.
Paleo: Use a Paleo-friendly crust or omit crust. 
Duration

Cook Time

Prep Time

6

Servings
Ingredients
1 refrigerated pie crust

6-8 slices of bacon

½ c chopped onion

4 oz mushrooms, sliced

8 eggs, beaten

½ c sour cream

½ c milk

¼ tsp salt

⅛ tsp pepper

1 c shredded extra sharp cheddar cheese
Preparation
Line a 9-inch pie plate with the pastry. Trim; crimp edge. Line the pastry shell with a double thickness of foil. Bake in a 450° oven for 8 minutes. Remove foil. Bake for 4-5 minutes more or until pastry is set and dry. Remove from oven. Reduce oven temperature to 325°.
Meanwhile, in a large skillet, cook the bacon. Remove bacon from pan. Cook onions and mushrooms in bacon grease until tender; season with salt and pepper. Crumble bacon.
In a bowl, stir together eggs, sour cream, milk, salt and pepper. Stir in bacon, onions, and mushrooms. Stir in cheese.
Pour egg mixture into the hot baked pastry shell. Bake at 325° for 45-50 minutes or until a knife inserted near the center comes out clean. If necessary, cover edge of crust with foil to prevent overbrowning. Let stand for 10 minutes before serving.