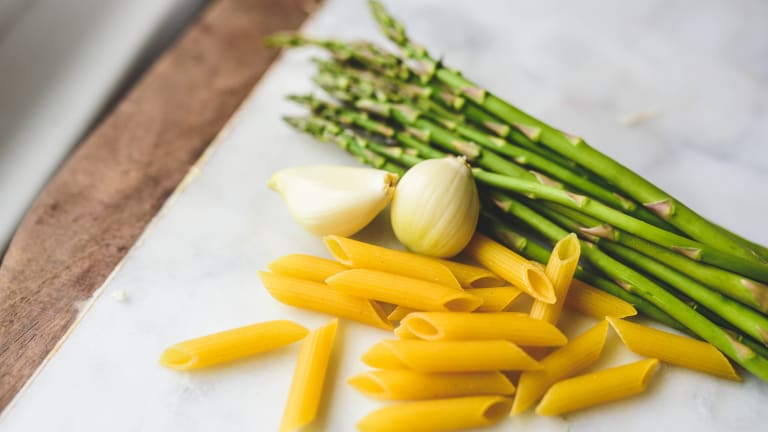 Asparagus Penne
This rich, creamy, slightly mustardy sauce is to die for! We love this as a vegetarian dish, but you could definitely add cooked chicken or shrimp.
Gluten-free: Use gluten-free pasta; substitute gluten-free all-purpose flour or omit flour (though sauce will be thinner).
Paleo: Use Paleo noodle of choice. Use casanova flour in place of all-purpose flour. Use full-fat coconut milk in place of half and half. Omit Parmesan.
Ingredients
1 lb thin asparagus, trimmed of ends

1 lb penne pasta

1 Tbsp olive oil

2 Tbsp butter

2 garlic cloves, 1 minced and 1 thinly sliced

2 Tbsp flour

¾ c vegetable or chicken broth

¾ c half-and-half

2 Tbsp brown mustard

1 lemon, zested and juiced

Black pepper

2 Tbsp fresh basil, finely chopped

Grated Parmesan
Preparation
1. Bring a large pot of water to boil. Salt the water. Drop the asparagus in for 2 minutes, then remove, drain, and chop into 2-inch pieces. Add the pasta to the water and cook until al dente.
2. To a skillet placed over medium heat, add the olive oil and butter. When the butter melts into the oil, add the garlic and gently cook for 2-3 minutes, then sprinkle the flour into the pan and cook for 1 minute, stirring.
3. Whisk in the stock, half-and-half, mustard, and lemon zest. Season the sauce with salt, pepper, and tarragon, and cook for 2-3 minutes to thicken.
4. Add the lemon juice, and gently toss the asparagus and pasta with sauce to coat. Turn off the heat and adjust the salt and pepper to taste, then top with grated cheese and serve.