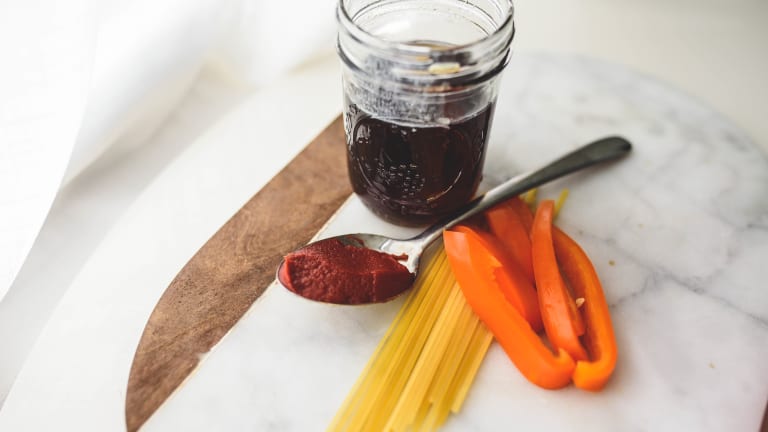 Asian Noodle Salad
This recipe is a party favorite! Perfect for summer entertaining. It can stand alone as a main dish, chock full of veggies, or as an amazing side to accompany whatever you've thrown on the grill that night. I love bringing this to cook-outs and potlucks as well—it's a lot brighter and healthier than most pasta salads.
Gluten-free: Use rice noodles, or add more cabbage and serve as more of a cabbage-veggie slaw.
Paleo: Use spaghetti squash or more cabbage for linguine. Use coconut aminos for soy sauce; use coconut sugar for brown sugar.
Ingredients
Salad:
1 lb linguine, cooked and rinsed under cold water to cool

½ head purple cabbage, thinly sliced

4 oz fresh spinach

3 colored bell peppers, thinly sliced

½ bunch fresh cilantro, chopped

3 green onions, sliced

2 medium-large cucumbers, peeled and sliced

8 oz cashews (whole or pieces)
Dressing:
1 medium-large lime, juiced

½ c olive oil

½ c soy sauce or tamari

2 Tbsp sesame oil

⅓ c brown sugar

2-inch piece fresh ginger, chopped

1 jalapeño, stemmed and seeded, chopped

3 Tbsp chopped cilantro
Preparation
1. Whisk the dressing ingredients together in a medium bowl or large glass measuring cup.
2. Add the cooked linguine and all the vegetables to a large (I mean large!) bowl. Drizzle with about half of the dressing and toss to combine (I like to use tongs to help manage the linguine).
3. Add the remaining dressing. Right before serving, toss in the cashews and mix to combine.