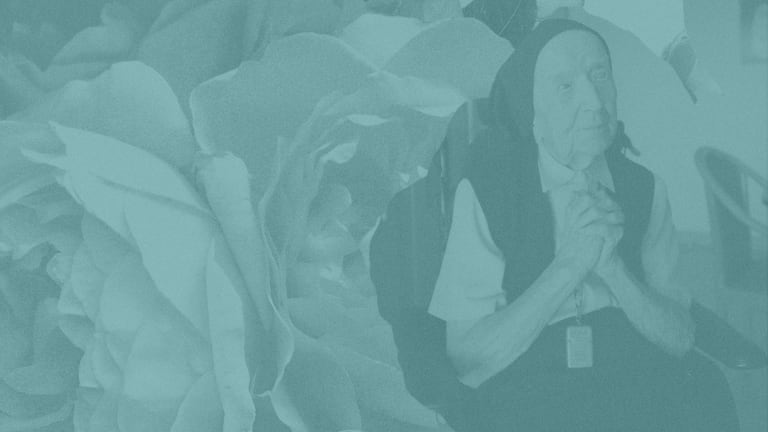 World's Oldest Person, Sr. André, Dies at 118, and Other News from the Week
Catch up on all the news you might have missed with our handy summary of the week's top stories.
We're pleased to bring you "While You Were Out"—Verily's quick takes on the happenings of this week.
Sister André, the world's oldest person, dies at age 118
The world's oldest person has died: Sister André, a French nun who survived the 1918 flu pandemic, two world wars, and coronavirus, passed away last week at age 118.
"Sister André became the oldest living person last year when the previous oldest person, Kane Tanaka of Japan, died at 119 years old in April 2022," NPR reports. "According to the Gerontology Research Group, the oldest living person is now Maria Branyas Morera of Spain at 115 years and 320 days, as of Wednesday."
The nun may inspire everyone with a sweet tooth: She was said to enjoy chocolate and wine daily. And she was reportedly known for her generosity, telling reporters last year, "Work kept me alive."
"Sr. André was, above all, a profoundly good and endearing woman, dedicated to others," said Hubert Falco, the mayor of Toulon, France, where Sr. André lived.
Sr. André was also remarkable for becoming the oldest reported person to contract COVID-19 and live, making it in the Guinness Book of World Records at age 116.
"She kept telling me, 'I'm not afraid of Covid because I'm not afraid of dying,'" David Tavella, the spokesman for the nursing home where she lived, told the New York Times.
After Sr. André's death, Tavella said that it was her "desire to join her beloved brother" after her death. Rather than fearing death, he said, "For her, it is freedom." —Madeline Fry Schultz
New statue honoring Dr. Martin Luther King Jr. and Coretta Scott King met with mixed reviews
A 20-foot tall bronze statue honoring Dr. Martin Luther King Jr and his wife, Coretta Scott King, was unveiled the Friday before Martin Luther King Day, January 13, in Boston. "The Embrace" state was inspired by a photograph of Dr. King and Scott King hugging after he won the Nobel Peace Prize in 1964. The statue shows the Kings' arms only, not their heads.
The statue, designed by Brookyln-based artist Hank Willis Thomas, was unveiled on Boston Common, where King delivered a speech on April 23, 1965, at a Freedom Rally, before a crowd of 22 thousand.
The statue has sparked criticism, with many saying it disrespects Dr. King and Scott King as it looks like it resembles a sex act. Seneca Scott, the cousin of Coretta Scott King, criticized the statue and, in an essay published in Compact Magazine, called it an "egregious example of the woke machine's callousness and vanity" that would bring "few, if any, tangible benefits to struggling black families." 
However, Martin Luther King III, the eldest son of Dr. King and Scott King, defended the monument, saying that "the artist did a great job."
"I'm satisfied," King III said. "Yeah, it didn't have my mom and dad's images, but it represents something that brings people together. And in this day and age, when there's so much division, we need symbols that talk about bringing us together."
Thomas, the artist behind the monument, said that the statue is far from an empty gesture and is not bothered by the backlash.
"We expected as activists and organizers that there's always going to be detractors from the movement," Thomas said. "I think about Mrs. King's quote that the beloved community is about not holding bitterness when there's disagreement." —Gabriella Patti
Everything Everywhere at Once leads wins at 28th Annual Critics Choice Awards
Five days after the Golden Globes kicked off awards season, The 28th Annual Critics Choice Awards took place in Los Angeles on Sunday, January 15, hosted by Chelsea Handler. A handful of stars who had previously attended the Golden Globes had to sit out the Critics Choice due to testing positive for COVID.
Everything Everywhere at Once won Best Picture, and its star, Ke Huy Quan, won best-supporting actor. Overall, the film led the wins in the film category, winning five awards. Brendan Fraser won best actor for his comeback role in The Whale. Cate Blanchett won best actress for her role in Tár.
Better Call Saul won the most awards on television, taking home three trophies, followed by Abbott Elementary, with two wins, after the mockumentary show did incredibly well during last weekend's Golden Globes. Jennifer Coolidge won best actress in a drama for her role in HBO's White Lotus after taking home the Golden Globe award for best performance by an actress in a supporting role in a limited series, anthology, or motion picture. —GP
Actor Alec Baldwin to be charged in Rust movie shooting
Actor Alec Baldwin and Hannah Gutierrez-Reed, a weapon specialist, will be charged with involuntary manslaughter in the fatal shooting of cinematographer Halyna Hutchins on the movie set of the western Rust.
Sante Fe District Attorney Mary Carmack-Altwies announced the charges on Thursday, citing "criminal disregard for safety." Hutchins was shot and killed on the set of the movie on October 21, 2021. Baldwin was pointing a pistol at her when it went off. Hutchins died shortly after being wounded. Movie director Joel Souza was also injured.
According to the district attorney's office, the assistant director, David Halls, who handed Baldwin the gun, has already signed an agreement to plead guilty to negligent use of a deadly weapon.
In addition to being one of the film's actors, Baldwin was a producer, which factored into the district attorney's decision to charge him.
"This set was really being run pretty fast and loose, and he knew, or he should have known, that there had been misfires, that there were safety concerns, that multiple people had brought them up," Carmack-Altwies told The Associated Press.
The charge is a fourth-degree felony which could lead to up to 18 months in jail and a $5,000 fine under New Mexico law. The charges will be filed at the end of January. —GP
Several Texas universities block TikTok access
If you're a college student in Texas, you may want to hop on the latest TikTok trends, but you might not be able to anymore. That's because several state universities in Texas are now banning the Chinese app from use on campus networks and WiFi, citing cybersecurity concerns.
Last month, Gov. Greg Abbott banned the app on state phones and computers. "TikTok harvests vast amounts of data from its users' devices—including when, where, and how they conduct Internet activity—and offers this trove of potentially sensitive information to the Chinese government," Abbot said in a statement.
The University of Texas at Austin followed Abbott's lead last week, banning TikTok from use on campus networks.
"The university is taking these important steps to eliminate risks to information contained in the university's network and to our critical infrastructure," UT-Austin technology adviser Jeff Neyland said. "As outlined in the governor's directive, TikTok harvests vast amounts of data from its users' devices — including when, where and how they conduct internet activity — and offers this trove of potentially sensitive information to the Chinese government."
University of Texas at Dallas and Texas A&M University System then followed. As concerns about TikTok's potential to share confidential data with the Chinese government spread, young people just might have to find another way to get their social media fix. —MFS
Good News
Park ranger inspires community through poetry nightstand
An amateur poet and park ranger, 30-year-old Amanda Barrows has recently made the news with her creative park project: a nightstand stuffed with the community's handwritten poems.
The mysterious nightstand was left in San Francisco's Golden Gate Park and Alamo Square, where Barrows works as a park ranger during the day.
It all began when Barrows decided to take a workshop to tap into her creative writing side. She continued to follow this passion by enrolling at City College of San Francisco, where she took an exciting poetry course.
The course was inspired by Dr. Martin Luther King's idea to connect communities and universities through poetry. Similar to Little Free Libraries, Barrow's class project quickly garnered support from the community. The nightstand was soon filled with ongoing contributions of poems inspired by Barrow's "Take a poem, leave a poem" note.
"It's like actual poetry, and mostly people's own words—people have written some beautiful stuff," she said to SFGATE.
The poetry has been expressed in various ways, through the words of children and adults, and in numerous languages. Comments from her class instructor and other poetry contributors have encouraged her vision.
"My hope is that this will happen across city parks, in D.C. and elsewhere," said Lauren Muller, who has taught the class for years.
Barrow has documented the movement on an Instagram account and hopes that the "Poetry for the People" project will continue to inspire other communities. —Hannah Ward
Watch of the Week
Watch this adorably funny video of a father surprising his 11-month-old son with his newly shaved face!