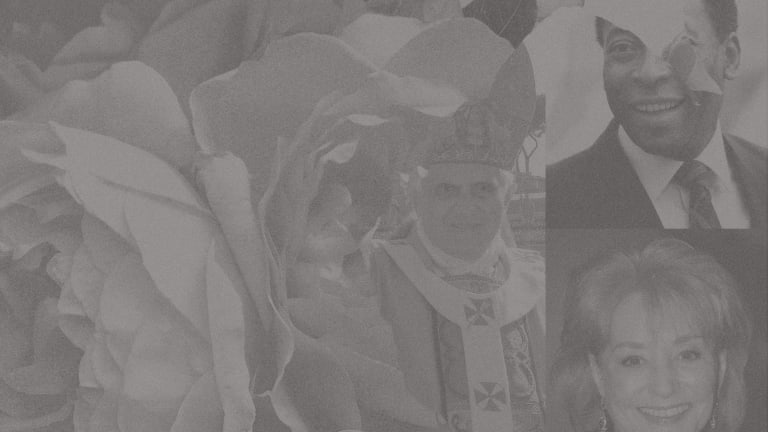 Pope Benedict XVI, Barbara Walters, and Pelé Pass Away, and Other News from the Week
Catch up on all the news you might have missed with our handy summary of the week's top stories.
We're pleased to bring you "While You Were Out"—Verily's quick takes on the happenings of this week.
Pope Emeritus Benedict XVI dies at 95
Pope Emeritus Benedict XVI died Saturday, December 31, in the Matter Ecclesiae Monastery in the Vatican following reports earlier that week that his health was failing. He was 95 years old.
Born Joseph Ratzinger in 1927 in Germany, he became one of the twentieth century's most renowned Roman Catholic theologians. He was ordained a priest in 1951, and in 1962, he was chosen to serve in an expert advisory role on the Catholic faith for the Second Vatican Council.
He was made a cardinal in 1977 and became the chief theological adviser to Pope John Paul II. In 1981 he became the head of the Congregation for the Doctrine of Faith, the Vatican office that oversees "the doctrine on the faith and morals throughout the Catholic world."
Pope Benedict XVI was elected Pope at age 78 in 2005 following the death of Pope John Paul II, making him the oldest elected pope since 1730. As pope, he sought to reconcile factions of the Catholic Church that had split following Vatican II and tried to strengthen ecumenical relationships with Muslims and Jews.
While Pope, he published three encyclicals. Throughout his life, he wrote more than 60 books and over a thousand articles, essays and academic pieces.
Pope Benedict XVI resigned in 2013, making him the first pope to do so in six centuries. He was succeeded by the current pope, Pope Francis. He continued to live in the Vatican until his death.
Pope Benedict XVI's funeral was held Thursday, January 5, in St. Peter's Square in Vatican City. Pope Francis presided over the funeral Mass, and 120 cardinals, 400 bishops, and 3,700 priests concelebrated. More than one thousand journalists and photographers and an estimated 50 thousand people from all over the world gathered in the square for the funeral Mass. Pope Benedict XVI was buried in the crypt of St. Peter's Basilica. —Gabriella Patti
Barbara Walters, trailblazing broadcast journalist, dies at 93
Barbara Walters, the iconic broadcast journalist who helped pave the way for women in media, died on December 30 at age 93. Walters spent the bulk of her career at ABC, where she hosted the ABC Evening News, 20/20, and The View. Bob Iger, CEO of Disney, which owns ABC, announced her passing on social media.
"Barbara was a true legend, a pioneer not just for women in journalism but for journalism itself," Iger said. "She was a one-of-a-kind reporter who landed many of the most important interviews of our time, from heads of state and leaders of regimes to the biggest celebrities and sports icons."
Walters was known for interviewing celebrities and politicians, from Elizabeth Taylor to Monica Lewinsky to Fidel Castro. The Los Angeles Times described Walters as "a canny interviewer who prodded ranks of public figures into tearful confessions." (You can read about some of her most iconic interviews here.)
After Walters' death, The View honored her legacy with tributes from current and former show hosts. "For her, I really do believe she thought of us as her kids, as her daughters," said Lisa Ling, who co-hosted The View from 1999-2002. "It was so important for her that we all do well and that we were all happy. She was so supportive." —Madeline Fry Schultz
Soccer Legend Pelé dies at 82
Three-time World Cup champion and Brazilian soccer legend Pelé died on December 29 in Sao Paulo, Brazil, at the age of 82 due to complications from colon cancer.
Originally born in the poorest slums of Brazil, Edson Arantes de Nascimento (better known by his nickname Pelé) had a 22-year professional soccer career and became known as the "king of soccer." Pelé learned to play soccer from his father, a minor league player. He signed his first professional contract at 15.
Pelé joined the national team at 16 and played in his first World Cup at 17, making him the youngest player to compete in the World Cup. During that game, he scored six goals.
Pelé helped Brazil win three World Cup titles in 1958, 1962, and 1970. He played in over 1,300 matches and, according to the Washington Post, "scored almost as many goals…Pelé was built for scoring and blessed with a jazz master's improvisational skills on the soccer pitch."
Later in his career, Pelé signed with the New York Cosmos of the North American Soccer League in 1975. In 2000, FIFA named Pele, along with Argentina's Diego Maradona, co-players of the 20th century.
Pelé is survived by his wife, seven children, his mother, a sister and nine grandchildren. —GP
FDA allows retail pharmacies to sell abortion pills
On Tuesday, January 3, the Food and Drug Administration cleared the way for retail pharmacies to sell mifepristone, the first of two pills taken to induce a chemical abortion. Pharmacies are authorized to sell to women with a prescription for the drug. Previously, the abortion pill could only be dispensed by a certified healthcare provider. CVS and Walgreens have already announced that they plan to begin dispensing the pills.
GenBioPro and Danco Laboratories, the two U.S. companies manufacturing abortion pills, petitioned the FDA for the change. Danco said in a statement, "At a time when people across the country are struggling to obtain abortion care services, this modification is critically important to expanding access to medication abortion services and will provide healthcare providers with an additional method for providing their patients with a safe and effective option for ending early pregnancy."
In the United States, chemical abortions account for more than half of all abortions. Expanding access to chemical abortions may be the easiest way to increase the availability of abortion across the country. This is the latest move by the FDA to make chemical abortion more accessible; citing COVID-19, the administration made abortion pills permanently available by mail in late 2021, a move that the Justice Department just defended as legal under the Comstock Act.
These moves by the Biden administration have been challenged by the pro-life group Students for Life, which petitioned the FDA to re-tighten its restrictions. The FDA rejected its request. According to Politico, "Students for Life's policy director, Kristi Hamrick, called the denial 'reckless and negligent,' and predicted that her group and others would take legal action against the agency." —MFS
Southwest Airlines meltdown leaves millions stranded over Christmas
Winter weather and an antiquated scheduling system led to a Southwest Airlines meltdown over Christmas week, leaving millions of customers stranded with more than 15 thousand canceled flights.
While a significant winter storm over the weekend before Christmas caused many airlines to change their schedules, the wintry weather led to a catastrophe at Southwest, which could cost the company $825 million — and many loyal customers.
Transportation Secretary Pete Buttigieg has weighed in, as have House Democrats, who told Buttigieg in a letter that "much more needs to be done" to ensure that "airlines are able to maintain a reasonable level of operational capabilities in the event of extreme weather or other types of potential disruption."
If you or a family member were affected by the Southwest fiasco, take note: The airline is offering 25 thousand frequent flier points (worth about $300) to anyone who experienced a cancellation or a three-hour-plus delay between December 24 and January 2. That's in addition to reimbursements for food, lodging, and alternative transportation for those scrambling to make do after flight cancellations, though it hasn't said how much it will reimburse and when these payments will go through.
The holidays may have come and gone, but that doesn't mean this nightmare is over for many weary travelers: As the Washington Post reports, "an untold number of checked bags — many of which took the trips that passengers could not — remain missing." —MFS
'Romeo and Juliet' stars sue Paramount over nude scenes in 1968 movie
Olivia Hussey and Leonard Whiting, who starred in the acclaimed 1968 adaptation of Romeo and Juliet, are suing Paramount for child abuse, claiming that the production company sexually exploited them with the film's nude scene. Hussey was 15 at the time of filming, and Whiting was 16.
According to Variety, "The suit alleges that [Director Franco] Zeffirelli — who died in 2019 — assured both actors that there would be no nudity in the film, and that they would wear flesh-colored undergarments in the bedroom scene. But in the final days of filming, the director allegedly implored them to perform in the nude with body makeup, 'or the Picture would fail.'"
The actors are now in their 70s, and while the statute of limitations has expired, California passed a law allowing child sex abuse cases to be revisited for a period of three years, the deadline for which was the end of 2022 when the actors filed their lawsuit.
Hussey and Whiting are seeking more than $500 million in damages, arguing that they suffered emotional distress and lost job opportunities after being filmed nude without their knowledge.
"What they were told and what went on were two different things," Tony Marinozzi, a business manager for Hussey and Whiting, said. "They trusted Franco. At 16, as actors, they took his lead that he would not violate that trust they had. Franco was their friend, and frankly, at 16, what do they do? There are no options. There was no #MeToo." —MFS
Good News
A woman from England who struggled with depression says that she improved her mental health by trying something new for 365 days, ranging from skateboarding to flying a plane.
Jess Mell decided on December 27, 2021, that she would try something new every day for 100 days. When the 100 days were up, she didn't want it to end and kept going.
Mell challenged herself by joining a local gardening community, visiting several countries, and trying speed dating, line dancing and beekeeping. Sometimes her new activity was more practical, like hanging a picture or sewing a button. And because life is often busy, Mell often tries to squeeze more than one new thing into a day.
Mell has no plans to stop and is considering her new challenge for 2023. She is currently considering climbing 12 mountains in 12 months.
"What has been so nice about the whole experience has been that whenever I've thought, 'I could try that,' rather than putting it off. I just ask myself, 'why don't I?' so I really hope I keep that up." —GP
Watch of the Week
Watch as this little girl lights up after realizing that her family is in the audience at her first dance recital.