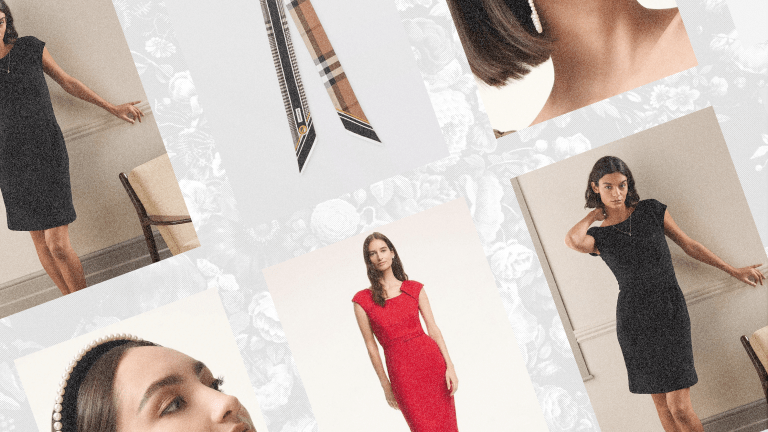 How to Look Put Together Without Trying (Too Much)
On busy mornings, these simple hacks will leave you looking like you've spent hours on your look.
I know the Monday struggle all too well. I've had days where I've been asked to come in extra early, which means waking up before the sun rises to make the long commute. During those ungodly hours, the last thing I want to do is wake up even earlier to do a full face of makeup or have perfectly styled hair.
As tempting as it is to chuck the idea of showing up well, the truth is that what we wear can say a lot about what we value and how we respect others. Showing up with messy hair and an untidy outfit may tell a client or a boss, "I don't take this seriously," even if the opposite is true. Our appearance is part of our communication. So is there a way to look put together without sacrificing an hour of sleep on a lengthy beauty routine? Well, I'm glad you've asked.
Since working in corporate and nonprofit marketing, I've had to be ready for meetings with leadership or potential clients at the drop of a hat. Along the way, I've found a few hacks to help me look like I've spent hours on my OOTD (that's outfit of the day, for the uninitiated). No one needs to know they take no more than 20 minutes to pull off!
Hair
Now, this will depend on so many factors, as we all have different types of hair. I, for one, can't pull off the carefree wash and go, or I'll look like a hot mess. Over time, I've relied on a couple of hair accessories and pulled-back styles that have worked through all my different hair lengths.
On those days when my hair is undecided between wavy and curly and dries into an unruly mane, I'll pull my hair into a low bun and add a silk scarf—mischief managed. If my hair is already styled but feeling a little ho-hum, a beaded headband adds instant elegance.
Hair Scarf: (Save) Madewell, $9 | (Splurge) Burberry, $220 
Headband: (Save) Altar'd State, $25 | (Splurge) Lele Sadoughi, $95
Face
A bold lip will take you places. It looks instantly polished, distracts from a lack of makeup on the rest of your face, and simultaneously looks feminine and strong. Not into bright colors? Deep shades of burgundy, mauve, or copper look like a million bucks. Let the lipstick do the heavy lifting—a tinted moisturizer, cream blush, and a swipe of mascara are all you'll need beyond that.
Tinted Moisturizer: (Save) Cetaphil, $16 | (Splurge) Elta MD, $44
Lipstick: (Save) Essence, $4 | (Splurge) Estée Lauder, $33
Mascara: (Save) Revlon, $8 | (Splurge) Too Faced, $28
Blush: (Save) Burt's Bees, $10 | (Splurge) Nars, $39
One and done
Never underestimate the power of a dress. Not only does it look like you mean business, but for some reason, it just looks like you tried. The best thing is that there's no need to find a matching second piece. The most effective style for me has been a sheath dress: a fitted, straight-cut dress that is comfortable without a seam at the waist. My favorites have been jersey fabrics—they feel like a T-shirt but look boardroom-ready. Throw on different blazers and jackets, and it becomes an ultra-versatile piece.
J. Crew Sheath Dress, $228 | Brooks Brothers Red Sheath Dress, $248 | Boden Jersey Dress, $72
Next time you're short on time, try one of these well-chosen details to elevate your look in a pinch. Choose one statement–a bright lip, a bold accessory, or a dress in a punchy hue–and you'll look ready to conquer the day.