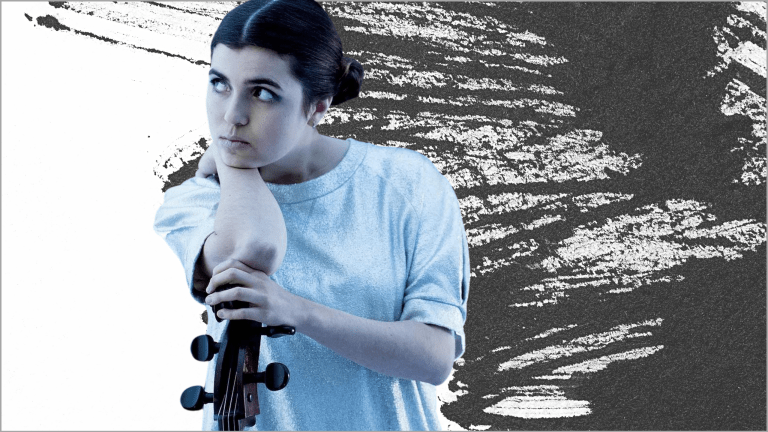 Measuring Time, Meditating on Motherhood: Dom La Nena's Album, 'Tempo'
Explore memory, time, and motherhood through the themes of this mediative, multilingual work.
The release of multilingual artist Dom La Nena's newest album Tempo in February 2021 brought to the world an examination of the nature of time. Vents Magazine describes its "blend of pop, world, and chamber music . . . as a response to, or a respite from, difficult times." In the same article, Dom La Nena ties in this meditation on time with the reality of her vocation as a mother: "Since I've become a mother, it has raised a lot of questions about the value of time and life. Consequently some of these questions are very present on the album: birth, anticipation, aging, death."
The fluidity and flow of life comes through in the meditative quietude of the tracks as well as the lyrics. A beautiful feature of experiencing multilingual work is the invitation not only to listen to the pieces, but also to seek out translations of the lyrics and to watch the accompanying music videos. Each reveals a different facet of what the work is trying to convey.
The sweet interruption of new life
An early track on Tempo is "Oiseau Sauvage," which translates to "Wild Bird." Of this piece, Dom says, "I wrote this song during my pregnancy. It is a reflection on the incredible feelings of having someone growing inside yourself with whom you share everything very deeply (happiness, sadness, joys, fears). You learn more about this being with time but . . . you do not know a lot about [them] at the beginning." The lyrics alternate between Dom's three fluent languages, Spanish, French, and Portuguese, and open with these words:
En mi jardín ha crecido una flor
No sé su nombre,
No conozco su olor
Pero con ella paso los días
Las confesiones de mi dolor.

A flower has grown in my garden
I do not know its name,
I don't know its smell
But with it I spend the days
The confessions of my pain.
The lyrics that follow seem to imagine this new life as a bird: "Oiseau perdu / Dans mes rêves inconnus, / Oiseau sauvage / Donne-moi ton courage." ("Lost bird, / In my unknown dreams / Wild bird / Give me your courage.") The accompanying music video is a creative imagining of this wild bird, who appears as a ghost-like creature that at times seems to chase Dom and the child versions of herself, and at others allows Dom to draw close and touch them. Dom describes the video as "impressions" of what it is "to give life to something unknown, which is sweet and a bit disturbing at the same time."
Memory and our shimmered realities
The fluidity of memory is a theme in "Quién Podrá Saberlo" ("Who Can Know"), Dom's collaborative track with Mexican-American artist Julieta Venegas. According to Dom, "'Quién Podrá Saberlo' is a song about our past: what do we do with everything we experience? What do we do with the frustrations, disappointments, with our fears? How are relationships changed or reshaped? Life is made up by a series of events and accidents, many times things do not go as planned and we have to constantly adapt." The music video depicts an array of memories of multiple people and perspectives. These are shimmered by water, glitter, sheer fabric, and the headlights of cars, creating a sense of fluidity with what and how we remember.
The Spanish-language song asks more questions than it gives answers:
Todo lo que dejo detrás
¿A dónde va, a dónde van mis sueños?
Lo que algún día quise olvidar
¿A dónde va, a dónde va? Memoria
¿Quién podrá saberlo?

All that I leave behind
Where does it go, where do my dreams go?
What someday I wanted to forget
Where is it going, where is it going? Memory
Who can know?
The fact that the song layers both artists' voices highlights how memory is simultaneously an individual and a collective reality. What we remember may be different from what another person remembers; sometimes, another person's memory of an event helps complete our own. Both possibilities are in play as Dom sings the first verse, and Julieta the second, which asks about where our fears go and where the people in our lives go.
Their voices come together in the third verse in which there is a "we" remembering together: "Tú y yo tenemos tanta suerte, tanto tiempo." ("You and I are so lucky, have so much time.") Shared history, desire, and dreams unite this "we" in love. Often, it is the beloved or once-beloved people in our lives who anchor our memories to certain places, ideas, and feelings, and the music video expresses the variety of experiences that shape these memories: moments of comfort, delight, anger, bitterness, and fear. The last verse of the song asks, "Las canciones sin terminar / ¿A dónde van, a dónde van?" ("The unfinished songs / Where do they go, where do they go?") The answer is the song's title: "Who can know?" Life is a mystery.
Dreaming and longing
Dom's work has often been described with the term saudade which an NPR article describes as "a Portuguese and Galician term that . . . has many definitions, including a melancholy nostalgia for something that perhaps has not even happened. It often carries an assurance that this thing you feel nostalgic for will never happen again. [One] definition of saudade is by Portuguese writer Manuel de Melo: 'a pleasure you suffer, an ailment you enjoy.'"
Motherhood seems one such blend of longing, pleasure, and suffering. In "Doux de Rêver" ("Sweet Dreaming"), I imagine this lullaby of a song to be an expression of saudade, of love from mother to child. One of the verses says,
Toutes les années qui passent défilent dans tes yeux
Comme un oiseau en vol, tu partiras vers d'autres cieux
Y a des gens qui pensent que c'est impossible d'être heureux
Pour toi le temps s'arrête lorsque tu fermes les yeux

All the years that pass pass by in your eyes
Like a bird in flight, you will go to other skies
There are people who think it's impossible to be happy
For you time stops when you close your eyes
The chorus is almost incantatory, and each time it's repeated the end words change: "Oh, oh how sweet, oh / how sweet, how sweet to dream," "how sweet to stay," "how sweet to fly," "how sweet to forget." Dreaming is a place of saudade. In watching how time passes through the growing up of a child, there seems to be the double desire to let them fly and pray they'll stay.
Tempo invites listeners into this space of longing. There is nothing like the presence of someone who resided within you for nine months to remind you of the reality of time, Dom la Nena seems to say. And at the same time, these songs honor spiritual motherhood as much as physical motherhood. Loving another person is an endeavor that may create more questions than answers within us, but it is well worth the risk.