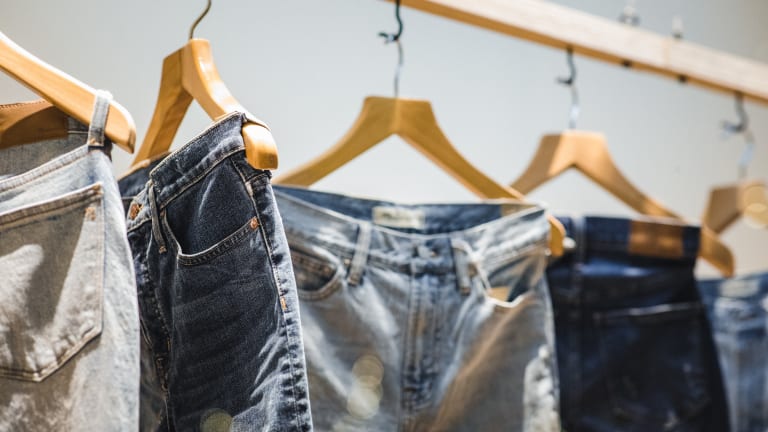 Why the Perfect Jeans Are So Elusive, and How to Find Them Anyway
Consult our jeans guide
It is a truth universally acknowledged that a woman in possession of a good fortune must be in want of a good pair of jeans. It is also a truth universally acknowledged that good jeans are one of the hardest things to find, after swimsuits! Why? There are a number of factors that make the search challenging—but take comfort; none of them are you.
One reason why it's hard to find good jeans is because they are one of the few things in the twenty-first century that are still heavily dictated by trends. This means that once you find a style of jeans you love, they may eventually feel dated and difficult to style, and if you want more pairs in other washes, you may not be able to find them. Jeans are also more difficult to work with than other pants because of their construction: they can be thick and stiff, and sometimes need to be broken in. Though that's not all of them, jeans that are soft and comfortable when first bought are more likely to wear out faster. The good news is that finding good jeans is a journey that depends on what you want and like. (Maybe that's the bad news, too?) Let's start with the first leg.
A bit of history
Since the 1970s, hemlines have been a matter of personal style. You can wear whatever length of hemline you prefer, and you can buy maxi dresses, knee-length shifts, and leather minis all in the same shop. However, that was not the case for most of the twentieth century. Before the seventies, hem lengths were dictated by designers, and you could not find a full-length casual skirt to buy when knee-length dresses were the rule. Skirt lengths are no longer this strict; but different types of jeans are difficult to find when they are not on-trend.
Now, jeans are one of the most recognizable symbols of a certain decade. You couldn't have found wider 1950s-style jeans in the 1990s (except a few pairs at a vintage shop), and you couldn't buy low-rise flares during the reign of skinny jeans in the 2010s. In 2020, it would be difficult to find low-rise skinny jeans except at a thrift shop.
Why does this matter to your personal style? It matters because it's very hard to find jeans cut in the silhouette that you like if it doesn't happen to be the silhouette that's in style. Once another style of jean emerges, everyone proclaims (fashion bloggers included) that this new style is "flattering on everyone!" This is about as true as clothing that says, "One size fits all"—it is not accurate. Ever. Then, when a certain cut goes back out of style, many people say, "That cut was not flattering on anybody!"
Case in point: capri pants in the early 2000s were super cute, then they were considered to be terrible. A few years later, skinny jeans were "the most flattering style." Since 2018, people have been moving away from skinnies and saying that "wide-leg and flared jeans are the most elongating." There is no one style that looks good or bad on everyone. It's the clothes we see on the street, the trends we hear about, and the fact that many fashion publications announce that this style "looks good on everyone" that draw us to new purchases, which may or may not look good or feel good on us. Then, we can feel like it must be our fault (or our bodies' fault) that these cool jeans don't work for us. Just remember that, as stylist Hilary Rushford always says, "It's not your body, it's the clothes."
Comfort or durability: it's a trade-off
Denim makes jeans trickier to work with than trousers, khakis, and sweatpants—but they can also last a very long time. 100 percent denim is a very thick, durable fabric. The higher the fabric's cotton content, the better the jeans will look and the longer they will last. Jeans of 100 percent denim can last many years (and they're in the thrift shops to prove it!), but that means there is more of a breaking-in period when they are quite stiff. Depending on the style of jeans you like, they may dig into your stomach or reduce your hip mobility until they loosen up. However, you can look for jeans that are only 1-2 percent elastane; those will still last a long time, are not quite as stiff, and should retain their shape well, too.
Jeans that are composed of a higher percentage of elastane, polyester, spandex, or other synthetic fiber are not as durable, but of course, these synthetics are also what make jeans softer and more comfortable right away. If you're not too hard on your jeans, this could be a much more cozy option, but it does mean you may have to replace your jeans every few years.
You define what "flattering jeans" means
There are many helpful articles and videos online about what styles of jeans are most flattering and why. These are helpful to read to get an idea of how proportions change the vibe of your outfit, but in the end, you decide what looks and feels good on you. For example, high-waisted bootcut or flared jeans can create a long, lean silhouette that's a bit retro. High-waisted cropped jeans have more of a modern, slightly androgynous street-style vibe. Which looks and feels best on you will depend on the rest of your wardrobe and what look you're trying to achieve.
Different cuts of clothing, including jeans, play visual tricks. Higher, longer pockets on the back of high-waisted jeans can extend the length of your backside, creating a slimming effect. You may appreciate this—or not! Other times, fitted, mid-rise styles cinch in at the waist and make your bum look fuller. Some low- and mid-rise jeans have smaller pockets that can make your bum appear rounder and firmer. Again, some people like this and other people don't! There are many blog posts out there about the vibe and visual proportions created by different cuts of jeans, but what looks and feels best is entirely up to you. (Check out the graphics here on how the yoke of your jeans—that's the seam above the pockets—changes the look and vibe of your pants.)
If you aren't sure what you like, try turning to Pinterest to see what jeans stand out to you. You can look for photos of a celebrity with a similar body type and see what kind of jeans they wear—and whether you'd be willing to try those cuts. (Celebs often wear over-the-top styles with lots of embellishments or funky fabric. For this exercise, just focus on the basics of the cut: the rise, the hem length, and the shape of the pant legs.)
Take into account the rest of your wardrobe
Different styles of jeans look better with different clothing. Usually, we wear volume on the top or bottom, but less often on both, so when we had low-rise, flared jeans in the early 2000s, we wore fitted tops with them to balance the wide hems. Then, when skinny jeans arrived on the scene, most tops became boxy and billowy to balance out the tight pants. Wearing 2010-era low-rise skinny jeans with fitted 2000s-era crop tops with would have looked funny because everything would have been tight.
Since 2018, popular silhouettes have moved toward more fitted tops with high-rise, voluminous pants. If you'd like to try a new pair of wide-leg, flared, or cropped jeans, keep in mind that the rest of your wardrobe may not fit as well with this new style. You may want to look in your closet for a classic shirt, such as a basic tee or a collared button-down, to try on with the new cut you're considering. (Make sure that you do have something that you can wear with a new cut of jeans—or that you're okay with buying a few new shirts.)
Don't forget about your shoes! Skinny jeans and cropped styles reveal your shoes much more than full-length flares do. If you are a shoe-lover, you may want to stick with more of these styles so you can show off your collection. (However, if you tend to wear a lot of booties that end right at or below the ankle, these will not look as good with cropped pants as boots with a long shaft.) When you wear flares or wider legs, shoes are less of a focal point because they are more covered by the hem. This is great for those of us who wear big, clunky, comfortable shoes!
Weather is also a concern for those who live in more extreme climates. Wide-leg and flared jeans can be harder to tuck into duck-boots and snow-boots, so people in cold, snowy areas may want to keep more straight, bootcut, or skinny jeans on hand for winter months. On the other hand, readers in the South or Southwest may appreciate looser cuts of jeans that provide a bit more ventilation in the summer.
Alter, alter, alter
The fact that denim is so thick makes ill-fitting jeans hard to DIY-hack or alter. You can use safety pins or a simple basting stitch to shorten the hem of some khakis or wool trousers, but it's hard to push a pin through two layers of denim, and a basting stitch on heavy jeans may fall apart after a few days of wear.
Until you've taken your jeans in to be altered by a skilled tailor, it can be hard to justify the expense. However, if you have 99-100 percent cotton jeans that you wear every week or more, and plan to keep for years, then there will be a lower cost per wear even with the added cost of alterations.
You can get the waist taken in so that the pants will stay up where they are supposed to be. This is especially nice if you don't like to wear belts with every outfit. If your jeans are too long, get them hemmed to a good length for you. This will depend on what kind of shoes you wear most often. If you wear flats more than heels, definitely get them hemmed for that length. If they are a bit short with heels, that's a lot better than being too long and dragging on the ground with flats. (Also, if you have skinny jeans, it can be easier to cuff them for flat shoes.)
Analyze and experiment
What this all boils down to is that people have lots of differing opinions and preferences about jeans. When you are looking to buy a pair and are not sure what you want, save some looks on Pinterest—look for styles you like as well as celebrities whose shapes are similar to yours. Google your jean questions or look up what a favorite blogger says about her jeans. Then, try on a few different styles to figure out what you like, what feels good, and what works with your wardrobe. This may change over the years, too, as your body changes, your lifestyle changes, or your taste changes. Let's look at the search for jeans as part of our style adventure.