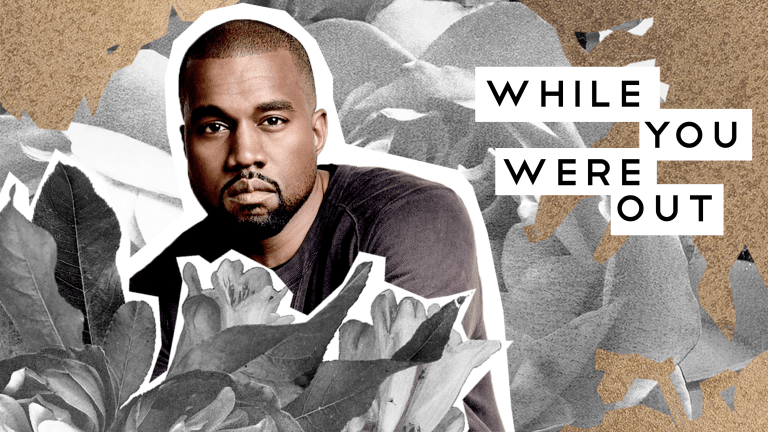 Kanye West Releases a Gospel Album—and Other Notes from the Week
Catch up on all the news you might have missed with our handy summary of the week's top stories.
We're pleased to bring you "While You Were Out"—Verily quick takes on the happenings of this week.
Twitter Bans Paid Political Ads
Twitter CEO Jack Dorsey announced on Wednesday that politicians and political organizations will no longer be permitted to buy ad space on Twitter as of November 22. "We believe political message reach should be earned, not bought," he tweeted on October 30. The ban does not stop anyone from posting political content; it only prevents buying targeted ad space for it.
"While Internet advertising is incredibly powerful and very effective for commercial advertisers, that power brings significant risks to politics, where it can be used to influence votes to affect the lives of millions," Dorsey tweeted.
This is a distinct shift from other social media giants like Facebook, who has been heavily criticized for allowing misleading and often false ads to remain on their site. Facebook CEO Mark Zuckerburg defended the firm's practices in an earnings report later the same day, saying, "In a democracy, I don't think it's right for private companies to censor politicians or the news."
Critics are divided; some argue this ban will favor incumbents ahead of the 2020 election, others are praising Twitter for taking a stand in an ongoing debate about social media platforms' role in the spreading of misinformation on social issues. —Krysta Scripter
Congress Passes Resolution Recognizing Armenian Genocide
In a historic vote, the House passed a resolution finally recognizing the Armenian Genocide. For the Armenian diaspora located all over the world, this is a moment of justice and vindication, as no American Congress has ever recognized the deaths of nearly 1.5 million Armenians in 1915 due to the Ottoman Empire's forced deportation of the Armenian people.
Until recently, the United States has avoided the topic so as not to disturb relations with the Turkish government. However, following the recent Turkish attacks against the Kurdish people in northern Syria, U.S. lawmakers felt a renewed desire to send a statement that would condemn the actions of the Turkish military while emphasizing the parallels between the Armenian genocide and the attacks on the Kurdish people. "Too often, tragically, the truth of the staggering crime has been denied," Speaker Nancy Pelosi said. "Today, let us clearly state the facts on the floor of this House to be etched forever into the Congressional Record: The barbarism committed against the Armenian people was a genocide." 
This move led to an immediate response from Turkey's foreign minister who called it exploitation of history and an act of revenge by the American government. Turkey has declared that this move will damage U.S.-Turkey relations, and Turkish President Tayyip Erdogan is considering canceling a planned visit with President Trump, due to take place in two weeks. —Gabriella Patti
Kanye West Releases Gospel Album and Talks about Becoming a Christian
Kanye West, ever unpredictable, dropped a new album last week that signified a 180-degree turn from his prior songs, in terms of content. Entitled "Christ is King," the gospel-rap album includes songs such as "Follow God," and "Jesus is Lord." What's more, he did a string of interviews in which he further elaborated on his embrace of Christianity and railed against social media, abortion, and the hypocrisy of mainstream American culture.
His newfound Christianity and corresponding views have caused controversy among fans and non-fans alike, as some rejoice at his conversion, others protest his counter-cultural beliefs, and still others are not yet quite sure what to make of him. Indeed, Kanye has been making headlines for his often erratic actions for years now, often feuding with other popular stars like Taylor Swift and Jay-Z. Most recently, his support of President Trump and his symbolic donning of the red 'Make America Great' cap caused uproar in Hollywood and among liberals nationwide.
Kanye, for his part, refuses to be bullied by those who mock his beliefs, telling radio show host Big Boy that, rather than being affected by others' opinions, he "loves and fears God." What's more, he made a poignant point about the importance of sticking to one's beliefs and embodying them in everyday life, stating that "every time someone asks you a question and you try to say the right thing, your life is a test."
Whatever one's opinion of Kanye as a person, his present faith, or his past transgressions, he has been able to maintain his integrity in the face of intense public criticism, not wavering in his ideas even as some vilify him. —Mariel Lindsay
Former College Student Charged With Manslaughter in Boyfriend's Suicide
Alexander Urtula died by suicide this year, minutes before he was scheduled to walk across the stage at his Boston College graduation. Monday, his girlfriend was charged with involuntary manslaughter after authorities found she'd sent him thousands of abusive text messages, including hundreds of texts urging him to kill himself.
The girlfriend, Inyoung You, is from South Korea and at the time was also a student at Boston College. The couple had been dating for about 18 months.
Suffolk County authorities, who announced the charges, said that the more than 47 thousand texts You sent to Urtula in two months amounted to a "barrage," in which she manipulated him with threats of self-harm. Reportedly, You had used her cell phone to track Urtula to the roof of a parking garage near campus and was present when he died. Classmates and family members were also allegedly witnesses to the overall abusive nature of the relationship.
You is no longer enrolled at BC and has returned to South Korea; although officials are hopeful she will return to the United States voluntarily to face the charges, they've also expressed a willingness to pursue extradition. The Boston Globe quoted Suffolk County District Attorney Rachael Rollins as saying that the case fits into the overall epidemic of domestic violence which has reached into every segment of society. '"Domestic violence may not always look the same, but it's always about power and control," she said. —Margaret Brady
Australian Agency Proposes Using Facial-Recognition to Confirm Porn Users' Identities
An Australian government agency has proposed using facial recognition software to verify the age of people watching online pornography.
Reports this week said that the Department of Home Affairs is developing a service that would compare faces of watchers to photos from official documentation, like drivers' licenses. This function would also be used in the context of preventing minors from accessing adult activities like online gambling.
The Australian proposal follows on the heels of a similar attempt in the United Kingdom to make porn companies verify that their customers are at least 18-years-old. Privacy concerns and legal obstacles caused the British effort to fail, and the Aussie proposal is still very much in the conceptual stages. The Department of Home Affairs has said their system is intended to be used not just by various government agencies but also by private industries, although supposedly companies would not be able to use facial recognition information without the consent of the person to whom each face belongs.
Given the state of technology today, the debate over facial recognition and privacy may soon be a purely academic exercise, worldwide. But, the reality that porn companies themselves may one day have access to their customer's faces is disquieting. —MB
ISIS Confirms Death of Islamic State Leader, al-Baghdadi
On Sunday, President Trump announced the deaths of ISIS leader, Abu Bakr al-Baghdadi, and the terrorist group's spokesperson, Abu Hassan al-Muhajir; on Thursday the Islamic State confirmed the news. Al-Baghdadi allegedly blew himself up with a suicide vest after being cornered by U.S. military troops during a Sunday raid while al-Muhajir died in a separate U.S. airstrike.
Al-Baghdadi's death comes eight months after U.S.-led troops captured the last of ISIS-held territories and just weeks after the U.S.'s decision to pull their remaining troops out of northern Syria. Despite their lack of substantial territory, the Islamic State has named Ibrahim al-Hashemi al-Qurayshi the new leader of ISIS and issued a warning to the United States not to celebrate quite yet. —GP
California Wildfires Continue to Wreak Havoc
Flames are destroying homes and acreage across the state of California, as wildfires continue to rage out of control in multiple locations.
Millions of people are under a "red flag warning," an indicator from the National Weather Service that conditions are right for fires to start and spread. In southern California, however, the NWS has been using the phrase "extreme red flag warning," due to hurricane-force winds and parched conditions that will make fire an extraordinarily dangerous threat.
Already firefighters are responding to multiple incidents across the state: The "Getty Fire" near Los Angeles, which has burned more than 650 acres since Monday; the "Kincade Fire," the largest conflagration, which had destroyed more than 80 homes in Northern California; and the "Easy Fire," which has threatened the Reagan Presidential Library.
In an attempt to prevent new fires from popping up, power companies in the state have been shutting off service. It's believed that aging electrical equipment and downed wires from high winds contribute to fire activity. As of Wednesday night, the largest provider, Pacific Gas & Electric, or PG&E, still had more than 200 thousand customers across the state cut off from power as part of a "Public Safety Power Shut Off" event that began October 26. Some irate citizens are calling for the state to take over PG&E, which has been criticized for allegedly not investing in infrastructure and safety. —MB
John Legend Announces Release of a New Version of "Baby It's Cold Outside," Emphasizing Consent
In a Vanity Fair cover story, singer John Legend announced that he will be rewriting the controversial Christmas song, "Baby It's Cold Outside," which he will perform alongside his Voice cohost, Kelly Clarkson. The song will be included on his upcoming Christmas album, which will be released sometime in 2020. Legend shared a preview of the new lyrics: "What will my friends think . . . " sings Clarkson. "I think they should rejoice," Legend responds. Clarkson then sings, " . . . if I have one more drink?" "It's your body, and your choice," Legend replies. 
The 75-year-old song has been criticized in recent years for lyrics that have been deemed predatory, as they tell the narrative of a man trying to convince his female counterpart to stay at his home, using alcohol and guilt to convince her to stay. As of last year, several radio stations banned the song from their airwaves. Because the decades-old song has not aged well, I am curious to hear Legend's version and to see how he handles the emphasis on consent. —GP
Study Shows a Link between Teen Girls on Birth Control and Depressive Disorders
A recent study published in JAMA Psychiatry found that teenage girls on birth control sleep more, cry more, and have eating issues more than their peers who are not taking oral contraceptives. This detailed study looked at over a thousand girls and women, over a period of nine years, using data from a survey taken in the Netherlands.
"Depressive symptoms are more prevalent than clinical depression and can have a profound impact on quality of life," Hadine Joffe, vice-chair for psychiatry research at Brigham and Women's Hospital and co-author of the study, said. "Ours is the first study of this scale to dive deep into the more subtle mood symptoms that occur much more commonly than a depression episode but impact quality of life and are worrying to girls, women and their families."
Although the researchers behind the study say that they are not trying to dissuade girls from taking birth control and that the results might look different if the same study were conducted in a different part of the world, this is not the first study linking mental health issues and the usage of birth control from a young age. Another recent study, published in the Journal of Child Psychology and Psychiatry, found that birth control usage in adolescence increased the risk of depression in adulthood. It's important that we continue to highlight these studies as well as other birth control side effects, as women deserve to be fully informed about the potential risks as well as the alternative options that are available. —GP
Prince's New Memoir Gives Us a Look Back at One of "The Beautiful Ones."
It's been three years since the untimely death of Prince, and fans have a new chance to hear from the late, great artist. His posthumous memoir, The Beautiful Ones, was published on Tuesday.
Reports say Prince started writing the book in January 2016, only months before he died. He personally selected a co-author, Dan Piepenbring, and produced thirty pages of handwritten material. He told Piepenbring he wanted his memoir to be a handbook for everyone from creatives to African American entrepreneurs. Maybe it could even play a role in solving racism, he thought. The Beautiful Ones, a title Prince had already chosen, references a hit song from his iconic album Purple Rain.
Then, on April 17, Prince collapsed on his private plane and was treated for "flu-like symptoms" at a hospital after an emergency landing. A few days later, he crumbled again, this time fatally. He had accidentally overdosed on fentanyl.
Piepenbring went through the vast archives at Prince's Minnesota compound, Paisley Park, to try to find material to fill out the rest of the memoir. The chapters Prince did manage to complete before his death touch on his childhood and family life: fans will learn about his first kiss, his difficult mother, and his Bible-loving father (who originated the stage name "Prince"). Piepenbring adds details from his own encounters with the legend—he discovered that Prince enjoyed Stephen Colbert and didn't care for Katy Perry's music, amongst other facts.
It's sad to think what the memoir could have been if Prince was alive to complete it as he wished. Still, we are lucky to have even this small window into the mind of the late, great genius. —MB
"Game of Thrones" Prequel, "House of the Dragon," Is Officially Underway
On Tuesday, HBO announced that they have officially ordered the production of a Game of Thrones prequel, House of the Dragon. The series, which will be set 300 years before GOT, will focus on the House Targaryen (although, Emilia Clarke will not be returning as Daenerys Targaryen, aka Mother of Dragons).
"The 'Game of Thrones' universe is so rich with stories," said Casey Bloys, president of HBO programming. "We look forward to exploring the origins of House Targaryen and the earlier days of Westeros." For many fans, the final season of GOT was a major disappointment, so we look forward to seeing if the prequel series redeems itself in the eyes of the show's most stalwart fans. —GP
Good News of the Week
Several neonatal intensive care units in hospitals across the United States are sharing photos of their teeniest and cutest patients in adorable pint-size Halloween costumes. "We have a lot of hard, sad, and scary days in NICU, but we also have days of joy—so we want to give the parents a sense of normalcy as much as we can," said Methodist Germantown Hospital NICU nurse Callie Lilliard. Meanwhile, at Advocate Children's Hospital outside of Chicago, the NICU is hosting a costume contest, giving parents a chance to have fun and celebrate the holiday with their little ones.
Currently, these NICUs have been taken over by Rosie the Riveter, a scrumptious pairing of milk and cookies, peas in a pod, and a grandma baby.
As the NICU can be a distressing place for parents, this sweet and precious distraction is most certainly welcome and the photographic memories will be ones that the parents can treasure forever. —GP
Watch of the Week
Watch James Corden interview Kanye West about his new album, his newfound faith, and his family for "Airpool Karaoke," with a special guest appearance by over a hundred members of West's Sunday Service Choir.
Miss our "Articles of Note" section? Subscribe to Verily Daily emails and check out our new suggested reading at the bottom, in our new "May We Recommend" section.