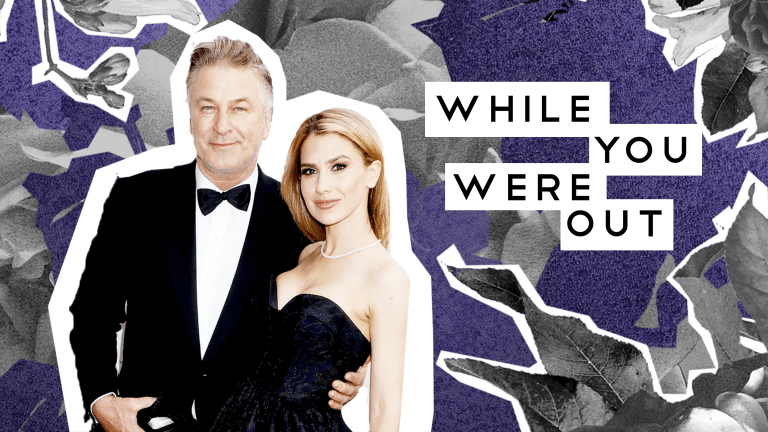 Hilaria Baldwin Reveals She Experienced a Miscarriage—and Other Notes from the Week
Catch up on all the news you might have missed with our handy summary of the week's top stories.
We're pleased to bring you "While You Were Out"—Verily quick takes on the happenings of this week.
Hilaria Baldwin Shares She Has Lost Her Baby at Four Months Pregnant
Hilaria Baldwin, who was four months along with her fifth child with husband Alec Baldwin, announced in an emotional Instagram post that she'd experienced a miscarriage.
"I'm really devastated right now . . . I was not expecting this when I went to my scan today. I don't know what else to say . . . I'm still in shock," she said on Monday. The baby, a girl, is the family's second loss this year after a miscarriage in April. "Tonight is my last night with her," she shared in a heartbreaking update in an Instagram Story.
On Tuesday, she underwent surgery. "I made it and I want you to know that I'm physically ok. I'm grateful for my family, friends, doctors and nurses, and all of you who have held my hand through this difficult time. You have no idea how much this means to me," she said afterward. "Today opened and it was not a nightmare . . .  just a sad reality . . . I didn't know so many tears existed in the body."
Hilaria is a yoga instructor and former professional ballroom dancer; she and Alec Baldwin have been married since 2012 and have quickly built a large family. Her openness about her baby's death shows us that repetitive miscarriage is uniquely traumatic, more common than many people realize, and can happen to any woman. We hope that the Baldwin family will be surrounded by the love and support they need to heal from this painful loss. —Margaret Brady
The Trader Joe's Corner of Instagram Is, Unsurprisingly, Pretty Wholesome
It's not uncommon for brands to consider partnering with social media influencers to promote sales or bolster their brand. But everyone's favorite grocery store, Trader Joe's, has never done such a thing and has a surprisingly lackluster "official" social media presence.
Save for an Instagram account they made seven years after the app launched, all of the buzz online about the store comes from people who just really, really love the brand.
As Rebecca Jennings reported earlier this week for Vox, there is a small but growing group of influencers, some of whom make real money, dedicated to the store. One of them is even a Trader Joe's employee, Dezeray Floyd, who created her Instagram account to showcase the store's gluten-free options. There are about a dozen similar accounts, and they've got impressive follower counts to match.
The biggest of them all, Trader Joe's List, has a following of more than 950 thousand. Natasha Fischer began writing the blog in 2008 but focused on other priorities when she lost her job. She logged on six months later to find she had amassed a huge number of followers, many of them thinking her account was the official TJ account. Floyd refers to her as the "grandmother" of all Trader Joe's blogs, and the influencers message each other often. Vox reports, "There's a refreshing lack of competition between them outside of the small desire to be the first account to post a new product."
Not only does it go against nearly every other digital advertising strategy now current, but this tiny-but-mighty corner of Instagram speaks to TJ's lasting power and cult-like following. It can be hard to find sincerity online, but this goes to show one thing remains true: everyone still loves Trader Joe's. —Krysta Scripter
Broadway Actress Laurel Griggs, 13, Dies after Asthma Attack
Reports this week confirmed the tragic death of teenager Laurel Griggs, who appeared in the Tony-winning production of Once and on Saturday Night Live, among other performances.
Laurel was an ordinary public school student when she wasn't on stage. Last Tuesday evening, she was working on a homework assignment on her computer when she began to have trouble breathing. "She said, 'I don't think I feel so good,' which immediately set off all the alarms in my head," her father told the New York Post.
Police were flagged down outside the family's home and officers grabbed the girl from the front steps. They performed CPR in the back of the car as they rushed her to Mt. Sinai Hospital, but she died a few hours later.
Laurel made her Broadway debut at age six in Cat on a Hot Tin Roof, which starred Scarlett Johansson. Although Laurel was born with asthma and had suffered serious attacks before, nothing could prevent her from pursuing her passion for theater. Days before her death, she'd auditioned for a chance to attend the prestigious LaGuardia High School of Music & Art and Performing Arts.
Broadway dimmed its lights in Laurel's honor, and a service was held on Sunday to remember her brief but spirited life. We are so very sorry for the loss of this vibrant child and the suffering of everyone who loved her. —MB
The four African-American women who inspired the 2016 film Hidden Figures will received Congressional Gold Medals for their important work at NASA during the Space Race. The Hidden Figures Congressional Gold Medal Act was signed into law on Friday by President Trump.
The women, mathematician Katherine Johnson, computer programmer Dorothy Vaughan, and engineers Christine Darden and Mary Jackson, "exemplify the experiences of hundreds of women who worked as computers, mathematicians, and engineers at NACA [National Advisory Committee for Aeronautics] beginning in the 1930s," the bill states. A fifth medal will also be issued to "all women who served as computers, mathematicians, and engineers at the National Advisory Committee for Aeronautics and the National Aeronautics and Space Administration between the 1930s and the 1970s." Although only two of the four women being awarded are still alive, this bill is certainly an honor and it acknowledges the hard work and sacrifice of these women who went unappreciated and "hidden" for so long. —Gabriella Patti
CDC Announces Culprit behind Vaping-Related Illnesses, Deaths
Since the early summer of this year, our newsfeeds have been inundated with stories about people succumbing to vaping-related illnesses as well as a number of vaping-related deaths. On Friday, the CDC announced a new potential culprit responsible for these illnesses, namely, vitamin E acetate. Despite this finding, the CDC says that there may be other chemicals responsible, other than vitamin E acetate and the THC cartridges, so at this time they are cautioning that vitamin E serves as a clue, not a cause. "These findings provide direct evidence of vitamin E acetate at the primary site of the injury within the lung," Anne Schuchat, the principal deputy director at the CDC said. Several months ago, the New York State Department of Health found a link between the chemical and THC cartridges produced illegally or purchased off the streets. Discovering this link is a step in the right direction and will help authorities get to the bottom of this crisis that seems to mostly affect young people. In the meantime, however, "the CDC continues to recommend that people avoid vaping any THC-linked products for now, especially those purchased off the street." —GP
Virginia Doctor Accused of Performing Hysterectomies without Patient Consent
Authorities have arrested Dr. Javaid Perwaiz, a Virginia OB/GYN, and charged him with healthcare fraud after an investigation revealed multiple women were given gynecological procedures they hadn't wanted. A hearing was scheduled for Thursday, according to The New York Times.
In one case, Dr. Perwaiz allegedly told a patient she had pre-cancerous cells and recommended a radical hysterectomy. The patient instead decided to have her ovaries removed, a more conservative approach. When she awoke from surgery, she discovered Dr. Perwaiz had removed her uterus and perforated her bladder, resulting in sepsis and a multi-day hospital stay. When she obtained her medical records, she saw there was no mention that she'd ever had pre-cancerous cells.
Another patient tried to get pregnant for years after Dr. Perwaiz treated her for an ectopic pregnancy; when she sought the help of a fertility specialist, that doctor informed her that her Fallopian tubes had actually been removed entirely, "burnt down to nubs."
Dr. Perwaiz has had previous run-ins with the legal system, having been subject to eight malpractice suits, many related to an apparent penchant for performing as many aggressive procedures as possible. One suit accused him of doing thirty surgeries in a single day. His current trouble began in 2018 when a tipster from a local hospital reached out to authorities. Dr. Perwaiz's patients had been telling hospital staff that they were there for their "annual cleanouts." He has practiced medicine in the Chesapeake area for more than three decades. It's heartbreaking to think of how many women may have been unknowingly affected. —MB
Andrea Barber of "Full House" Fame Opens Up about Mental Health
Andrea Barber, best known as Kimmy Gibbler from Full House, has revealed her struggle with anxiety and postpartum depression in her new memoir.
Appropriately called Full Circle: From Hollywood to Real Life and Back Again, the book was released on Tuesday. In it, readers learn that the woman who plays the loud and wacky Kimmy Gibbler is a self-described introvert who was so scared of performing that she would vomit before filming scenes for Full House.
However, her mental health challenges reached a peak years later, nine months after the birth of her second child, Felicity. She had stopped eating and sleeping, weighed less than a hundred pounds, was throwing up daily and couldn't care for her baby or her son, Tate, who was four years old. Barber reached out to her parents and moved her entire family, including her husband, into her mom and dad's home so she could get help.
It wasn't easy: she went through three therapists before finding the right fit. She also had to battle a sense of shame about how her anxiety manifested with vomiting. Barber told USA Today that she still struggles with red carpet appearances and media events, but her Full House co-stars have been supportive and caring. Barber and the rest of the Full House crew currently star in the sequel Fuller House, a Netflix original series. —MB
City of Venice Faces Severe Flooding
A state of emergency has been declared in Venice, Italy following the city's worst flooding in over fifty years. Although the canal city has been sinking for years and is no stranger to flooding, at high tide the watermark measured at six feet, two inches, only two inches lower than the record measurement taken in 1966. An emergency fund has been approved by the Italian government which will be used to rebuild the city and support the citizens affected by the destruction. Cleanup is already underway, and a reported one-third of the cities raised walkways were destroyed in the flooding. Furthermore, serious damage has been done to St. Mark's Basilica and to the famous book store, Acqua Alta Library.
Italian Prime Minister Giuseppe Conte said that the flooding and subsequent devastation is a "blow to the heart of our country. It hurts to see the city so damaged, its artistic heritage compromised, its commercial activities on its knees." —GP
Good News of the Week
This week's good news goes beyond good into downright sweet and heartwarming territory. 99-year-old Joyce Gardner had one wish when she moved into an assisted living home in the United Kingdom: to meet a penguin. Asking the residence what they wish for is part of the intake process at the home, but Joyce's request was unusual. "Some people ask for a certain type of cake or a specific film," said Elizabeth Stephens, the owner of the home. "But Joyce asked to meet a penguin, which was a first for us." Stephens was able to arrange for the Heythrop Zoological Gardens to bring three penguins, Pringle, Groot, and Charlie, over to the home. Joyce and the other residents were able to interact with the penguins, going so far as to hold the incredibly social animals. "I've always loved animals, especially penguins," Joyce said. "To meet one in real life was one of the best experiences I've ever had." —GP
Watch of the Week
Watch Jimmy Fallon and Kristen Bell have fun performing an upbeat Disney medley on The Tonight Show Starring Jimmy Fallon.
Miss our "Articles of Note" section? Subscribe to Verily Daily emails and check out our new suggested reading at the bottom, in our new "May We Recommend" section.