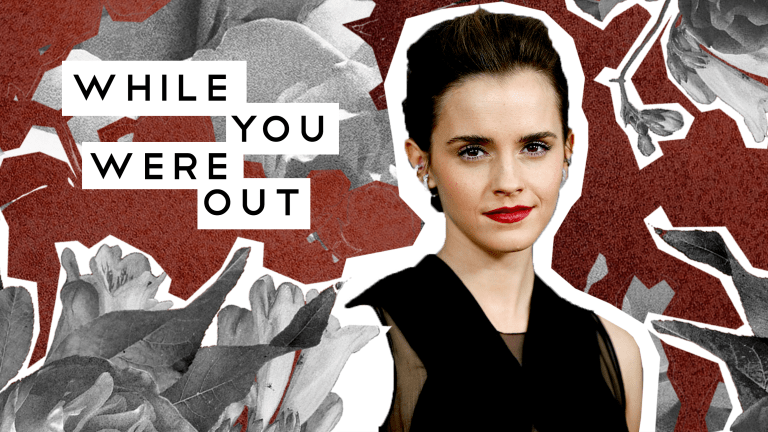 Emma Watson Says She's 'Self-Partnered,' Not Single—and Other Notes from the Week
Catch up on all the news you might have missed with our handy summary of the week's top stories
We're pleased to bring you "While You Were Out"—Verily quick takes on the happenings of this week.
Emma Watson Says She's "Self-Partnered," Not Single
In an interview with British Vogue this week, Emma Watson talked about the stigma and anxiety surrounding turning 30 without having locked down a husband, baby, and house.
The star of Beauty and the Beast, the Harry Potter series, and Little Women celebrates her next birthday in April. "I never believed the whole 'I'm happy single' spiel," she told the magazine. "I was like, 'This is totally a spiel.' It took me a long time, but I'm very happy. I call it being self-partnered."
"I was like, 'Why does everyone make such a big fuss about turning 30? This is not a big deal.' Cut to 29, and I'm like, 'Oh my God, I feel so stressed and anxious.' And I realize it's because there is suddenly this bloody influx of subliminal messaging around. If you have not built a home, if you do not have a husband, if you do not have a baby, and you are turning 30 . . . there's just this incredible amount of anxiety," she added.
Watson's comments are highly relatable and especially poignant given her career success and identity as a strong feminist. We are all susceptible to the pressures of a checklist mindset. Her interview is also refreshing in that she doesn't reject the desire for a family—she is still going on dates and getting set up by friends—but she suggests it's possible to be at peace even if that dream hasn't come true. —Margaret Brady
92-Year-Old Meets the Grandchildren of Family She Hid during WWII
Melpomeni Dina was a teenager and orphan in Greece when she and her sisters helped the Mordechai family hide from Nazi Germany during World War II. Now, more than 75 years later, Dina got the chance to meet the descendants of the Jewish family she helped protect.
"We are now a very large and happy family, and it is all thanks to them saving us," Sarah Yanai, the oldest child in the family, said.
Dina knew the Mordechai family thanks to the fashion store they ran in Veria. Her older sister, Efthimia Gianopoulou, took sewing lessons from Miriam Mari, Yanai's mother. In 1941, Greece surrendered to the Axis powers, forcing the Mordechai family into hiding. They first hid in the attic of a Turkish mosque but were forced to move again after health complications from living in a poorly-ventilated space. Efthimia stepped in and invited the family to live with her and her two sisters, including Dina, in their single-room home on the outskirts of the city. The Mordechais lived with the three girls for some time, sharing food rations and farming the small amount of land they owned.
The Mordechais were forced to flee again after the unfortunate death of one of the younger children, Shmuel, alerted authorities to their location when he was brought to a hospital. Dina and her sisters helped sneak the Mordechais into the Vermio Mountains, where they lived in hiding until the end of the war.
Yossi Mor, who was an infant when his family went into hiding, said he had a "large and beautiful family," thanks to Dina. "They saved us because they loved my mother for her good heart."
The Yad Vashem Holocaust Memorial recognized Dina as one of the Righteous Among the Nations in 1994, a title awarded to more than 27 thousand non-Jews who risked their lives to save Jewish people during the Holocaust. As reunions like these will likely become rarer and rarer, it is powerful to witness stories like these that make up our history. —Krysta Scripter
Protesters March after Controversial Sex Crime Ruling in Spain
Thousands of demonstrators took to the streets of Spain in more than 40 cities on Monday, protesting in the wake of a court ruling that partially cleared five men accused of gang-raping an unconscious 14-year-old child.
Because the victim had smoked marijuana and drunk alcohol, a Barcelona court declared that the group of men were able to have sex with her without using physical violence or intimidation. Since she was too intoxicated to put up resistance, the men were instead found guilty of a lesser crime of "sexual abuse" and sentenced to about a decade in prison.
The teenage girl told the court that she feared for her life as the men took turns raping her in an abandoned factory. The group had a gun, which turned out to be fake.
It's not the first time that Spain's narrow legal definition of rape has sparked street protests, but change has been slow in coming, and the judiciary has failed to incorporate updated precedents from previous cases. Politicians from both sides of the aisle have pledged to eliminate the distinction between "abuse" and "assault" in the legal code but have yet to follow through. —MB
NASA's Voyager 2 Probe Has Officially Passed into Interstellar Space
The long-lived Voyager 2 spacecraft has passed beyond the boundary of our solar system and launched out into the Milky Way. It happened a year ago, but the event was officially announced in a series of scientific papers published on Monday.
Voyager 2 and its twin, Voyager 1, were launched 42 years ago. Voyager 1 crossed into interstellar space in 2012, becoming the first spacecraft to ever beam back scientific data on what lies beyond the boundaries of our solar system. Its sister probe has moved more slowly in a different direction. Interestingly, the distance from the sun for both crossings was similar, surprising scientists and suggesting the possibility that our heliosphere is actually symmetrical.
Both Voyager spacecrafts are slowly dying, with only four instruments functioning on the first probe and five instruments still working on the second. Their batteries are destined to run out in about five years or so. That far exceeds NASA's original plan, which was to be a four-year mission with the modest goal of photographing Jupiter and Saturn.
It may seem silly, but I can't help feeling grateful to the hardworking Voyagers who have faithfully kept to their task throughout their lonely, decades-long journey. I suppose the real debt of gratitude goes to NASA engineers and scientists who designed and built machines so amazing that they've been able to tell us about the universe that exists beyond our own bright star. —MB
Mexican Cartel Massacres Three Mothers, Six Children in Ambush
Nine U.S. citizens, three mothers and six children, were brutally murdered in an ambush that took place in northern Mexico on Monday. The women and children were part of La Mora, a community of Mormons started by the LeBaron family who have lived in the Mexican state of Sonora for decades. The women were traveling as a caravan for safety reasons, one to pick up her husband in Arizona and the other two to the nearby Chihuahua state for a wedding.
Rhonita Maria Miller and her four children, including eight-month-old twins, were gunned down and their vehicle was set on fire. A few miles east, Christina Langford Johnson and Dawna Langford were ambushed and bombarded with bullets and died along with two of Langford's children. Langford's other children survived due to the bravery of her 13-year-old son, Devin, who hid his six surviving siblings in the bushes, many of whom were injured, and went to get help. He walked 14 miles back to La Mora.
It is believed that Johnson ran out in front of the caravan, waving her arms to indicate that there were women and children in the vehicles, but she was gunned down moments later. Her infant daughter Faith was found safe and unharmed in her car seat on the floor of Johnson's vehicle, leading her family to believe that she had hastily moved her daughter to safety before exiting the car.
Mexican officials say that the attacking cartel may have believed that the caravan of SUVs belonged to a rival group of traffickers, but members of the tight-knit La Mora community think that the gunmen knew they were firing on civilians. Although the community has generally coexisted peacefully with the local cartel, according to family members, the violence and threats have recently been escalating. Confusion still remains as to the motive, and officials have not yet been able to confirm which cartel is responsible. Our hearts go out to the grieving families, particularly to the young children who survived this horrific attack. —Gabriella Patti
T.I. Openly Discusses Going to the Gynecologist with His Daughter to Check Her Hymen
In a bizarre podcast interview, which has since been taken down, the rapper T.I. openly shared that he has been going with his oldest daughter to the gynecologist to "check her hymen." He stated that "as of her eighteenth birthday, her hymen is still intact."
T.I.'s comments have been criticized for violating his daughter's privacy and dignity and subjecting her to a humiliating "virginity test." Furthermore, procedures meant to check if a women's hymen are still intact are considered medically unnecessary and invasive, especially as the hymen can be broken in ways other than sexual penetration. Buzzfeed wrote that "a report from the National Institutes of Health found that these tests can have a deeply negative psychological impact on women and girls." Furthermore, the World Health Organization has condemned the practice of virginity testing, referring to it as a violation of human rights. "'Virginity testing' has no scientific or clinical basis," the WHO wrote in a statement. "There is no examination that can prove a girl or woman has had sex—and the appearance of girl's or woman's hymen cannot prove whether they have had sexual intercourse, or are sexually active or not." —GP
2020 Met Gala Theme Is Announced
The Metropolitan Museum of Art of New York City just announced that the theme of the 2020 Met Gala and the museum's accompanying costume exhibit is " About Time: Fashion and Duration." According to Andrew Bolton, the Met's Chair of the Costume Institute, the exhibit is "a reimagining of fashion history that's fragmented, discontinuous, and heterogeneous."
This year's exhibit and gala will be co-chaired by Meryl Streep, Emma Stone, Lin Manuel Miranda, and Nicolas Ghesquière.
According to Bolton, the theme was inspired by the 1992 film adaption of Virginia Woolf's novel, Orlando, which tells a story spanning centuries. "There's a wonderful scene in which Tilda Swinton enters the maze in an 18th-century woman's robe à la Francaise," Bolton said, "and as she runs through it her clothes change to mid-19th-century dress, and she re-emerges in 1850s England. That's where the original idea came from."
We are excited to see how those on the event's exclusive guest-list interpret this theme, especially following the creative and playful sartorial decisions made last year for the Met's "Camp" theme. —GP
Good News of the Week
The Officer Collin Rose Memorial Foundation is doing something amazing: paying off the school lunch debt for almost six hundred students at Gull Lake Community Schools in Richland, Michigan.
The foundation is named for Collin Rose, a Wayne State University police officer who was shot and killed during a traffic stop in 2016. He was engaged to be married and was only 29-years-old.
The young officer loved kids and was known to buy children lunch and give out shoes when he was on patrol. When foundation president Chris Powell contacted the school district Rose graduated from to see what help was needed, he found out that 20 percent of the students there owed money for lunches, totaling thousands of dollars. This is a common problem in the United States, where 75 percent of school districts report student meal debt.
The foundation's board unanimously agreed to commit funding, and Rose's parents will present the money to the school district this week. What a wonderful way to honor the memory of a public servant who fell in the line of duty! It's likely the kids at Gull Lake Community Schools will never forget Officer Rose. —MB
Watch of the Week
A generous, eight-year-old trick-or-treater is caught on a home security camera putting candy from his own bag into a bowl after seeing that it was empty.
Miss our "Articles of Note" section? Subscribe to Verily Daily emails and check out our new suggested reading at the bottom, in our new "May We Recommend" section.