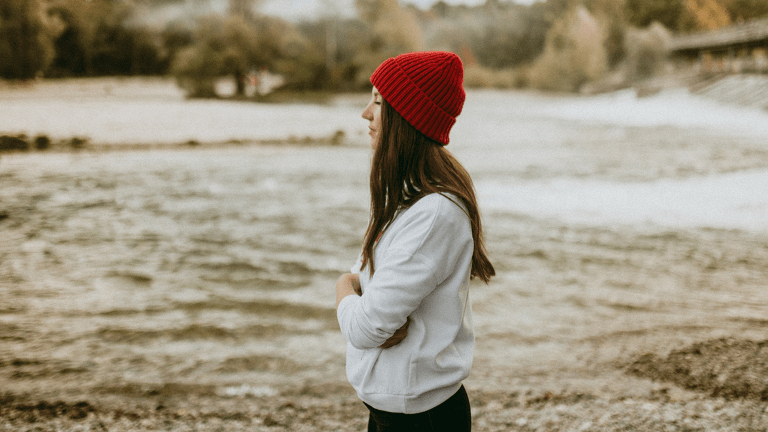 Style Tips for Dressing Up Sweatshirts
Sweatshirt Chic is the warm and comfy go-to trend for the colder seasons.
Sometimes all you want to do is wear a warm, comfy sweatshirt when it's cold and gloomy out. But you can be cozy and comfortable without letting the weather cramp your style. Check out our tips below on how to style a sweatshirt so you're warm, comfy, and chic!
Stay comfy with a sweatshirt + midi skirt
In this ensemble, the midi skirt matches the sweatshirt in comfort, and scores more style points by being elegant and more formal. A sweatshirt and flowy midi skirt are just as comfortable as a sweatshirt and leggings, but look so much more chic. Pair with tennis shoes and add earrings or layered necklaces. (Plus, if you need the warmth of leggings, you can just wear them under the skirt!)
(A monochromatic champagne look with a pleated skirt and rolled-up sweatshirt.)
(A hoodie plus sequined skirt.)
(Pairing a leopard print skirt with a graphic sweatshirt.)
(You can still color-block in pink and red with a sweatshirt!)
Another option is to make a midi skirt out of a favorite flowy dress by wearing a sweatshirt on top of the dress.
(Caitlyn Warakomski wears a sweatshirt over a sundress.)
Paint the town with a sweatshirt + pencil skirt
Wearing a slim pencil skirt with your sweatshirt also creates a high/low contrast that looks pulled-together and intentional. Sometimes, you might have to fold up the hem of the sweatshirt a bit so it matches the waist level of the skirt.
(Multiple neutral sweatshirt and pencil skirt combinations.)
(This cropped hoodie adds some street style to a feminine pencil skirt and strappy heels.)
Get to work with a sweatshirt + suit
This look is a little more buttoned-up. Wear your suit (or matching jacket and trousers) with a sweatshirt for a warmer take on the jacket-and-graphic-tee ensemble popular in creative offices. If you're wearing a hoodie, play with it to see what looks best. Some hoods you can pull forward to create a cowl neck, others you should pull out so they don't bunch up under the jacket. (Just let the hood fall over the collar in the back.)
(A bright orange, statement sweatshirt under a chic, plaid, belted suit.)
(This black sweatshirt layered under the navy suit creates a streamlined look, especially when paired with the shiny boots and bag.)
Wear your fancy shoes to brunch with a sweatshirt + jeans/trousers.
Accessories can punch up an informal outfit. A sweatshirt paired with jeans looks very casual, but adding jewelry and nice shoes can really pull the look together. Try a colorful statement necklace or earrings. Nude heels, nice loafers, or colorful flats will all elevate your sweatshirt, too. (Alternatively, you could think of sweatshirts as a way to dress down the really fancy prom shoes, evening clutch, or diamond earrings that you love but feel self-conscious about wearing day-to-day.)
(Slouchy sweatshirt, distressed jeans, and elegant heels.)
(Folake Kuye Huntoon, editor and owner of Style Pantry, dresses up her sweatshirt and jeans with bright heels.)
Wear a sweatshirt in a statement color
A statement color for a sweatshirt is anything other than the neutrals we're used to (black, white, grey, navy). Wearing a sweatshirt in a statement color creates interest and looks intentional: you're wearing it for the color and not because you grabbed it on the way to the gym.
(This baby blue sweatshirt almost matches the light denim, creating a long, sleek blue stripe that contrasts with the plaid jacket.)
(This is a very elevated sweatshirt look. The sweatshirt and jacket are both in the same statement color, blush, and they match the fun pom-pom sandals. The jeans are tailored and distressed, and blogger Sweenee also wears a green necklace that goes with the green on her sandals.)
Add structure to your athleisure with a sweatshirt + jacket
This is the most casual look, but it works well for activities like traveling, moving, or trips to the gym. If it's cool enough to wear a sweatshirt outside, add a denim jacket, leather jacket, or blazer on top. These jackets are less warm by themselves, but they add texture and most importantly structure to your outfit. This structure is what turns a gym-ready outfit into casual chic.
(Blogger Wendy of Wendy's Lookbook has dressed up her sweatshirt and jeans with a structured leather jacket.)
(This jacket pops against the all-black leggings and sweatshirt.)
(Gigi Hadid channels a rocker look with a red sweatshirt, distressed black denim, and combat boots.)