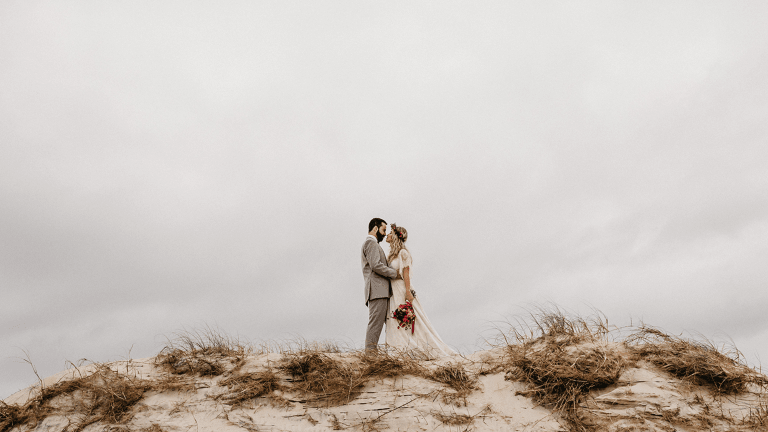 Real Men Share What They Love about the Women in Their Lives
A reminder that beauty does not conform to a single idea or definition
Every woman is noticeable and lovable for her mind, heart, and soul—everything that makes her exactly who she is. This is beauty: the intricate combination of qualities unique to each woman, inside and out.
Even if we know this to be true, we've also heard less-affirming ideas about beauty. We hear that we must look or act a certain way to be noticeable and lovable; we hear that beauty depends on our physical appearance. But that's not what beauty is really about. Beauty comes in many shapes, sizes, and colors. And it's so much more than what's on the outside.
Now, it's all well and good to hear this from me, another woman. Maybe you've heard it from your girlfriends, sisters, or mothers. But sometimes you might wonder if men believe it, too. The lies about beauty convince us they don't—that how we look matters most.
But what happens when you actually ask men? We found out when we asked brothers, friends, sons, grandsons, husbands, and boyfriends to answer one question: what do you love about a woman in your life? Here's what they had to say.
Her joyful presence
"Her liveliness. It's never boring around my wife. She makes every day a joy to wake up to and to be with!" —Anonymous husband
Her creative instincts
"I really admire my younger sister, Caroline. She brings so much depth, design, and creativity to our business. We've always been close, but working together has made us even closer, and I respect and value every idea and the fresh perspective she brings to the table." —Jake D. about his sister 
Her personal confidence
"I love how she doesn't try to be someone else. I love that she knows what she wants. I love how she can take control of life." —Anonymous significant other
Her compassionate mentorship
"My wife is a dedicated fifth-grade teacher. She is compassionate and committed to her students. She works extremely hard to create a community in her classroom where everyone feels safe and respected. For over twenty years, she has been preparing her students to be unique and interesting people, actively engaged in the global community." —Ramon D. about his wife Joyce
Her kind heart
"I admire my grandmother. She personifies class and always sees the good in people and situations. She's been an inspiration to me." —Anonymous grandson
Her strong identity
"My wife Garam exudes confidence and has a strong sense of personal identity, which I lack!" —Stefano Y. about his wife 
Her attentive love
"My wife and I have been happily married for 28 years and have been together for 31. What I love about her is her smile, open heart, and amazing intelligence. To many, she is hard and tough on the outside, but on the inside, she is a warm, caring, and a very emotional person. All of these things and many, many more are why I love her so." —Zurriane B. about his wife Danielle B.
Her deep friendship
"Beauty is skin deep. Real friendship and connection last a lifetime. Maree and I started as friends, and now share a very close bond, made possible through learning about each other. As I got to understand how she approached things, how she thought through and processed ideas, and how she loved to live her life I discovered her true beauty, what made her stand out. Many years later, as we age, that inner beauty, who she is and has been all her life, still draws me closer and closer to her as time passes." —Jeff W. about his wife


Her lifelong resilience
"What I love about my wife Rebecca is her incredible strength. She's suffered from cystic fibrosis her whole life and then suffered respiratory failure and was placed on a ventilator where she stayed for six months until she received a double lung transplant. She fought to survive, then recover, and now to thrive." —Ray C. about his wife Rebecca
Her contagious positivity
"I really want my sister-in-law Beki to know how amazing she is. This woman has a fight in her like few people you will ever meet. She has an incredible ability to stay positive and an infectious laugh. I am truly fortunate to have her in my life." —Rob K. about his sister-in-law
Her peaceful wisdom
"When I come home from a long day of work with a pain in my brain (or my heart), I come home to a pool of deep peace created by my wife. It fills our home and our relationship and brings me refreshment and healing. When I face a challenge I can't resolve, I turn to my wife. She shares with me her school-of-hard-knocks wisdom, spiced with her humor and compassion, and helps me find the right track." —Peter F. about his wife Kathy
Her strength and perseverance
"My aunt's husband passed away a few years ago, and they had been together for almost 30 years. I know she's in pain. I can't even imagine, but she gets up every day and works and takes care of everyone in her family. I want her drive and perseverance." —Anonymous nephew
Her patient communication
"I really appreciate that Jasmine is generous, a life partner, funny, strong, intelligent, and trusted me enough to come with me when I relocated to another state. We just got engaged, and we are planning our wedding. I love her and can't wait to continue this life journey with her. I really like that she is patient and that we communicate effectively. We talk about the good, the bad, and the ugly." —Abayomi A. about his fiancée
Her constant optimism
"I love my mom. She's the strongest person I know. She's had her struggles financially and everything, but manages to stay optimistic even when faced with adversity. I look up to her and hope to be even a little bit like her." —Anonymous son
Her unfailing courage
"I love her intelligence. I love her inner strength and courage. I love her patience and understanding." —Anonymous significant other
Her boundless energy
"My friend Alysa radiates—she lights up a room with her spirit and her personality. She could be in an old band t-shirt and gym shorts and stop traffic, not simply because she's attractive but because her energy is electric." —Jonathan L. about his friend 
Her consistent honesty
"My wife. I love her honesty about anything and everything. I admire her support for me in every way. And I love how she shows she values me and all I do." —Anonymous husband
Her total trust
"My wife and I have been through a lot. Our first pregnancy didn't end with a happy baby but with a tragic loss. Throughout it all, even though I was shaky at best, my wife was calm and focused. Sure, she cried, but she kept it together much better than I did. After the loss of our son, we set about finding out what 'normal' would look like for us. Even though I feel completely inadequate for this, my wife sees me as her confidant, support, and most importantly, her shoulder to cry on. And for that, she will always be the most beautiful woman in the world." —Kyle W. about his wife
Her attentive actions
"I appreciate how she is always understanding no matter the situation. She always thinks of me and does little things to show her appreciation. She also takes the time to do things that I want to do." —Anonymous significant other
Her patient heart
"I admire my wife's ability to have patience—much more patience than I have. I also admire her attention to detail in paying bills and doing taxes, and I admire her expert handling and raising of our children in the way she defuses situations between our son and daughter." —Anonymous husband
Her work ethic
"My mother raised me as a single mother. She worked very hard to keep the household going, make us neat and presentable, and stay all together until adulthood. I learned my work ethic and compassion for people struggling in life from her." —Anonymous son
So before you start to believe that beauty needs to conform to a single idea or definition, think again. There are countless things that make a woman beautiful to men and to the world. And if you live like you know it, your beauty will always shine! 
Responses lightly edited for clarity.