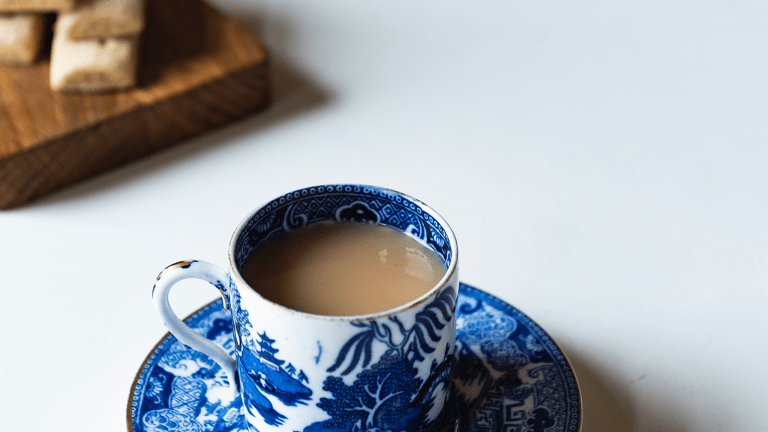 Lessons Learned from Being Steeped in the World of Tea
Valuable knowledge and experience gained while volunteering at a tea festival
Since young adulthood, I've associated tea with good relationships. When I lived at home, my mom and I would often curl up on the couch after a long week and watch a movie. The whistle of the tea kettle would call us to the kitchen to choose a tea for a pot, and of course there was always something to go with it—a cookie or a piece of chocolate.
When I moved for grad school, the tradition of drinking tea continued with a lovely roommate who introduced me to loose-leaf teas. It was through this friend that I was also introduced to the world of tea festivals. At a tea festival, booths of vendors each provide a tea or two for visitors to sample in their festival-provided sampling cup. There are also classes, workshops, and lectures about various aspects of tea culture that take place during the course of the festival.
As my love of tea has grown, I've volunteered at and participated in both the annual Midwest Tea Festival in Kansas City, Missouri and, most recently, the first annual Chicago International Tea Festival in the beginning of November. Here are a few things that being steeped (pun intended!) in the world of tea has taught me.
01. Tea introduces us to a variety of individuals and cultures. 
As I type this article, I'm sipping Ruit à Versailles, a lovely green tea that smells like peach perfume, from Emilie's French Teas in Kansas City. I met the proprietor of the shop, Emilie Jackson, at my first tea festival experience in 2017 and have visited her shop often since then. Her motto, "Tea is as fascinating and complex as wine," reminds me that tea tasting, much like wine tasting, is an art form, and that tea festivals are just as fascinating and complex. The fact that Kansas City has a French tea room allows for a richer cultural sharing in this city. Tea festivals show visitors the variety of tea businesses that can be found in their own region, often in their own backyard, while experiencing flavors from around the world. I've learned that tea is not something relegated to the United Kingdom or to the British period dramas that my mom and I watched many a night with our mugs of tea. In fact, tea is one of the most popular drinks throughout the world and among many different cultures, including Japan, India, and Turkey, just to name a few.
I've come to discover tea's dynamism; it is not only a part of some cultural heritages, but it also appeals to different age groups and interests. For example, The Dragon's Treasure, a tea shop in Chicago, blends the owners' love for tea and anime—the result is wonderfully imaginative tea names, lovely flavors, and a space for those interested in either tea or fandoms to explore.
02. Involvement in tea festivals allows for an informal apprenticeship. 
When I first signed up to volunteer at a tea festival, I had no idea how much I would learn about tea. At the festival in Chicago this month, I was assigned to volunteer in a classroom where various lectures and workshops took place throughout the day. My duties mainly consisted of fetching hot water, but what I learned from watching workshop leaders brew tea is that being a tea sommelier (yes, this actually is a thing) is much like being a poet—it's a practiced noticing, in this case of various tastes and textures rather than of the sounds of words. 
One of the workshops was a tea-and-food-pairing workshop, and it was amazing to taste how a smoky black tea interacted with blue cheese: I do not like either of these tastes alone, but together the strong flavors balanced each other out! Or how well a nutty-tasting green tea paired with white chocolate. This workshop experience reminded me to slow down and really taste. As a result of this experience, I'm now much more aware of the textures and tastes of what I'm eating and drinking, and how various flavors enhance and complement each other.
03. Meeting individuals in the field humanizes the process of producing and consuming tea. 
The Chicago International Tea Festival, in emphasizing the global aspect of tea culture, helped me see what tea vendors are doing to honor the processes of producing tea and to avoid exploitation of labor.
Harvesting tea is extremely labor-intensive. Steve Lorch of Table Rock Tea Company (who gave a lecture on growing tea in America) currently does all the labor with his wife on their small-batch tea farm, but they have collectively introduced a Good Faith Grown label to help those businesses that are working toward certified organic labels but have not yet fully achieved organic status. TeaSource, a Twin Cities tea importer, looks to buy from small farms from around the world, and to visit the individuals who run these farms in various countries. TeaSource keeps a blog documenting the company's travels to various parts of the world, and the result is that tea growers, workers, and shop owners are recognized for the work they do. Readers get a better sense of the people behind the product.
Knowing what people in the field of tea production are doing in the United States and abroad highlighted for me the social significance that my favorite drink carries. For some people, tea is their livelihood. When we buy tea, we know to look for quality tea or good flavors, but it's also important to be aware of who is producing and who is distributing that tea. Investigating whether my tea is being produced, bought, and distributed ethically is something I had not considered until my involvement in tea festivals.
Now, I know tea isn't everyone's, well, cup of tea. One tea festival joke I heard is that Americans have a history of throwing our tea into cold water (ahem, Boston Tea Party). Though I'm a self-proclaimed tea nerd, you might be a nerd about something else—beekeeping, the history of the English language, plant classification, badminton, geocaching. My biggest takeaway from throwing myself into the world of tea is that being intentional about being an "apprentice" in a field that you love can be tremendously rewarding—so I'd encourage you to give it a try! Get involved with a community who loves what you love. Get to know the people in this community. Listen to people speak about this thing you love, read about it, and do it. I've found that my life is the richer for pursuing my love of tea.