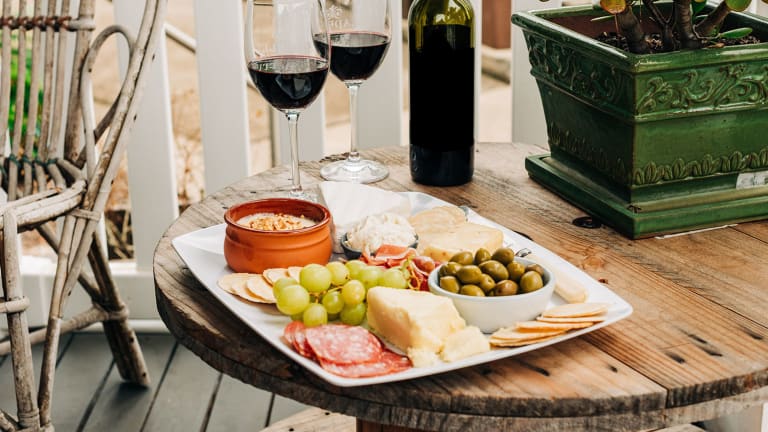 Mastering the Art of the Impromptu Party
Forget the Pinterest-worthy party, and focus instead on making your guests feel seen and welcomed.
Social media has put a lot of unnecessary pressure on hosting. Carefully curated images of perfect tables, color-coordinated napkins, and beautifully arranged appetizers can make it feel almost impossible to have friends over without stressing about whether your place is Pinterest-worthy.
Forget all that. Color outside the lines a little.
There are only a couple of things you really need to master the art of an impromptu party, because an impromptu gathering is not about impressing people, or having all the right dishes, or even knowing how to cook. It's about making people feel seen and welcomed. It's about recapturing that face-to-face interaction it's so easy to lose in our digital-driven lives. It's about people.
Creating a welcoming atmosphere
The feeling you create in your home is everything. Usually, I skip the Instagram-worthy table spread (partially because my current apartment doesn't even have a dining room table) and opt for everyone gathering on the couches and floor and crowding around the coffee table instead. It immediately makes things feel more casual and home-y. (You can only be so graceful eating spaghetti cross-legged on the floor!)
You can create a comforting, warm atmosphere with just a few strategic elements: candles, flowers, music. Grab a $4 bundle of fresh daisies from Trader Joe's, turn on some good tunes, and light a few candles. (If you don't like, or aren't allowed, real candles, you can always get some of the fake ones and still achieve that nice cozy glow.)
My friend Rebekkah keeps a basket of fuzzy socks by her door to welcome guests when they come in. You can slip off your shoes and slip on a pair of socks before curling up on the couch. (Mine are the yellow ones—please choose a different color if you visit.) It's a small touch, but it immediately feels welcoming. My sister keeps a pile of blankets near her couch, so if anyone gets chilly they can snuggle in for the evening.
Cultivating a relaxed attitude
If you're stressed, your friends will be able to feel it. So, take a breath, put on your comfy sweater, grab a glass of wine, and enjoy the evening. Your goal is to make everyone—including yourself—feel comfortable and at home.
And give yourself some grace. If hospitality doesn't come naturally to you or it feels unfamiliar, give yourself some time to experiment and practice and see what feels good to you. If having people over is draining you, try scaling back the number of times you're hosting, or scale back the way that you're hosting and let it be more casual. Let your friends pitch in. If someone texts you that they want to drop by, have them bring the wine while you provide the chocolate.
When I started hosting friends, I would try to create a full-on meal. I quickly realized that wasn't necessary. People drop by for company and conversation, not a four-course dinner. So I changed my hosting tactics to give myself some room to breathe and stocked up on some quick, easy bites instead. It's much less stressful.
Easy food
My go-to for impromptu parties is a cheese board or charcuterie tray. They're easy to put together, and if you keep it in mind during your usual run to the grocery store, you can pretty much always have these ingredients on hand. Of course there are fancy versions and you can make this as complicated as you want, but for me, I like to keep it simple.
A soft cheese: I love having a mild, buttery Havarti on hand.
A sharp cheese: My favorite is aged cheddar; it's almost universally appealing.
Dried fruit: I love whole, pitted dates—their sticky sweetness is perfect with both sharp and mild cheeses.
Salty meat: I like salami (and it lasts forever), but you could do prosciutto or sausage or whatever kind of salty/smoky meat you like.
Crackers/bread: Of course a crusty French bread is my all-time favorite, but I rarely have that on hand, so I usually opt for crackers instead.
Extras:

Honey: I love having a little pot of local honey on hand to drizzle over cheese or bread.
Olives: Green or kalamata olives both work well.
Fresh fruit: Crisp apples or tart grapes are always a good addition.
Put all the ingredients out on a wooden cutting board or big plate, and let people dig in. It's an elegant, easy way to feed a crowd.
Essentially, what you serve is just a vehicle to create a space that feels nourishing to body and soul. Food brings people together and breaks down barriers. Whether you serve cheese and crackers and have lighted candles or it's fuzzy socks and buttered toast, the really important thing is creating enough space in your life for two or three—or seven!—friends to gather in the living room, squashed together on couches or piled on the floor, to laugh and talk and connect.
So here's to all the impromptu parties you'll have. The friends dropping by to say "hello," the bottles of wine wrapped in brown paper, the last bouquet of flowers snatched from the grocery store, the muddy shoes slipped off at the door. Here's to you, your home, and the memories you make there.