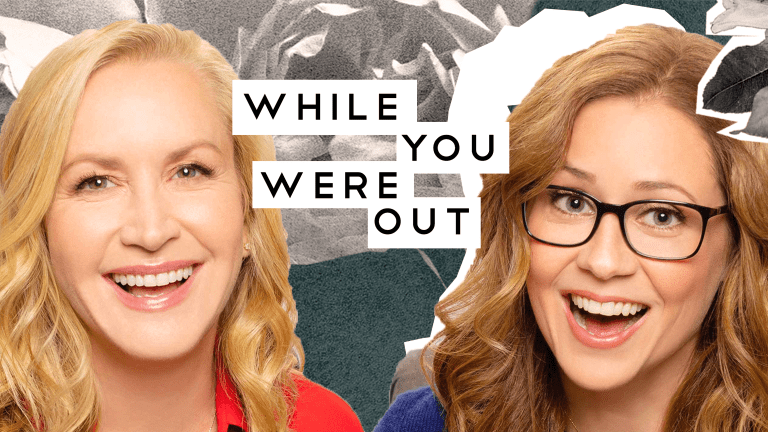 The Office Ladies Reunite for a New Podcast—and Other Notes from the Week
Catch up on all the news you might have missed with our handy summary of the week's top stories.
We're pleased to bring you "While You Were Out"—Verily quick takes on the happenings of this week.
Step into "The Office" with Pam and Angela's New Podcast
If you'd rather be at work at Dunder Mifflin right now, here's some good news: Receptionist/saleswoman Pam Beesly and accounting clerk Angela Martin have started a podcast! Or, to be more accurate, the actresses who played those characters on the long-running comedy The Office have started one.
Jenna Fischer (Pam) and Angela Kinsey (Angela) are still real-life best friends, six years after the show aired its finale. Their weekly podcast debuted on Wednesday, and it's called "Office Ladies," of course. Each episode of the podcast covers an episode of the TV series, with Jenna and Angela sharing their personal memories, behind the scenes scoops, and even taking questions from fans. They'll also be taking calls from cast and crew (Rainn Wilson, aka Dwight Schrute, has already phoned in).
The friends are careful to note that their podcast won't be a critical analysis of The Office or the art of comedy⁠—it's an opportunity for them to hang out together, reminisce, and most of all, enjoy the show as fans. "We're such dorks for our own show," Angela told Entertainment Weekly.
With The Office available to stream on Netflix, it's arguably more popular now than ever before, and there have even been some rumors of a possible reboot, or at least a Christmas special. Until then, we'll have to satisfy the need for more Office material with "Office Ladies." ⁠—Margaret Brady
Situation in Syria Continues to Escalate Following U.S. Announcement to Withdraw Troops
President Trump and Turkish President Tayyip Erdogan are increasingly at odds over the northeastern region of Syria, as Trump insists that Turkey must proclaim a ceasefire in their attack on Kurdish forces. Erdogan, who launched his military offensive just days after Trump announced that he would be removing U.S. troops from the region, has so far refused to halt the attacks but has agreed to meet with American leaders to discuss the situation.
On Thursday, Vice President Pence and Secretary of State Pompeo arrived in Turkey with a single objective: securing a ceasefire agreement from the Turkish president. Whether or not they will achieve their aim remains uncertain, as Turkey has long viewed the Kurds as terrorists due to their affiliation with another group called the Kurdish Workers' Party.
Skeptics of Trump's decision to remove troops call it a betrayal of the Kurds, who have long allied with U.S. troops in fighting ISIS. At the same time, they also fear that the removal of U.S. military presence in the turbulent region creates a vacuum for other powers, like Russia and Iran, to assert their influence. And in a rare move of bipartisan solidarity, the House passed a resolution condemning Trump's decision to withdraw troops.
Trump, so far, has doggedly defended his decision to remove the U.S. military presence, saying that he "fight[s] for the safety of our troops and [to] bring them home from the ridiculous and costly endless wars." More succinctly, he told reporters in the Oval Office, Syria "is not our problem."
Yet, as Pence and Pompeo negotiate with Erdogan, perhaps there is still hope that the Turkish president will be persuaded to halt his attack on the Kurds. ⁠—Mariel Lindsay
Fiftieth Child Dies in Hot Car This Year
News reports have disclosed the fiftieth child to die in a hot car in 2019, a figure that approaches a grim record.
The latest fatality, a one-year-old baby girl, was found unconscious in her parents' Jeep in Florida on Monday. Authorities say a record 54 children died after becoming trapped in hot cars in 2018. One possible factor in the rising number of deaths is the expert consensus that rear-facing car seats are the best protection for young children in a crash. As parents have heeded the recommendation to keep kids rear-facing for longer, the auto industry has been slow to adapt to new circumstances in which young children are no longer easily visible to their parents when exiting the car.
That's changing, though: automakers have now promised to make rear-seat reminder technology standard on most passenger vehicles by 2025. Critics say that companies are making that new pledge in order to avoid an enforceable safety standard proposed by the Hot Cars Act of 2019. The non-profit Kidsandcars.org points out that in 2001, General Motors vowed to implement technology "so sophisticated that it can detect motion as subtle as the breathing of an infant sleeping in a rear-facing child safety seat" by 2004.
Experts say most cases of hot-car deaths are not a result of neglectful parenting. Rather, they are accidents caused by a combination of poor safety design and neurological overload in the brains of parents.⁠ —MB
Cuba Gooding Jr. Faces More Sex Abuse Accusations
At least twelve women have alleged they were victims of sexual misconduct by Cuba Gooding Jr., according to the new evidence produced by a New York assistant district attorney.
The Oscar-winning actor pleaded not guilty on Tuesday to four misdemeanor counts related to an accusation made over the summer that he pinched a woman's buttocks without her consent and made sexually-charged comments to her while at a New York nightclub in 2018. However, at the same hearing, prosecutors introduced additional evidence of misconduct reported by a dozen additional women, with a timeline of the alleged incidents tracing from 2001 to 2008.
Earlier this year Gooding was charged with a different incident of forcible touching, this time accused of groping a woman during a drunken episode in another nightclub. At the time he pleaded not guilty to that misdemeanor, too.
Gooding won an Academy Award for his supporting role in "Jerry Maguire." Most recently, he starred as O.J. Simpson in the first season of American Crime Story. There have long been reports about heavy partying and misbehavior from Gooding, which his lawyer has dismissed as the exuberance of an extrovert. That will not be a good enough excuse to escape the consequences of sexual abuse if the charges are proven. ⁠—MB
Texas Cop Shoots Woman in Her Own Home
A Texas cop fatally shot a black woman in her own home, less than two weeks after former Dallas cop Amber Guyger was sentenced to ten years in prison for shooting her unarmed neighbor, Botham Jean, in his apartment after mistaking his for an intruder. Atatiana Jefferson was at home playing video games with her eight-year-old nephew when a concerned neighbor called the police requesting a welfare check on Jefferson's home. The neighbor, James Smith, placed a non-emergency phone call to the police after noticing that Jefferson's front door was open and the lights were on. Jefferson heard a noise in the backyard and looked out a back window to investigate, and upon doing so was fatally shot. The encounter was captured on the officer's body cam. The police department has announced an investigation, but community members are calling for a third-party investigation into the matter. We hope that Jefferson's family and community are able to find peace and consolation despite the senseless and untimely death of their loved one. —Gabriella Patti
Arizona Politician Charged in Human Trafficking Adoption Scheme ⁠
An Arizona politician has been charged for running a human trafficking adoption scheme. Paul Petersen, a county assessor in Arizona who also worked as an adoption lawyer, promised pregnant women from the Pacific Marshall Islands thousands of dollars, luring them to the United States to give birth and then give their children up for adoption. The women were allegedly crammed in his various properties waiting to give birth in unsanitary and inhumane conditions.
He has been charged in three states with "human smuggling, sale of a child, fraud, forgery, and conspiracy to commit money laundering," spanning over 75 adoptions over three years. Along with the mothers and their children that Petersen commodified, the adoptive families are considered victims in this as well.
Authorities were first tipped off to a potential human trafficking scheme in 2017 when Utah healthcare workers noticed influxes of pregnant women from the Marshall Islands giving birth in various hospitals in the Salt Lake City area. "Many of these mothers described their ordeal as being treated like property," Duane Kees, the U.S. attorney for the western district of Arkansas said. "Make no mistake: this case is the purest form of human trafficking." —GP
Rock Hall Announces Diverse 2020 Nominees
On Tuesday, the Rock and Roll Hall of Fame announced its list of nominees who have a chance to be inducted in the 2020 class this spring.
Sixteen acts were nominated, and the list reveals some interesting trends. Dave Matthews Band, Soundgarden, Whitney Houston, Pat Benatar, The Notorious B.I.G., Motorhead, Thin Lizzy, the Doobie Brothers, and T. Rex are nominated for the first time. Returning nominees are Nine Inch Nails, Rufus featuring Chaka Khan, Judas Priest, Depeche Mode, Kraftwerk, Todd Rundgren, and MC5.
Musicians become eligible for induction into the Rock Hall 25 years after their first record was released, and of 2020's nominees, only Dave Matthews Band and Notorious B.I.G. made their debut in 1994. The other first-time nominees are more senior artists who had been shut out of earlier nominating classes. The Rock Hall has been criticized for the relatively few women who have made the cut; in fact, Janet Jackson used her induction speech this year to advocate for this imbalance to be corrected. For the first time next year, it's possible that the Hall will induct more than two female artists in one ceremony, that is, if Houston, Benatar, and Chaka Khan all make it in.
The various sounds represented on the list represent the greatest diversity of all, however. From the industrial rock of Nine Inch Nails to the jam band tunes of Dave Matthews, there's so much variety up for rock music's ultimate honor. The induction ceremony (and performances) will be held in Cleveland, Ohio in May 2020. ⁠—MB
California's Surgeon General Hopes to Screen Every Student for Childhood Trauma
California's first and current Surgeon General, Burke Harris, is committed to seeing that every child entering school is screened for childhood trauma. Harris has been dedicated to changing how people view and treat childhood trauma for most of her career. According to a study on childhood trauma by the Centers for Disease Control and Prevention and Kaiser Permanente, "sustained stress caused biochemical changes in the brain and body and drastically increased the risk of developing mental illness and health problems." 
Harris said that she has repeatedly seen a correlation between cases of learning and behavioral problems and trauma. Harris is using her research along with the positive results from a pilot program that she spearheaded in San Francisco to try and start a nationwide movement toward educational programs and initiatives that will address stress and trauma in youth. By identifying signs of trauma, Harris hopes to help children thrive in the learning environment and affect real change by educating all those who interact with children during the school day, from teachers to bus drivers, in order to give children the best chance of success. —GP
Good News of the Week
A trio of female athletes made history this past weekend, setting records in each of their respective sports. Simone Biles, America's favorite gymnast and an Olympic champion, won her twenty-fourth medal, making her the most decorated gymnast ever. Kenyan runner Brigid Kosgei broke the women's world marathon record at the Chicago Marathon. She ran 26.2 miles in 2 hours, 14 minutes, and 4 seconds. This is also her second year in a row coming in first at the Chicago Marathon. Finally, fifteen-year-old Coco Gauff became the youngest pro tennis champion in more than 15 years after successfully competing in the WTA tournament in Linz, Austria. This has been an incredible year for women in sports, and we are so thrilled for these three young women who continue to achieve greatness. ⁠—GP
Watch of the Week
Tune in to Taylor Swift's Tiny Desk Concert for NPR, where she performs songs from her album "Lover" as they were when she first wrote them.
Miss our "Articles of Note" section? Subscribe to Verily Daily emails and check out our new suggested reading at the bottom, in our new "May We Recommend" section.