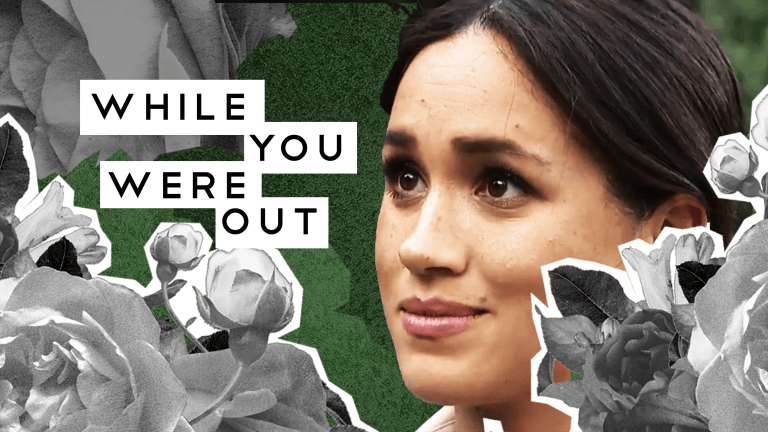 Meghan Markle Speaks Candidly in an Interview about Not Being 'OK'—and Other Notes from the Week
Catch up on all the news you might have missed with our handy summary of the week's top stories.
We're pleased to bring you "While You Were Out"—Verily quick takes on the happenings of this week.
Meghan and Harry Speak Out in Emotional Interviews
In a new documentary, the Duke and Duchess of Sussex have spoken out about the immense strain the media have put on their family, especially on the new mom and duchess, Meghan.
The film called Harry and Meghan: An African Journey, aired on Sunday night on British TV. It highlighted the couple's recent trip to Africa and their charitable endeavors there. However, the interviewer also asked Harry and Meghan questions about their personal lives, and the couple responded candidly.
Harry acknowledged tension with his brother, Prince William. "We are certainly on different paths at the moment," he said. "But I will always be there for him and I know he will always be there for me." He also expressed his desire to protect his family from the same fate that befell his late mother, Diana, Princess of Wales, who was hounded up to the moment of her tragic death by the tabloid press.
At one point the reporter asked Meghan if she was okay.
"Thank you for asking because not many people have asked if I'm OK," she said, seemingly on the verge of tears. She said she'd tried to "adopt this British sensibility of a stiff upper lip. I've tried, I've really tried, but I think that what that does internally is probably really damaging."
In response to the documentary, a well-placed Palace source told the BBC that Prince William was "worried" about the couple. Seemingly in reply, a source from around Prince Harry said that leaks from Palace insiders were driving anti-Meghan and Harry hysteria.
It's beyond sad to see how Meghan, Harry, and their newborn, Archie, are suffering, and how the princes who were so close after their mother's death are being played against each other by the press. The most important word in the phrase "royal family" is "family," and the troubles of any family should not become entertainment for the rest of us. —Margaret Brady
Instagram is Rooting Out Plastic-Surgery-Like Filters
Instagram is making another positive move toward minimizing their contribution to our ongoing cultural self-image crisis. Spark AR, the company responsible for Instagram's facial altering story filters, announced that they plan to get rid of filters that give users a "plastic surgery-esque aesthetic." In a written statement the company said that "We want Spark AR effects to be a positive experience and are re-evaluating our existing policies as they relate to well-being."
Filters that shrink noses, plump lips, and give users doe eyes were first popularized on Snapchat and were introduced to Instagram earlier this year. A 2018 study found that "exposure to idealized Instagram images (attractive peers, celebrities) has a detrimental impact on body image." This statement is just in reference to the effect that other people's photos have on us, so imagine the damage that an idealized image of ourselves might do to our self-esteem and satisfaction.
Instagram's cultural impact is significant, and so their ongoing commitment toward rooting out harmful influences is powerful. Recently, the app announced that they would be restricting underage users' access to harmful dieting ads. Instagram teamed up with body-positivity activist and actress Jameela Jamil to make this change, and her statement then is still relevant to this new announcement: "We have hyper-normalized flogging nonsense to young impressionable people," Jamil told Elle UK. "There are so many lies being told, and we've accepted that as a cultural norm." —Gabriella Patti
Scores of Elephants are Starving to Death in Zimbabwe
Authorities in Zimbabwe have announced that dozens of elephants have died in the midst of a devastating drought in the country.
At least 55 fatalities have been confirmed, with some of the elephants found within 50 yards of watering holes—implying that they died trying to get to the water. The effect of the drought inside the National Park where the animals live has been compounded by crowded conditions: the park can support 15 thousand elephants but currently has more than 50 thousand. Some of the elephants have left the park in search of food, resulting in conflict with humans. So far this year, 22 people have been killed by elephants.
Zimbabwe's human population is suffering from the drought, too. A third of the population is in need of food aid as the lack of rain has devastated crops. Millions are at risk of starvation. In the midst of the drought and the accompanying economic crisis, park officials do not have the money to continue digging wells to help the elephants. The park does not receive government funding, but it's unlikely the state would have any spare money, regardless. Zimbabwe has been in a tailspin since longtime dictator Robert Mugabe was removed by the military in 2017, but even prior to that the country's economy was in shambles. —MB
Sunday Riley Beauty Brand Settles Fake Review Case
The Federal Trade Commission has settled with the cult-favorite skincare brand Sunday Riley over accusations the company had its employees write fake reviews on Sephora.com.
The drama began when a former employee posted on Reddit, claiming that Sunday Riley was posting phony reviews. The FTC investigated the whistle-blower's comments and found the allegations were true. In fact, authorities discovered the founder, Sunday Riley herself, had sent emails telling workers to log-on and write reviews that were "enthusiastic without looking like a plant." Step-by-step guidance was provided for employees to create multiple different logins and hide their IP addresses so Sephora wouldn't catch on. The scheme appears to have gone on for almost two years.
The settlement doesn't require Sunday Riley to admit any wrong-doing, however. Nor has there been any financial penalty. Instead, the company just has to promise to not engage in such manipulation of consumers again.
Sunday Riley is most famous for "Good Genes," an expensive, all-in-one lactic acid skincare product. For more than $150, the formula claims it hydrates, exfoliates, and plumps fine lines and wrinkles in minutes. It currently has 160 thousand "Loves" on Sephora.com, with a 4.3 out of 5-star rating. Reports say Sephora did not immediately offer any comment on the situation. —MB
Barbie's Newest Job? National Geographic Photographer
Doctor, veterinarian and now, photographer. With her adorable little lion friend, cargo vest, and tiny plastic DSLR, Barbie's latest gig is with National Geographic as a photographer. The new doll is aimed for kids from three to seven and even includes a tiny copy of National Geographic. The product description reads "Barbie doll and National Geographic have partnered to encourage imagination, expression, and discovery through play—these four career dolls are ready to help them write their own stories!"
Other Barbies in the National Geographics series include an entomologist, wildlife conservationist, astrophysicist, Polar marine biologist, and entomologist.
As a photographer myself, this is the first time I've actually been excited to see a Barbie doll. The makers of Barbie, Mattel, have long received criticism "that the Barbie dolls set unrealistic expectations of a woman's body and promotes sexist career choices." Still, it's exciting to see how Barbie continues to diversify her career options and hopefully inspire new generations to pursue scientific fields. —Krysta Scripter
This Year's Ozone Hole is the Smallest on Record
Here is some positive climate news for a change: the hole in the ozone layer above Antarctica this year is the smallest since it was discovered.
NASA and the NOAA announced this week that the ozone hole, which opens annually this time of year, only grew to 6.3 million square miles, much less than the 8 million square miles scientists normally see at its peak. That's the smallest hole ever observed since 1982 when authorities began keeping records on the phenomenon.
Experts were at pains to point out that the sudden improvement was likely due to unusually warm weather patterns. In fact, this was also a record-setting year for high temperatures in the stratosphere, and the accompanying weather systems limited the number of clouds forming there. It is reactions inside those clouds that lead to the destruction of ozone molecules. This phenomenon in which warm temperatures protect the ozone layer has only been recorded twice before, in 1988 and 2002.
However, the ozone hole is indeed healing, albeit at a much slower rate than this year's galloping improvement would suggest. Scientists expect the Antarctic ozone layer to completely recover by 2070 as refrigerating chemicals that were regulated more than thirty years ago gradually break down. —MB
Central Park Gets Its First Statue Honoring Women
Next year marks the 100th-anniversary of women in the United States winning the right to vote, so it seems fitting that next August the people of New York City will be dedicating Central Park's first-ever statue honoring women. This past week, a city commission voted to put up a statue honoring three women who pioneered women's rights: Susan B. Anthony, Elizabeth Cady Stanton, and Sojourner Truth.
"This statue conveys the power of women working together to bring about revolutionary change in our society," said Pam Elam, president of the nonprofit Monumental Women whose members include volunteer advocates, historians, and community leaders. "My hope is that all people, but especially young people, will be inspired by this image of women of different races, different religious backgrounds, and different economic status working together to change the world," Bergmann said.
However, there has been some controversy surrounding the statue. For one, when the original design was presented last year, it was criticized for not depicting any women of color, which led to the addition of Sojourner Truth. Furthermore, in a vote conducted by "She Built NYC" to find out which women New Yorkers hoped to see honored, Saint Francis Cabrini, the Roman Catholic Church's first American saint, received the most votes yet she was not selected, although a monument is likely to be erected in her honor in the future. It's an exciting thought that perhaps next time I am in NYC I will be able to see statues of women whom I admire while strolling through Central Park! —GP
Good News of the Week
Last Friday, astronauts Christina Koch and Jessica Meir completed the first-ever all-female spacewalk. The two NASA astronauts completed their walk outside of the International Space Station, lasting for seven hours and 17 minutes. While Koch is a space veteran, this was Meir's first time. According to CNN, "The first woman to conduct a spacewalk was Russian cosmonaut Svetlana Savitskaya in 1984, followed closely by NASA astronaut Kathy Sullivan. An additional 12 U.S. women have conducted 40 spacewalks over the past 35 years. Koch and Meir were the 13th and 14th, respectively."
Koch has been situated at the International Space Station since March, whereas Meir arrived at the beginning of October. Koch is set to stay until February 2020, making her stay there the longest ever spaceflight for a woman astronaut, surpassing Peggy Whitson, who stayed in space for a total of 288 consecutive days. "It's really interesting for us," Meir said. "This is just us doing our job. We've been training for six years, so it's coming up here and doing our job. At the same time, we recognize that it is a historic achievement, and we want to give credit to the women who came before us. We have followed in their footsteps to get where are today." This is no doubt an incredible milestone for women in NASA and a positive example for little girls who hope to grow up to be astronauts themselves. —GP
Watch of the Week
Pour a cuppa and watch the new, extended trailer for season 3 of Netflix's The Crown, premiering on November 17.