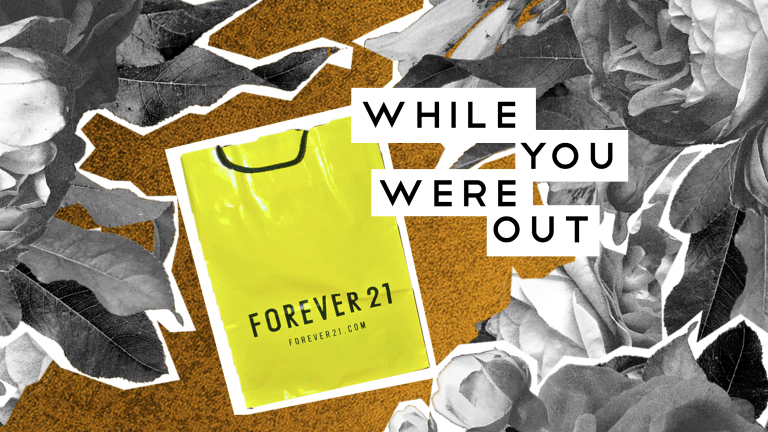 Forever 21 Is Filing for Bankruptcy, and Other Notes from the Week
Catch up on all the news you might have missed with our handy summary of the week's top stories.
We're pleased to bring you "While You Were Out"—Verily quick takes on the happenings of this week.
Forever 21 Files for Chapter 11 Bankruptcy
This week, Forever 21 announced it is filing for Chapter 11 Bankruptcy and that it plans to shut down hundreds of store locations, mostly in overseas markets, but as many as 35 percent of stores in the United States. "We do, however, expect a significant number of these stores will remain open and operate as usual," the brand said in a statement, "and we do not expect to exit any major markets in the U.S."
Forever 21 joins many other companies seeking bankruptcy protections as shoppers opt for online purchases over traditional brick-and-mortar stores. It also doesn't help that many of Forever 21's stores are in malls, which get less shopping traffic. But there are other factors as well. TIME reports, "over the last year or so, fast fashion has fallen out of style. Young customers are losing interest in throw-away clothes and are more interested in buying eco-friendly products. They're also gravitating toward rental and online second-hand sites like Thredup, where they see clothes worn again instead of ending up in a landfill." —Mary Rose Somarriba
Star Soprano Jessye Norman Dies
American opera legend Jessye Norman died this week in New York at the age of 74.
Norman was born in segregated 1945 Georgia, into a musical African-American family. She began listening to opera on the radio in her childhood and got a degree in music from Howard University in Washington, D.C. From the beginning of her career on stage in the 1960s, she was hailed as a special talent, with critics acclaiming her commanding stage presence and the lush soprano voice she brought to roles in theaters in Europe and the United States. She appeared at the Metropolitan Opera in New York more than eighty times. In 1992, a New York Times reviewer vividly, and accurately, referred to her singing as "a grand mansion of sound."
Norman was also a perennial award-winning artist, having to her credit multiple Grammy awards, including one for lifetime achievement, the National Medal of Arts, and a Kennedy Center Honor. She was selected to sing " La Marseillaise" at the Place de la Concorde in Paris for the two-hundredth anniversary of Bastille Day, and at the presidential inaugurations of Ronald Reagan and Bill Clinton.
In her later years, Norman wrote her memoir, Stand Up Straight and Sing! and founded the Jessye Norman School of the Arts to provide free after-school music programming for children in Augusta, Georgia, where she grew up. A true American original, Norman's talent was a gift to the whole world. She will be greatly missed. —Margaret Brady
Police Rescue Women from "Baby Factory" in Nigeria
Nigerian police announced this week they'd busted a suspected child-trafficking ring, and rescued 19 pregnant teens and women who were being victimized.
The mothers, some as young as 15, were being held in multiple locations in the Nigerian city of Lagos. Some told authorities they'd been kidnapped; others had come voluntarily seeking work as domestic servants, only to discover the true nature of their new work later on. The traffickers were reportedly impregnating the women and selling male babies for more than $1,300, while baby girls were sold for around $800.
Four children were also rescued in the police raid, and authorities are still trying to determine where they came from and who their parents are. Efforts are underway to help the rescued women find adequate housing. Two women have been arrested, but one major suspect is still at large.
Sadly, the discovery of so-called "baby factories" is not an uncommon occurrence in Nigeria, where it is also called "child harvesting." A thriving black market exists due to social stigmas surrounding unwed pregnancy, infertility, and adoption. Last year more than 162 children were found in illegal "orphanages." We are heartbroken for the Nigerian mothers who have been exploited in the most nightmarish manner imaginable, and for their children who have been treated like chattel. They deserve the swiftest possible justice. —MB
Online Child Porn Doubles as Government and Tech Companies Turn Blind Eye
In truly disturbing news, the New York Times recently released an investigative report showing that thanks to recent technological advances (and an increasingly sick society), major tech companies reported a record 45 million online photos and videos of child sexual abuse flagged last year. According to the National Center for Missing and Exploited Children, this staggering number is double what was reported the year prior.
Indeed, child pornography has become increasingly more difficult to police, as steady technological advances serve to provide criminals with an increasing sense of freedom. They gain access to the "dark web," use private networks to hide their locations, and encrypt incriminating messages and photos.
What's more, not only are the reports escalating, the content increasingly features younger children and more graphic crimes. Lawmakers warned of this crisis years ago, with Congress passing a law in 2008 meant to actively combat the trend. Disappointingly little has been done to enforce the law on a federal level. At the same time, police departments across the country are inundated with reports of online child sex abuse and are unable to keep up due to the sheer number of crimes and the fact that tech companies often take months to respond to subpoenas or warrants. The social media network Tumblr, in particular, became notorious for dismissing online child sex abuse after warning a user who posted child pornography that the authorities had been alerted, thus allowing the criminal to erase the evidence of his crime. And while the majority of reported child sex abuse took place last year on Facebook Messenger, CEO Mark Zuckerberg recently announced that the platform will begin enabling encryption, which will only make it much more difficult to track down criminals. —Mariel Lindsay
Doctors Demand Strict Surrogacy Laws Following the Death of a Surrogate Mother with Twins
Doctors in Delhi are pushing for stricter surrogacy laws after a surrogate mother carrying twins died. The 42-year-old was seventeen weeks pregnant with twins when she was referred to All India Institute of Medical Sciences (AIIMs) presenting with complications. It was discovered that the women had a history of tuberculosis, hydrocephalus, and depression and was currently taking anti-depressants. She had withheld this information from the surrogacy agency and died from pregnancy-related complications. "This case is reflective of the lack of regulation of commercial surrogacy in the country and its impact on the lives of poor women staking their lives for money," Dr. Sudhir Gupta said.
Doctors and lawmakers in India have been pushing for stricter surrogacy laws in India in order to prevent the exploitation of surrogates. In August, the lower house of the Indian parliament passed the Surrogacy (Regulation) Bill. The bill tightens the definition of legal surrogacy and "regulates altruistic surrogacy and prohibits commercial surrogacy." The goal is for surrogacy agencies to be required to follow due process when screening women. We hope that governments everywhere will continue to crack down on this practice which brings with it inherent risks for surrogates, and that further deaths of this kind can be prevented. —Gabriella Patti
Harry and Meghan Fight Back against Tabloids
Prince Harry and Meghan Markle announced this week that they are suing the parent company of the Mail on Sunday, a British tabloid, after the paper published a private letter written by the Duchess of Sussex.
The law firm representing the couple has filed a claim alleging a violation of copyright and misuse of private information, among other accusations. Prince Harry released a statement decrying the relentless press coverage the media has unleashed since he and Meghan married last year. "I've seen what happens when someone I love is commoditized to the point that they are no longer treated or seen as a real person," he said. "I lost my mother and now I watch my wife falling victim to the same powerful forces." His mom, Princess Diana, died in a 1997 car crash when her intoxicated chauffeur fled from a pack of pursuing paparazzi.
The statement didn't specify what letter the lawsuit is about, but the Mail on Sunday published a handwritten note from the Duchess to her estranged father earlier this year. Thomas Markle didn't attend his daughter's royal wedding after he sold staged photos to the tabloids, and she reportedly hasn't seen him since, nor has he met his newborn grandson, Archie Mountbatten-Windsor. He has continued to complain to the media about being cut off from her. —Margaret Brady
Hailey Baldwin and Justin Bieber Tie the Knot with a Wedding
Hailey Baldwin and Justin Bieber tied the knot on Monday in their traditional wedding ceremony, following a private civil ceremony back in September 2018. The young couple's star-studded wedding took place at a resort in South Carolina. The Biebers hosted a screening of their favorite movie The Notebook the night before the ceremony and surprised their guests with a water gun fight at 1 a.m.
In an interview with Vogue Magazine this past March, the couple opened up about how difficult marriage can be. "We're coming from a really genuine place," Baldwin said about their decision to get married. "But we're two young people who are learning as we go. I'm not going to sit here and lie and say it's all a magical fantasy. It's always going to be hard. It's a choice. You don't feel it every single day. You don't wake up every day saying, 'I'm absolutely so in love and you are perfect.' That's not what being married is. But there's something beautiful about it anyway—about wanting to fight for something, commit to building with someone… we're committed to growing together and supporting each other in those changes. That's how I look at it. At the end of the day, too, he's my best friend. I never get sick of him." —GP
Good News of the Week
A professor made it possible for one of her students to attend class and take notes by offering to carry the student's infant son during a lecture. The unidentified student reached out to assistant professor of biology at Georgia Gwinnett College, Ramata Sissoko Cissé when her childcare fell through. Cissé gave the student the green light to bring her child to her anatomy and physiology class, but the student struggled to take notes while holding her squirming son. The professor took the baby and improvised a baby carrier with a lab coat, strapping him to her back. He quickly fell asleep and Cissé proceeded with the class, even working the baby in as an example throughout the lecture.
Cissé told CNN that because most of her students go on to become healthcare professionals, she hopes that her students will not only learn the science but also love and compassion in her classroom. As a professor, she used a moment when an overwhelmed student was in need to demonstrate all of these lessons at once. —GP
Watch of the Week
As we remember Jessye Norman's life and music this week, here's a video recording that makes it easy to imagine her singing with the angels.
Miss our "Articles of Note" section? Subscribe to Verily Daily emails and check out our new suggested reading at the bottom, in our new "May We Recommend" section.