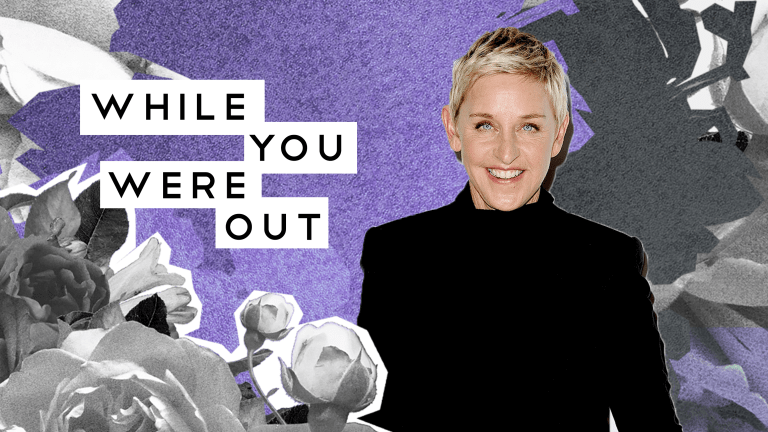 Ellen DeGeneres Faces Backlash for an Unlikely Friendship—and Other Notes from the Week
Catch up on all the news you might have missed with our handy summary of the week's top stories.
We're pleased to bring you "While You Were Out"—Verily quick takes on the happenings of this week.
Health Officials Say the STD Epidemic Has Hit an All-Time High
The U.S. Centers for Disease Control announced Tuesday that combined cases of gonorrhea, chlamydia, and syphilis reported in the last year have set a new historic record.
For the fifth year in a row, the incidence of sexually transmitted diseases has risen in the United States. More than two million infections were reported last year. And that only includes patients who saw a doctor, were officially diagnosed, and had their case reported to their local department of health—others who've hidden their condition or simply are unaware they are infected would swell the numbers further.
STDs can cause devastating health issues, including infertility and drug-resistant infections. When the diseases spread to women who are pregnant or could become pregnant, their babies can be seriously sick or die. In 2017, health officials were alarmed when records showed that cases of syphilis in newborns had more than doubled since 2013. Last year alone more than 1,300 American babies were born with syphilis contracted in the womb. Horrifyingly, 94 of them died.
The report showed that cases are highest in teenagers and young adults. Alaska, Mississippi, and Nevada were worst for chlamydia, gonorrhea, and syphilis, respectively. However, the Washington, D.C. area had higher rates for all three illnesses than any state in the nation. Some of the increase can be attributed to better access to screening, but the report concedes that much of it is related to changes in sexual behavior. —Margaret Brady
Ellen DeGeneres Responds to Backlash over Friendship with Former President George W. Bush
On Sunday, comedian and television host Ellen DeGeneres was spotted sitting and laughing with former U.S. president, George W. Bush at a Cowboys game. This seemingly innocent encounter led to an immediate backlash from those who believe that the comedian should not be friendly with someone whose political ideology differs so much from hers. The public reaction was so great that DeGeneres took a moment to address it during the opening monologue of her talk show. In her typical humorous fashion, she explained the situation to her audience. "When we were invited I was aware I'd be surrounded by people with very different views and beliefs," she said. "And I'm not talking about politics. I was rooting for the Packers—and get this, everybody in the Cowboys suite was rooting for the Cowboys."
"A lot of people were mad, and they did what a lot of people do when they're mad: They tweet. But here's one tweet that I loved: This person says, 'Ellen and George Bush together makes me have faith in America again.' Exactly!" DeGeneres said. "Here's the thing: I'm friends with George Bush. In fact, I'm friends with a lot of people who don't share the same beliefs that I have. We're all different, and I think that we've forgotten that that's okay that we're all different." Ellen ended by reminding her audience to be kind to everyone.
While many praised DeGeneres for seeing beyond the political and ideological divide—including actresses Reese Witherspoon and Kristen Bell—others responded in disagreement saying that Ellen's call for kindness across the board was indicative of her privilege as a rich, white woman. The continued debate over Ellen's friendship with George W. Bush simply highlights the divide that is pervasive among the American public concerning our treatment of one another, especially when our views differ. —Gabriella Patti
Research Shows Endometriosis is Causing Thoughts of Suicide
A new study from the BBC shows that about half of respondents with endometriosis have suffered from suicidal ideation as a result of the illness.
More than 13,500 women were surveyed as part of the research, the largest study of its kind. In endometriosis, cells that belong in the lining of a woman's uterus are found growing in other places in her body. The result can be crippling pain during periods, sex, or using the bathroom. Infertility is another devastating consequence of the disease. In spite of the ferocious agony that women with endometriosis experience, and despite it being a common disease that 1 in 10 women experience, it still takes on average more than seven years from the time symptoms develop to when a doctor finds a diagnosis.
The BBC interviewed one sufferer, Jaimee Rae McCormack, who described the pain as "like hot knives stabbing through me, like fireworks going off inside me, like something twisting and stretching and taking over me." As an awareness promoter, she has had eight friends she met through her advocacy die from suicide when they gave up hope of ever being able to cope with their condition.
It's truly unacceptable that so many women are suffering for so long without the support they need to survive endometriosis. Most of all we must help the medical community appreciate that pain is a significant sign that something is wrong and not a normal part of life for a menstruating woman.—MB
Simone Biles Just Keeps Making Gymnastics History
Gymnastics superstar Simone Biles helped lead the US Women's Olympic team to their fifth world championship in a row this week.
This is Biles' twenty-first World Gymnastics Championships medal, the most a woman has ever won in the sport's history. It also puts her in striking distance of Vitaly Scherbo, the male gymnast from Belarus who holds the overall record for most world medals. Biles is three medals away from surpassing his mark.
Including the latest award, fifteen of Biles' medals are gold, which is also a new record.
The competition took place in Germany, and teams from Russia and Italy came in second and third place, respectively. Team USA has dominated the Championships in recent years, helped by the fact that Biles is one of the best gymnasts of all time. In the course of her career, she has originated four new gymnastic moves that now bear her name. At one point, judges deliberately assigned one of her signature moves on the balance beam a lower score, claiming they wanted to dissuade other gymnasts from attempting a move so complicated it could be dangerous. Both Biles and Team USA objected, but the demerit made little difference as the Americans pulled away with the victory.
We can't wait to see Biles perform her magic at the 2020 Olympics in Tokyo. —MB
Two People Killed in Synagogue Shooting in Germany
On Wednesday, as Jews around the world observed Yom Kippur, the Day of Atonement, a gunman opened fire outside of a synagogue in the German town of Halle, killing two people. The suspect, an extremist who has only been identified as "Stephan B.", attempted to get inside the synagogue, but when he was unable to he began detonating explosives and shooting outside of the synagogue as well as in the nearby Jewish cemetery. Up to 80 people were inside. While at this time the attack is being considered an act of anti-Semitic violence, many details surrounding the attack have not been shared with the public. —GP
New Sexual Assault Allegations Emerge against Former Today Host, Matt Lauer
New allegations of sexual assault against former NBC Today show host, Matt Lauer were revealed in a passage of Ronan Farrow's book, Catch and Kill. The allegations come from a former NBC News employee, Brooke Nevils, who detailed for Farrow how Lauer allegedly raped her at a hotel during the 2014 Sochi Olympics. Nevils eventually filed a complaint with NBC, leading to the firing of Lauer in 2017. However, the details of the allegations and Nevils' identity were not revealed until the publication of Farrow's book.
On Wednesday, Today show hosts Hoda Kotb and Samantha Guthrie addressed the allegations against their former colleague, "This is shocking and appalling, and I honestly don't even know what to say about it," Guthrie stated. "I want to say, I know it wasn't easy for our colleague Brooke to come forward then, it's not easy now, and we support her and any women who have come forward with claims. And it's just very painful for all of us at NBC who are at the Today show. It is very, very, very difficult."
Lauer has since issued a response in the form of a letter, claiming that the allegation as laid out in Farrow's book is "categorically false, ignores the facts, and defies common sense." He claims that he and Nevils took part in a consensual affair and that the encounter was not forced. Nevils responded to Lauer's denial in the form of her own letter calling his statement "a case study in victim-blaming." Since the launch of the #MeToo movement in 2017, more and more women and men have become empowered to speak out about their experience of sexual assault and misconduct at the hands of powerful people. Although we continue to be horrified and saddened by these reports of abuse, we are bolstered by the bravery of those who are bringing these stories to the light. —GP
Thousands Protest France's Potential IVF Law
Tens of thousands of French citizens marched in the streets of Paris last Sunday, protesting a proposed new measure that would provide public-funded IVF for single women and women in same-sex relationships. According to media estimates, more than 70 thousand protesters converged near the French senate, waving flags and chanting, "Liberty, Equality, Paternity"—a play on the traditional national slogan of "Liberty, Equality, Fraternity." Their march echoed the even larger protests that accompanied the legalization of same-sex marriage in 2013.
The current controversy surrounds a law that would pay for IVF for all French women under the age of forty-three, regardless of their marital status. It also would upend France's strict donor gamete anonymity rules. Currently, disclosure of the identity of a sperm or egg donor carries the penalty of possible imprisonment; with the new law, donor-conceived individuals would be able to find out their genetic parent's name once they turn eighteen.
While it's understandable that anyone would treasure the opportunity to be a mom, it's also been pointed out that IVF is an extraordinarily aggressive procedure originally developed to treat people who meet the medical definition of infertility. Furthermore, many donor-conceived adults have spoken out in ways that agree with the protesters' argument: they've said it's a legitimate source of sadness to grow up without a father or to be cut off from knowledge of half of their genetic history. —MB
Good News of the Week
An Ohio police dog located a missing three-year-old within 10 minutes of beginning his search. Alongside his handler, Deputy Frank Bleigh, Bandit was able to quickly sniff out and find the little boy, restoring him to his family. "This is exactly why we have dog units, watching this track you could tell very well that Bandit had the scent of the child and was well on his way to finding him. I would like to thank Frank and Bandit for a job well done and it was so amazing to watch this unfold," officials said. We hope someone gives this heroic good boy a treat! —GP
Watch of the Week
In case you missed it last week, we wanted to share this incredible video in which the younger brother of Botham Jean, the man who was shot and killed by ex-cop Amber Guyger, embraces Guyger and offers his forgiveness for his brother's death.
Miss our "Articles of Note" section? Subscribe to Verily Daily emails and check out our new suggested reading at the bottom, in our new "May We Recommend" section.