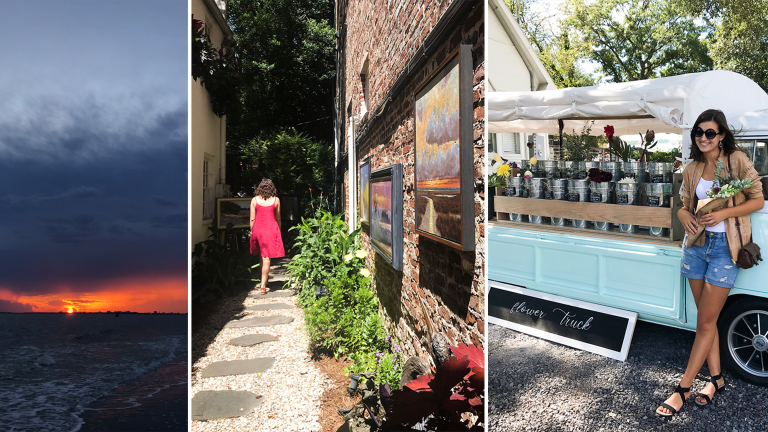 Travel with a Local: Charleston, South Carolina
An idyllic Southern city with good food to boot
Why should we visit your town/city?
Charleston is my favorite city in the world. It's steeped in history and Southern tradition and melted butter. It smells like the ocean and the air is soft and humid. It has delicious food, beautiful architecture, and an indefinable charm that makes you breathe a sigh of relief as soon as you step off the plane.
My family and I have been coming to Charleston for part of the year for the past six or seven years, and I've been plotting my move for about two and a half. I finally quit my job, found a new job, and made the move to be here full time! While the city has been a bit commercialized by the rise of Instagram and travel blogs, beneath the picture-perfect there is a lot of depth to be discovered and hidden gems to look for.
I'm in love with this place, and if you come visit, I think you'll fall in love too.
Where should we stay?
There are a lot of options in Charleston, and if you're looking for something a little more off the beaten path I would try Airbnb. But for hotels, here are a few of my favorites.
This is a great location and a beautiful hotel, but my favorite part when we stayed here a couple of years ago was the fact that breakfast was served on each floor. They set up tables of pastries and coffee in each hallway, so you can sneak out in your slippers and robe and then munch on breakfast in the cozy comfort of your own room. It's ranked the #1 Small City Hotel in the United States and Canada (and #52 in the world) by the readers of Travel and Leisure Magazine.
This beautiful spot is ideally located above the Peninsula Grill restaurant, world famous for its magnificent coconut cake (if you should need a midnight snack). The Planters Inn is quintessential Charleston luxury with beautiful dark-wood four-poster beds, arched hallways, and lovely balconies overlooking the garden.
This charming B&B is a hidden gem in the heart of Charleston. The building was originally built in 1889 as a YMCA. It's charming, quiet, and within easy walking distance of all the downtown has to offer.
Where should we eat?
Half the reason I moved to Charleston was for the food. I'm obsessed. In no particular order, here are some of my all-time favorite spots that are a little bit different from what you'll find if you just Google Charleston. (Of course, popular standards like F.I.G. and Husk and S.N.O.B. are always good choices too.)
The perfect burger joint, with amazing loaded bacon cheese fries and excellent fish tacos. It's the ideal place to sit outside and people-watch after a long day baking in the sun.
This is a wonderful place for appetizers. The bacon-wrapped dates are to die for, and the whipped feta with honey makes my mouth water just thinking about it. It's a great place to stop if you're downtown and need some sustenance before a night out. (The patio is fun if you're visiting in a cooler month.)
It's all about biscuits. Need I say more? These are the best biscuits I have ever had—light, fluffy, and almost as big as your face. And the apple pie jam is everything. You can't come to Charleston and miss this place. I would eat these every single day if I could.
The perfect place for gelato and coffee on Sullivan's Island. They always have great flavors, and it's a great, sunny spot for an afternoon date with a girlfriend. If you're here on a Tuesday during the summer, you can walk right across the street to the farmer's market and explore the work of local artisans.
All the sandwiches here are good, but the one that stands out as the best of the best is their Big Mac sandwich with mac and cheese, caramelized onions, bacon jam, and braised short ribs with Cheerwine BBQ sauce. I cannot even describe the magic of this combination. It is indulgent and divine and an absolute MUST.
This is a newer restaurant and the place that converted me to ricotta gnocchi. It will forever have a special place in my heart just for that—it's dark, cozy atmosphere and highly knowledgeable staff don't hurt either. You absolutely must try the green beans—they are chilled and lightly drenched in a magical sauce—and the ricotta gnocchi which is drowned in copious amounts of butter and lump crab meat. These two dishes will change your world.
If you're looking for the perfect brunch spot, you need to go to Henrietta's. Tucked away in the Dewberry Hotel, this magical little restaurant has a great atmosphere and amazing food. My favorite is the chocolate praline danish, but my dad loves their burgers and my mom swears by the cheddar biscuit. Essentially, everything on the menu is worth having, so go hungry. It's also great because it's slightly off the beaten path, and you can usually get a table without much of a wait.
Which coffeehouses are the best and why (for coffee, for atmosphere, for both)?
Since my job allows me to work remotely, I frequently find myself at each of these places curled up with my laptop and an iced chai or lavender latte. Charleston is the perfect place for coffee lovers.
Technically in Mt. Pleasant, but definitely worth driving over the bridge for, Vintage is the perfect beach-y coffee shop. The coffee is strong and the atmosphere is a mixture of chill and upbeat. You'll find moms and their toddlers outside under yellow umbrellas and college students in the AC studying or meeting with mentors. It's a great place to hang out for a couple of hours with a friend or a work project. And the smoothie bowls are really good too!
This is the ultimate hipster coffee shop located at the up-and-coming edge of King Street. It has wonderful chai tea, excellent coffee, and a variety of gluten-free and vegan food options. My personal favorite is the lemon blueberry olive oil cake. On weekdays it's usually busy, but if you can find a table, it's the perfect place to settle in when you need to be creative. It's usually quiet on Sunday mornings, so I go there to get in some writing or have breakfast with a friend before heading to church.
My sister introduced me to Second State, home of the best iced lavender latte, and it's quickly become one of my favorite spots. I love the big windows and quirky, minimalistic vibe. The coffee is wonderful and it's close to a park too, so great for a stroll.
What sites should we see?
This is an absolute must. The window boxes and ironwork gates will take your breath away. It's a perfect way to be introduced to Charleston, so I highly recommend walking instead of driving by. It's easier to peek into gardens and admire the porches if you can go slowly.
On your way to Rainbow Row, take some time to meander the streets and stop in the art galleries along Broad Street and Queen Street. One of my favorites is Reinert Fine Art and Sculpture Garden Gallery—it feels like stumbling upon a secret garden, with beautiful pieces of art and sculpture tucked among the plants and trees.
If you eat at Poe's Tavern or Beardcat's, you definitely need to head to the beach on Sullivan's Island too. It's quieter than Folly Beach or Isle of Palms and more residential. While McMansions are taking over, you'll still find some charming old beach houses overgrown in confederate jasmine on the back roads, and the sunsets are magical—you can see the entire city skyline of Charleston light up across the harbor. It's a beautiful place to walk or picnic in the evening.
Boone Hall is a wonderful way to get a little taste of the Old South.The entrance includes a magnificent driveway of ancient live oaks dripping in Spanish moss. While visiting you'll see what plantation life was like—surrounded by beautiful gardens and grounds that, of course, stand in stark contrast to the harsh realities of slavery.
Editors' note: This post has been updated since publication.