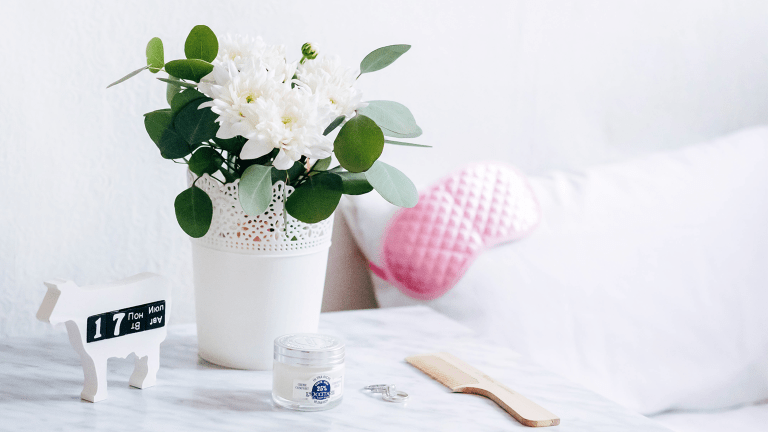 Readjusting Your Self-Care Routine for Fall
Self-care can look different with each season.
I don't know about you, but for me, autumn is always a season of change. As Gretchen Rubin, author of The Happiness Project, says, "September is the other January." In other words, as we experience the change from summer to fall, for many it's the perfect time to reevaluate our goals, embrace a fresh start, and revamp our self-care routines.
Autumn is a short but very beautiful season. Incorporating the best of fall into your self-care routine can help you appreciate all this short but sweet season has to offer.
For many people, taking care of your overall well-being looks very different in the summer than it does in the fall. Depending on where you live, spending time outside and getting exercise in is much easier when the weather cooperates. In contrast, as the skies become grayer and the weather becomes cooler, it becomes more and more tempting to stay indoors. In addition, schedules and routines often go out the door in the summer and are replaced by vacations, neighborhood festivals, and lazy days by the pool. Once summer activities have come to an end, the low-key self-care practices are no longer a good fit.
Here are five ways you can revamp your self-care routine this fall.
Put on those layers and go outdoors
The pool may be closed but that doesn't mean you have to give up reaping the health benefits of spending time outdoors. Spending time outside is associated with helping to prevent depression, improved mood, and better concentration, according to Harvard Health. It's also associated with decreased stress, according to one study.
Switch your beach day for a fall hike, apple picking, or a pumpkin patch visit. Not only will you sneak in some exercise, you'll also be able to practice mindfulness by enjoying the things that make fall so special: chilly mornings, beautiful foliage, pumpkins and seasonal produce, cozy evenings, and sweater weather.
Try a new fall recipe using local and in-season produce
The change in season is also the perfect time to reevaluate and revamp your eating habits. Get back into making nutritious meals for yourself by taking advantage of the new produce autumn brings, like squash, root vegetables, beets, and apples. Cooking with seasonal produce is a great way to challenge yourself, break out of a cooking rut, and gain a fresh enthusiasm for mealtimes. Cooking and baking are also great ways to tap into your creative side and can even become opportunities for leisure and enjoyment. Listen to a podcast or audio book while you cook to make meal prep even more enjoyable (Verily Table has some great podcast suggestions to listen to while you cook).
Switch up your morning routine
As mentioned earlier, fall often brings busier days and the need for more structure and routine than the summer months required. That means it's the perfect time to overhaul your morning routine.
Consider setting aside some time for self-reflection, and identify what you need most in your morning routine. Perhaps making a nutritious breakfast is a priority, or maybe getting in a solid workout is more important for you. Or, you might be craving some time to journal, pray, or read before your day picks up. Whatever it is, set your morning routine up so that you are able to give yourself this gift before the demands of the day take over.
Start an article/podcast/book club
As tempting as it might be to turn to Netflix or a movie marathon as it gets darker earlier in the evenings, consider embracing cozy evenings by turning them into an opportunity for community. Start an article-, podcast-, or book club instead.
Article and podcast clubs require less of a time commitment than a book club, and an interesting article or podcast episode can be the perfect reason to gather together and discuss over a fall-themed beverage. You can take turns hosting, selecting the article or podcast, and coming up with a discussion question or two to get the conversation going. And let's be honest, if the conversation gets off-topic, that's totally okay. It's often more about bringing people together than it is about the article or podcast.
Declutter
As you switch out your summer clothes for your fall wardrobe, why not take the opportunity to declutter your whole home? For many people, a (relatively) clean home or office can contribute to an overall sense of control of and order in their lives. In contrast, a messy environment can contribute to a feeling of messiness in other areas of your life. Sometimes, I suggest to my psychotherapy clients the idea of organizing a room or office, if they are overwhelmed with life. Even though it may not solve whatever challenge they are experiencing, it gives them a sense of control over at least some portion of their lives.
As you clean out your closet, consider setting aside some time to organize and cultivate a sense of order and calm in the rest of your environment which will help you embrace the changes that autumn brings with a sense of renewal.