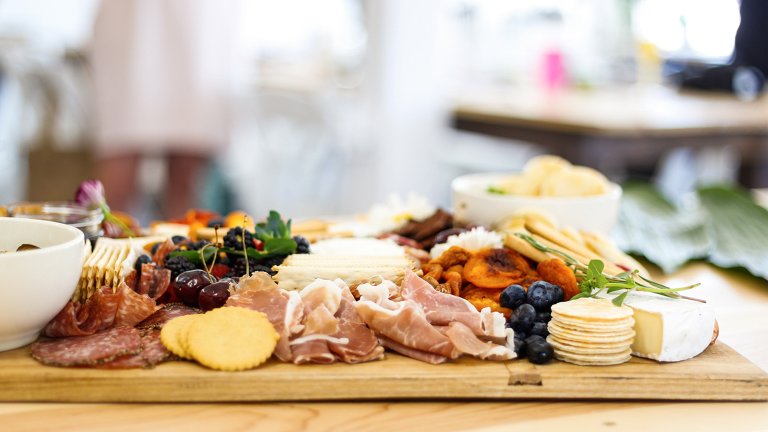 Movie and Snack Pairings for Your Next Date Night
Let us focus on the planning, so you can focus on each other.
When you're looking for a relaxing date night in, it's hard to beat a movie night on the couch. Beyond being budget-friendly and convenient, watching movies together and talking about them can be good for your relationship.
The challenging part is choosing a movie. When my husband and I don't have a movie picked out in advance, we often end up scrolling through the endless streaming options before we finally settle on a DVD we've watched time and time again.
If you're looking to revitalize your movie-night dates at home, look no further. We've got a list of movies you'll both enjoy, with snack suggestions for each one. Let us focus on the planning, so you can focus on each other.
Timeless classics
Cary Grant and Grace Kelly star in this charming 1950s mystery directed by Alfred Hitchcock. John Robie (Grant) is a retired jewel thief, once known as "the cat." When someone starts committing crimes in his signature style, Robie sets out to prove his innocence.
Since the riches are stolen under cover of darkness, this film pairs well with rich dark chocolate. Indulge in your favorite chocolate bars, a batch of brownies, or both at once.
When an art forger loans a sculpture to a museum, his daughter, Nicole (Audrey Hepburn), knows they have to get it back before it can be tested for authenticity. She enlists the help of Simon (Peter O'Toole), who she met when he broke into her father's home and hatches a plan to steal the statue.
A movie that takes place in an art museum calls for a colorful snack. Make yourselves a vibrant fruit tray or vegetable tray with your favorite dip.
Dramas
After falling asleep on a train, five-year-old Saroo wakes up in Calcutta, nearly a thousand miles away from home. He ends up in an orphanage and is adopted by a loving family, but he never forgets his roots. As an adult, Saroo (Dev Patel) begins a quest to track down his boyhood home. This remarkable story of persistence and resilience is based on a book that tells the true story: A Long Way Home by the real-life Saroo Brierley.
While you watch, treat yourself to some samosas. Trader Joe's, Whole Foods Market, and other grocery stores have them in the frozen section, or you can order them from a local restaurant. If you have the time, you can also try your hand at making your own.
On the brink of WWII, Lady Sarah Ashley (Nicole Kidman) arrives in Australia after the death of her husband and must protect their cattle operation from a takeover by corrupt cattle barons. Though at first disgusted by Drover (Hugh Jackman), the two join forces to drive the cattle across treacherous terrain. Central to the film is a young aboriginal boy, Nullah (Brandon Walters), who gives viewers a glimpse into the plight of the Stolen Generations—Indigenous children who were forcibly removed from their families as part of an assimilation policy. Directed by Baz Luhrmann, this film is rich with drama, history, and romance.
For a movie that revolves around a cattle conflict, it's only natural for beef to be on the snack menu. Have some beef jerky, and balance it out with some crackers and cheese.
Comedies
While visiting Paris, screenwriter and aspiring novelist Gil Pender (Owen Wilson) is transported back to the 1920s. There, he befriends F. Scott Fitzgerald, Ernest Hemingway, and other artistic greats of the time, while also developing feelings for a French woman (Marion Cotillard). Meanwhile, in the modern-day, he has a fiancée (Rachel McAdams) who is decidedly less nostalgic and romantic than he is. Through his visits to the past, he must grapple with his present.
This movie pairs well with a glass of your favorite wine, some French bread, and a simple cheese plate.
If HGTV makes you want to roll up your sleeves and start a renovation, this movie will have you running the other direction. Walter (Tom Hanks) and Anna (Shelley Long) score what seems to be a bargain on a mansion, but it turns out to be a disaster. As the house literally falls apart beneath their feet, they fight to repair not only their home but also their relationship.
No moving day is complete without pizza. Sure, you get to watch others make the move instead of doing the work yourselves, but you can still enjoy a full-size pizza, some pizza bites from the frozen section of the grocery store, or even a fruit pizza.
War movies
In WWII Morocco, Canadian intelligence officer Max (Brad Pitt) and French Resistance fighter Marianne (Marion Cotillard) must pose as husband and wife as part of their mission to kill a Nazi ambassador. What begins as an act becomes a real romance, and they build a life together. But one secret changes everything.
Get a little taste of Morocco with this easy Moroccan spiced hummus, and pair it with your favorite hummus accompaniment, like pita chips or veggies. Not into hummus? Olives and almonds are both important figures in Moroccan cooking, so an olive tray or some roasted almonds would be an appropriate snack.
Desmond Doss (Andrew Garfield) is an Army medic in WW2, but he stands out from the other men in a significant way: he refuses to carry a gun. No matter what faces him, he refuses to compromise his beliefs. The film culminates in a bloody battle atop Hacksaw Ridge, where Doss's heroism shines. What makes this film even more remarkable is that it's based on a true story.
In celebration of an American hero, dig into a dessert that's about as American as it gets: apple pie.
Musicals
With a big imagination and little money, P.T. Barnum (Hugh Jackman) joins forces with several societal outcasts and a young business partner (Zac Efron) to create a new entertainment sensation—with a very rocky start. Though P.T. Barnum was a real person, this highly fictionalized account of his circus is more inspired by Barnum's life than actually based on it. But it beautifully celebrates the power of imagination and the importance of family.
For a snack, grab the popcorn—it's showtime! If you're feeling really adventurous, whip up some Circus Animal popcorn, complete with those little pink and white Circus Animal cookies.
Romeo and Juliet gets a New York City spin in this award-winning musical from the 1960s. In this retelling of the Shakespearean tragedy, Tony (Richard Beymer) and Maria (Natalie Wood) are the young lovers, and the rivalry that threatens to keep them apart is that of two gangs. The music, choreography, and overall concept make the story entertaining even for those who aren't into Shakespeare.
Pair this musical with some hot fudge sundaes. Cold ice cream and hot fudge sauce may be opposites when it comes to temperature, but sometimes, opposites really do attract. Let's just say the union in your bowl will be much more successful than the one in the movie.
At the time of this writing, all of these movies are available to rent on Amazon Prime, YouTube, Vudu, and other streaming platforms. With the exception of The Greatest Showman, all the movies are currently $3.99 or less to rent, and a few are free with an Amazon Prime membership. It doesn't cost much to enjoy some flicks and snacks. And the bonding time is priceless.