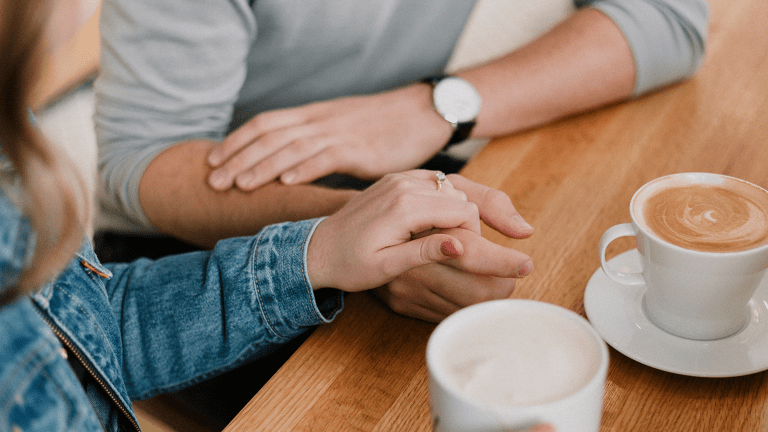 The Book That Showed Me the Beauty in Mundane Moments of Married Life
"Joy in the Morning" offers hope that marriage can be a soft place to land
As I prepare for my upcoming marriage, I've found that everyone has recommendations and advice to give. I'm not complaining⁠—after all, I've never done this before. But the sheer amount of advice can sometimes be overwhelming, making me wonder if I am cut out for marriage with all my imperfections.
Through all the excellent, although overwhelming advice, one voice has managed to cut through the noise and has proven to be a source of reflection, comfort, and heartening encouragement. Meet Betty Smith, best known for her coming-of-age story A Tree Grows in Brooklyn. Smith primarily wrote from the 1940s through 1960s, and although her work is fiction, it's highly autobiographical. Looking for something to read, I found my way to a well-worn library copy of Joy in the Morning, Smith's final book. It's about the first year of marriage for a young couple, Annie and Carl. The book isn't as well-known as A Tree Grows in Brooklyn, but the simple and unassuming way that Smith wrote the young couple's first year of marriage struck my heart and showed me the beauty in the mundane moments of married life.
Annie and Carl are eighteen and twenty, respectively. They fall in love and get married, despite protests from their demanding mothers, and they settle in a small town in the Midwest where Carl is starting his second year of law school. The book follows their very ordinary life, with its ups and downs⁠—tight finances, coping with a spouse in school, the loneliness of a new place, learning to communicate, growing in maturity and individuality within their marriage. If there is an ordinary or common problem to be had, Annie and Carl face it. However, they do so sustained by their pure and almost childlike love for one another. It's not a grand epic; its beautiful simplicity snapped me out of the rose-colored trance where most literature places us in regards to romance and relationships.
I am no stranger to unrealistic expectations for relationships, and I don't think I am the only one. Fictional portrayals of relationships are often brimming with passion; the moments of joy and romance are dreamy and intense and even the fights are portrayed as passionate to the point where they have more to do with sexual tension than real anger, hurt, and pain.
While I don't doubt that marriage has its extreme emotions⁠—after all, most of us have the freedom to choose to marry someone whom we love deeply⁠—we often fail to account for the moments of marriage and relationships that aren't exciting, when we don't feel in love, or where the hardships or realities of day-to-day life take their toll.
As a woman preparing for marriage, this book really influenced my thinking, and I imagine myself twenty years in the future, recommending this book to another young couple looking to get married. However, the lessons offered through Annie and Carl's story are also relevant to single women hoping to get married and women who have been married for some time. For single women the lessons can serve as a guide as they look for a partner; for married women, the lessons can help them reset their perspective and appreciate the beauty of their marriage with fresh eyes. While I don't want to spoil the book (I highly recommend you pick up a copy for yourself!), here are three simple but profound messages I drew from the book and will no doubt carry with me through the earlier, and likely challenging, first years of marriage.
Your spouse is your respite.
Throughout the book, the dialogue is often simply Annie and Carl talking about their day: Annie chatters about the people who she met as she went about her day, and Carl expresses his trepidation about his upcoming quiz on torts; Annie, a budding writer and avid reader, reads Carl her grammatically incorrect plays, and Carl wonders how he will be as a father.
With the exception of some outdated attitudes about gender roles and cultural mores, their conversations could just as easily be what any couple talks about while brushing their teeth before bed or while driving in the car running errands. Annie and Carl share all their little woes, grand hopes, lingering fears, and excitements. And, like normal people, most days, the things that they dwell on and talk about seem mundane or unlikely to matter in the grand scheme of life. However, Annie and Carl learn to trust each other even with the seemingly unimportant things, to respect each other's feelings, to listen to each other with compassion, and to respond with encouragement.
Annie and Carl become each other's soft place to land, and they learn to lean on each other through better or worse, even when both better or worse are seemingly minor events. Like Annie and Carl, my soon-to-be husband and I will be experiencing the first few years of marriage while he is in school, in this case medical school. I will be moving to a new city, where I have to establish a new normal, and he will have to manage the stress of anatomy labs, clinic, and difficult exams. Our lives will be busy, but standard. However, like Annie and Carl, I hope we can grow to trust that we can always share both the struggles—when school gets too difficult or when we feel overwhelmed by our new home—and the joys—when we discover a new treasure in our city like a small, neighborhood coffee shop—that we encounter.
The delight of sharing something with someone and knowing that no matter what it is, it will matter to them because it matters to you creates a sense of security. So, when the harder things hit, like financial troubles or the stress of children, you know that you can depend on each other for support. Smith's book helped me appreciate the sweetness of having someone to take care of me and vice versa⁠—someone to share dreams and goals with, and someone with whom to share the burdens of daily life, big or small. Even if we're not married yet, boyfriends, roommates, or even parents and siblings can fill the role of people to share our dreams, hopes, and daily lives with.
Take time to develop your own interests and person.
While I believe that marriage is in large part about growing with another person, I also see the importance of not losing yourself and your personal interests in another person. Annie and Carl struggle as they watch each other pursue their hobbies and goals, and sometimes they selfishly wish to put the kibosh on whatever the other is doing so as to keep their spouse all to themselves. However, they both see how selfish this way of thinking is and ultimately decide that watching each other find joy and grow as they pursue their individual pursuits is worth it. For example, Annie begins to spend her evenings reading and writing plays, and initially, Carl is resentful because this draws her attention away from him. However, he sees how much Annie lights up and grows as a person when she puts her mind to writing these plays, and he scolds himself for feeling selfish. Eventually, he finds small ways to support her, like having her plays typed up and bound in a book. Carl could just as easily remained resentful or been unsupportive of Annie's desire to be a writer, but instead, he encourages her. This small act of choosing her over himself, despite his more selfish instincts, allows him to grow alongside Annie and remain a part of her life while she pursues something that is totally her own.
As a couple, my fiancé and I have developed things that we like to do together, but that doesn't erase the years we had before each other, nor does it stop the natural growth that happens over the course of a lifetime. Inevitably, in the decades to come, we will not be the same people that we were when we started our relationship. But Annie and Carl give me hope that by choosing to love and support each other, even as we maintain our own separate selves, we can cultivate a relationship that allows us to stay in love and remain married for a lifetime.
Find beauty in the small simple joys of marriage⁠—for richer or poorer.
Annie and Carl never let money (or the lack thereof) stop them from delighting in the simple joys of daily life. For example, when money was tight and their food limited, Carl found a way to make their humble meal into a romantic date by simply moving them out to sit on their porch step where they could appreciate the outdoors. Meanwhile, Annie repurposes old dresses into curtains and finds inexpensive but beautiful flowers to brighten up their home. Annie and Carl's life is humble, and to most it might be nothing to write home about, but they find a way to turn what is common into something joyful and breathtaking. Their life is beautiful because it is together, and when things get tough, they remind themselves and each other that with each other, they have more than they could ever hope for.
This simple way of thinking is something I cling to, especially because I know that the early years of our marriage and even the later years will be rife with tight finances, late nights, and stress. Carl and Annie are intentional about keeping this spirit of gratitude and finding beauty in the common alive in their marriage. By doing so, they find ways to be resourceful and optimistic, even when things look dire.
Annie and Carl boiled down some essential lessons on marriage and love for me. Marriage won't always be easy nor will it always be exciting. However, they give me hope for the possibility that marriage can be a soft place to land.