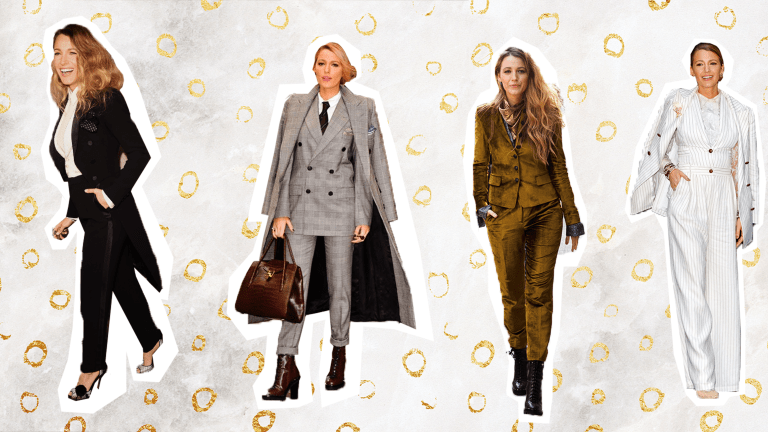 Suit Up: Rocking a Power Suit Like the Stars
Mixing masculine and feminine style like Blake Lively & Co
Blazers and suiting for women surged in popularity again around 2017, and one of the most notable transformations was Blake Lively's. As Lively promoted her 2018 film A Simple Favor, she turned away from her Hollywood bombshell look and began to embrace sophisticated suits like those worn by her character, a welcome surprise for red-carpet watchers.
Suits are practical, versatile, and chic. They keep you warm in cooler months and in heavily AC-ed offices, and they can be made even warmer with the extra layer of a vest or a sweater under the jacket. Suits look polished and professional in the office, and they can just as easily be dressed up for a night out with some bold makeup, jewelry, or shoes. In cooler climes and at cooler times, the suit's advantage over the little black dress is its warmth.
Marlene Dietrich and Katharine Hepburn were the first actresses to wear suits in Hollywood, both on camera and off-set, starting in the 1930s. But as the suit has gained popularity in the last few years, more celebs such as Cate Blanchett, Emma Watson, Blake Lively, and stylist and journalist Esther Quek all have frequently sported suits with aplomb on the street and the red carpet.
In the latter part of this decade, wearing suits has been all about creating contrasts by combining what are traditionally considered "masculine" and "feminine" elements. Check out the tips below to rock suits like the star you are.
Add a feminine touch
One way to mix masculine and feminine elements is to replace the button-down shirt with a scoop neck tee or a lace camisole that peeks out underneath. Blake Lively and Cate Blanchett often swap out the button-down for an alternative top underneath to add some femininity. You can also just wear the jacket as a top on its own.
(Blake Lively layers a scoop-neck tee or cami under a bright red suit.)
(Cate Blanchett wears a pussy-bow blouse underneath a cream suit.)
(Rita Ora wears the jacket as a top on its own.)
Play with proportions
Generally, tapered or slim trousers are a good choice to balance out the volume of a boxy jacket and shoulder pads. Emma Watson often wears a tailored suit with slim trousers that end at the ankle.
(Watson's classic black and white suit features slim ankle pants.)
(In this less formal, monochromatic green ensemble, Esther Quek wears slim ankle pants with her blazer.)
Creative colors
Wear a traditional suit in a non-traditional monochromatic color: think red, millennial pink, baby blue, forest green, or white. Mixing it up with colors can either soften the look or turn it up. The pastel hues and muted tones are subtler twists on the suit, and these types of suits are still professional enough to be worn in many offices. A brighter color, though, such as red or pink, should probably be saved for evening wear and those working in creative industries.
(Blake Lively in a lilac suit with raw-hemmed jacket and high-waisted pants.)
(Blake Lively wears an eye-catching, color-blocked suit in blue, white, and Kelly green.)
(Rita Ora in a stunning orange suit, sweater, and jacket.)
(Wearing an all-white suit looks cool and Miami-ready in the summer, but it also looks amazing in the winter when everyone else is wearing dark, muted colors. Leelee Sobieski adds depth to her suit by pairing two different hues: cream pants with a cream jacket and a pure white shirt.)
(Meanwhile, Rosie Huntington-Whitely pairs white pants and a white jacket with a nude heel and a blush camisole.)
Add contrast with accessories
You can wear a traditional navy, black, or brown suit with a button-up and add contrast with feminine hair and makeup, huge chandelier earrings, statement necklaces, cocktail rings, and brooches that feature bright colors, beautiful stones, feathers, or geometric shapes. Esther Quek is the expert at creating this look with more masculine clothes and eye-catching accessories.
If feminine jewelry isn't your thing, you can also mix a suit with bohemian or rocker accessories to create a high-low, classic-boho vibe.
(Esther Quek rocks a flowered blazer with statement earrings.)
(Esther Quek pairs a butter yellow suit with gold statement earrings and a multicolored scarf that peeks out at the top and bottom.)
(Esther Quek accessorizes like a literal rock star with these spiked earrings, spiked necklace, multiple statement rings, and blue hair.)
(Janelle Monae's sockless loafers and jaunty porkpie hat give this buttoned-up suit a hipster twist.)
Rethink the classics
A classic black suit or tux with a fully buttoned-up shirt looks amazing when paired with long, loose locks, a curly ponytail, feminine makeup, and heels. If you don't have a suit, just buy affordable separates in like colors. (I often wear Old Navy pixie pants and a Target blazer together—because they're the same shade of navy blue, several people have assumed that they are a suit set.)
(Anne Hathaway looked boss when she hosted the Oscars in 2011 in this borrowed-from-the-boys tux paired with a curly ponytail, dainty earrings, and sparkly platform heels.)
(Janelle Monae wears her curls parted down the side and adds red accessories and a red lip.)
(Shailene Woodley pairs her black suit with silver, pointed heels and a loose side braid.
(If you don't have long hair, Quek is again a great example of using beauty and hair to create a feminine look. In this ensemble Quek is all business from the neck down, wearing a suit complete with tie clip and pocket square, but then she styles her hair in a voluminous, wavy coif, and adds huge feathered earrings, dramatic brows, and a winged, smoky eye worthy of the red carpet.)
As the weather cools, channel some suited screen sirens and get creative with your layering. You will be warm, modest, and a little edgy. Go out there and make Marlene Dietrich proud.