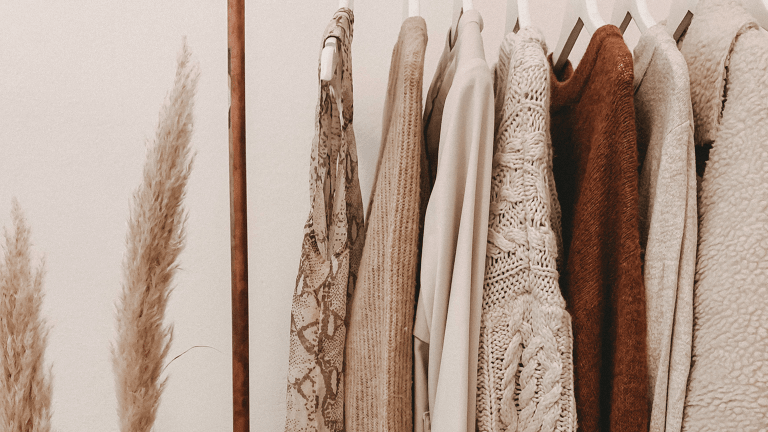 Last-Minute Halloween Costumes You Can Find in Your Closet
Skip the costume store⁠—get creative with what you have at home
Halloween is upon us! If you're reading this, there's a good chance you're trying to cobble together a last-minute costume. Never fear; you don't need to rush out to buy a plastic costume set at a seasonal pop-up. It's easy to put together a costume using wardrobe staples and a little easy DIY crafting—and maybe one trip to the thrift store for a prop.
Anything mythical
For this, you need a white dress—preferably some kind of flowy, V-neck, boat-neck, or wrap dress that can look rather Grecian with the right accessories. (Or, you can just drape an old white sheet around your shoulders.) Curl your hair, or put it in an updo, then add props. For Diana, the goddess of animals and the hunt, bring a bow and arrow; for Athena, goddess of wisdom and war, pin a toy owl to your shoulder, or carry a spear and helmet. You could also use a Grecian costume to personify a virtue or value, DIYing scales for Justice, a crown and torch for Lady Liberty, or a stuffed-animal dove for Hope.
Twentieth-century characters and historical figures
A wardrobe full of classic staples, such as wrap dresses, white dresses, button-downs, V-neck blouses, cardigans, and pencil skirts can easily be manipulated to create a number of twentieth century costumes. While not reenactment-level accurate, they will still evoke the era you have in mind.
1920s
Two characteristics of the 1920s that are easy to recreate are straight silhouettes and dropped waists. Shift dresses, tunics, sweater dresses, or other frocks without defined waists can be turned into a dropped-waist dress with the addition of a sash or wide ribbon at the hips. You can also wear a long, flowy blouse over a pencil or midi skirt, tie a wide ribbon around your hips, and tuck the hem of the blouse into the sash.
(For example, you could add a low-slung sash to a flowy dress like this to create a dropped-waist 1920s look.)
Fake pearls, long beads, and chains increase the 1920s vibe and are easy to find at many thrift stores. Check out some online tutorials on how to create a faux bob like many women wore in this time period. Draw your eyebrows down to the edge of your eyes, and wear a cloche if you have one!
(Vintage dress, circa 1926.)
(Christina Ricci as Zelda Fitzgerald in Z: The Beginning of Everything.)
Say you are: Miss Fisher, Lady Detective; Mary or Edith from Downton Abbey; Kathy Seldon from Singing in the Rain; poet Gwendolyn Brooks, writer Zelda Fitzgerald, Coco Chanel, etc.
1940s
Dresses with pockets on the chest can be turned into a 1940s look with a leather belt around the waist. Wear a navy blazer with big shoulder pads over the dress or over a button-up shirt. (You can easily find a 1980s blazer with shoulder pads at a thrift store.) Add pumps and red lipstick, and curl your hair in a traditional style.
(A woman circa 1940s in pumps and a dress with breast pockets and shoulder pads.)
Say you are: Ilsa from Casablanca, Joan Clarke from Imitation Game, Lauren Bacall, Myrna Loy, Hedy Lamarr, Eleanor Roosevelt, etc.
(A Casablanca costume.)
(Ingrid Bergman as Ilsa in Casablanca.)
1950s/early 1960s
A 1950s look is easy to recreate with the same items listed above, but the natural waist should be emphasized. Tie a ribbon or a sash around your natural waist, or wear a fit-and-flare dress; if you're wearing a pencil skirt, tuck the blouse in. (A sweater will also work in place of a blouse.) Wear dainty jewelry such as thin chains, pearl earrings, or short pearl necklaces. Finish the look with curled hair, winged eyeliner, red lipstick, and some pumps.
Say you are: Almost any 1950s star or character besides Audrey Hepburn (she had a different look)—Marilyn Monroe, Doris Day, Sandra Dee, Haley Mills. If you want to go as a particular character from a classic film, you could also add a prop that references the movie. (For instance, you could carry a vase of flowers to be Doris Day's Kate Robinson McKay from Please Don't Eat the Daisies.)
(Marilyn Monroe in a button-down and pencil/A-line skirt, circa 1950s.)
Say you are: Lisa Carol Fremont from Rear Window, Maria from West Side Story, Pola Debevoise from How to Marry a Millionaire, Grace Kelly, movie producer Betty Box.
(Natalie Wood wears a fit-and-flare dress as Maria in West Side Story.)
Monochromatic separates
A monochromatic outfit can work as a more abstract costume that personifies a location, animal, or idea. Monochromatic costumes usually need the help of face paint and props or some kind of headdress in order to signal that you are actually in costume, and not just wearing your favorite colors all at once.
Blues
You can wear a monochromatic blue outfit for a mermaid costume. For props, add a bunch of shell necklaces or earrings and some pearl hair clips, and paint some artfully-placed scales on your temples. If you can find a trident prop, you could be the Queen of the Sea or Poseidon.
Reds
Wear all red and make a flame out of construction paper. Attach it to your forehead with a headband, or tape it on your shirt, and say you are "The Fire of Love" or "The Fire In Your Belly."
Greens
Wear all greens or floral items and carry a bouquet of flowers or leaves.You can focus on flowers with a DIY flower crown and say you are Springtime, a garden, or better yet—The Secret Garden. Or, you could keep the focus on varying shades of green and say you are Central Park, a national forest, or a nearby national park. 
Browns
Now that warmer colors are back in style, you might have several browns, khakis, and clays in your closet. You can wear these together and carry a palm frond or a small pot of succulents with you. Say you are the Grand Canyon, Shiprock, the Mojave Desert, Palm Springs, Death Valley, or Joshua Tree National Park. Browns can also be used with face makeup to create a deer, squirrel, or other woodland-animal costumes.
(Gigi Hadid just needs to carry a small, potted yucca to become the Mojave Desert.)
(This costume creatively uses small branches for antlers.)
Whites
Wear all white (or whites mixed with baby blues) for a winter costume. Use plates and scissors to make some paper snowflakes you can pin to yourself. You can also get more specific and say you are a snowflake, a blizzard (although probably not one that was particularly fatal!), or wear a crown and go as the Snow Queen.
Black
With all-black, you could add paper stars and be the night sky, or the Milky Way.
(A star crown and loops of Christmas lights turn this all-black cutie into a Starry Night.)
Lastly, get creative with your name. The more specific you are, the more fun it is! You could go as a flapper, or you could choose a fictional or historical character from the 1920s whom you admire. (And the great thing about being a historical figure is that nobody will expect your costume to perfectly match Disney's vision of a character!)