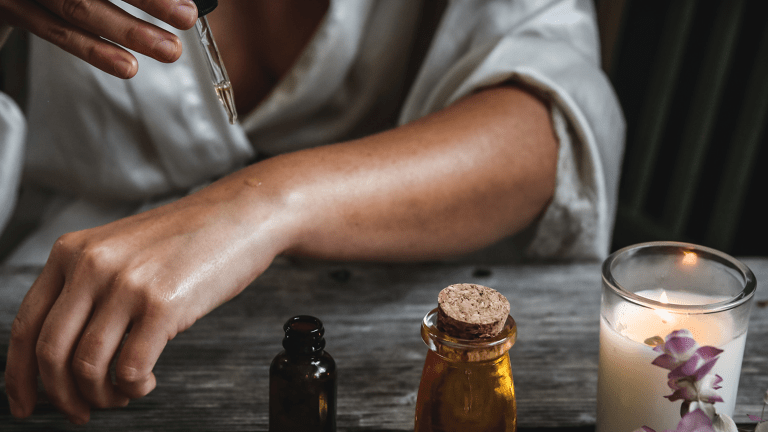 Five Steps for Avoiding Dry Skin This Winter
We're vowing to have smooth, healthy skin all season long
Even if you're not into pumpkin spice, you can't deny there's something magical about the changing of the seasons—the crisper air, the shifts in nature's color palette . . . the dry, cracked skin.
As the temperature drops and the air dries out, many of us find what was healthy, smooth skin just a few weeks ago has turned red, flaky, and irritated. There have been years when I only found relief once buds were on the trees again and I'd put my parka in storage. If you've experienced dry skin (and who hasn't?), you know that it can make even simple, everyday activities painful.
But dry skin only gets worse the longer you wait to treat it. So this year, we're vowing to preempt dry skin with this arsenal of expert-approved tips. Though it's not winter yet, now is the time to commence operation healthy skin.
01. Bathe with care
There are a host of small changes you can make to your cleansing routine that can help keep dry skin at bay, according to the American Academy of Dermatology. Keep baths and showers short (5-10 minutes), and use warm, rather than hot water. These practices will help your skin hold on to more of its natural oils and will add moisture to your skin. And regardless of whether you bathe in the morning or at night (using a gentle, fragrance and alcohol-free cleanser, of course), only cleanse your face at bedtime. When you wake up, simply rinse your face with cool water.
02. Have a good moisturizer on hand
Speaking of moisturizing, apply your moisturizer right after you bathe, while your skin is still damp, since creams and ointments work by trapping moisture in your skin. Experts recommend Cetaphil, Moisturel, CeraVe, or Eucerin. For more severe cases, look for products that include urea or lactic acid, as these can help skin hold water. Beware: these ingredients can sting if you have cracked skin, so use them carefully.
Bonus tip: If your lips are chapped, too, look for a balm made with petrolatum (aka petroleum jelly or mineral oil) for end-of-day application.
03. Run a humidifier to up the water content of the air in your home
Dry air leads to dry skin, and while one solution would be to jet off to the tropics for the season, that's not a possibility for most of us. A more realistic option is to keep some moisture in the air by running a humidifier or checking for that capability in your heating system. If you use a separate apparatus, make sure to clean it regularly, so it doesn't grow mold. Ideally, your living space should be around 45 percent humidity.
04. Gloves for washing, gloves for weather
Immersing your hands in water for longer periods of time (like when washing dishes) can contribute to dry skin, so grab a simple pair of kitchen gloves next time you shop. Now's also the time to make sure you can find both of your winter gloves, so that when the temperature drops, you're ready to protect your hands from the fallout of a change in weather.
05. Handle your clothes (and sheets) with care
Switching to a laundry detergent labeled "hypoallergenic" can help keep your clothes from further irritating your skin. You don't need to hunt for it, either; your grocery store likely stocks products like All Free Clear and Gain Botanicals. You might also try products geared toward babies, like Babyganics, since they're sure to be gentle. If you wear scratchy fabrics, like wool, wear them over cotton layers. Look to use natural cotton sheets (or silk, if you're feeling fancy) to care for your skin even while you're sleeping.
If symptoms persist, they could be a sign of another condition. See a dermatologist for an examination and to discuss your options. Specialists can prescribe medicines you may use in addition to a moisturizer to mitigate itchiness and redness.
Bring on the scarves, bring on the cocoa. This year, we're ready for you, Winter.