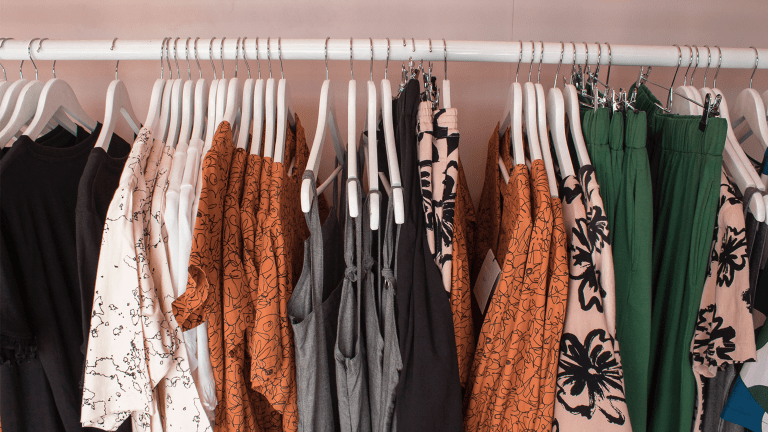 Dressing for Fall in Spring and Summer Colors
No need to *leaf* pastels and bright colors behind
While seasonal colors can be fun to play with throughout the year, they can also clutter up our wardrobe with items that we rarely wear or that don't look the best on us. Buying season-specific colors can be problematic if we fall into the trap of saving these things to wear only a few months a year, which just adds to our wardrobe glut. Additionally, not everyone likes or looks good in what we consider seasonal colors, such as pastels for spring, bright colors for summer, or darker, muted colors for winter.
With October upon us, some of us may be excited for leaves, Halloween, and pumpkin pie, but less so for the dark, warm shades we typically associate with fall. You may feel that fall colors don't flatter your complexion, or maybe they're just not your style. But you can still create autumnal ensembles with your wardrobe using colors that look good on you and that you love year-round. Here are some tips to help you fall-up your outfits without using the classics like wine red, burnt orange, or mustard.
Mix non-autumnal colors with heavier textures.
If you prefer brights, pastels, or cool colors, you can blend them into a fall wardrobe by adding thicker, heavier fabrics and textures such as leather, wool, tweed, corduroy, and felt. Try mixing bright, wide-leg summery pants with a wide-knit pullover or wool cardigan. You can also pair a flowery shirt with thick jeans, a structured bag, and slick leather boots.
(In this street-style photo, this woman wears bright colors with a thick sweater.)
(There's a pop of summery aqua here, but the leather and thick, ribbed sweater turn it into a fall outfit.)
If your non-autumnal colored fabrics are lighter cottons, linens, or polyester, you can add warmth by wearing another layer of long sleeves or wool long-johns underneath. This warm base allows you to still show the bright color or pattern, whereas adding a cardigan over would cover it up.
Mix non-autumnal colors with autumnal neutrals.
Mix your favorite colors with black, camel, and brown—neutrals that we associate with changing leaves. Brown and camel pair well with bright yellows, sunny oranges, fire-engine red, dusty pinks, various greens, and some blues. You can also incorporate brown and camel into your wardrobe with a brown or camel-colored bag, shoes, coat, cardigan, scarf, or hat.
(Here, bright red is mixed with shades of brown: light camel, darker camel, and leopard prints.)
(In the above two photos, the women created an autumnal look by mixing a bright canary yellow with varying shades of cream, camel, and brown.)
Of course, you can mix black with non-autumnal colors, too. Black looks great with both warm colors, such as bright red, and cool colors, like baby blue and lavender.
(The black shoes and boots here pair well with baby blue and the cool neutrals.)
(The color of this lilac trench pops against the white-and-black basics underneath.)
A black leather jacket—one of the easiest ways to "fall up" an outfit.
Wear one over a bright red dress or pair one with a cool-colored ensemble, such as an outfit with baby blue, cobalt, or lavender. Spring florals and light summer dresses also pair well with a leather jacket.
(This is a summer dress: it's little and bright, and the fabric looks light. But worn here with a black jacket, black shoes, and black tights, it looks chic for cooler climes.)
(Similarly, this floral wrap skirt looks like it would be comfortable and breezy in summer, and in the fall it also looks great with black accessories.)
(With a maxi dress like this, you could add fleece tights or long underwear underneath and nobody would know!)
Add leopard print.
Leopard print is a seasonless pattern that goes with almost any color, but its muted browns work especially well for fall. Since leopard print has become popular again in the last few years, it's easy to find many different clothes and accessories in this classic print.
Try a leopard-print scarf with a red sweater, or a leopard-print belt with a yellow dress and cardigan. A leopard-print bag or top would also coordinate well with a pair of orange pants or a skirt, adding just enough muted color to make it look like a cooler-weather outfit.
(Blogger Chioma looks warm and fall-ready in this outfit that pairs Kelly green with various neutrals such as leopard print, brown, denim, and white.)
(While many will wear leopard print with mustard this fall, you can also pair it with a bright, sunny yellow.)
(Even as an accessory, leopard print adds another muted color and ties in with the shoes to finish off this amazing red-and-pink combination.)
Add a warm hat.
A warm hat instantly brings an autumnal vibe to any outfit. Try a fedora, floppy felt hat, beret, or porkpie hat in pretty much any fabric.
(There's no jacket here, but the dark tights and camel beret help this short dress feel ready for fall.)
(Blogger Catherine Summers has used many of the above tips to make a fall outfit with a bright red-orange color: the bright color is actually an animal print paired with a chunky sweater and camel fedora.)
(You can even look for a brightly-colored felt fedora, as seen in these last two looks.)
Dressing for different seasons can be fun, no matter what color palette you prefer wearing. Not only will it make you happier to wear what you love regardless of what's "in season," but you'll be limiting unnecessary seasonal wardrobe acquisitions, too. All it takes is a little creativity and the willingness to go against the grain.