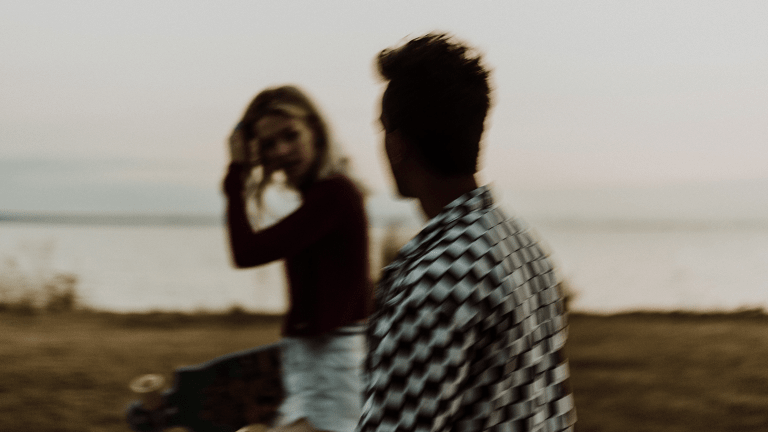 Dating Unscripted: Finding Peace in the Unknowns
Freeing ourselves and our relationships from the tyranny of our own fears.
My boyfriend and I just entered what some might call the "pre-engagement" season. That's right—I met a guy who likes me when I feel least likable, whose values align with my own, who endured months of my refusing to like him back before I would allow myself to feel anything toward him at all (that's a whole different story!), and who now wants to potentially "do life" with me for the rest of his. And as grateful, honored, and humbled as I am, I am also afraid. Sometimes I'm not just afraid—sometimes I feel terrified enough to want to run the other way! Do I love him? Well, I do, but it doesn't feel the way I expected it to feel. Do I want to marry him? Well, I can't imagine marrying anyone else, but what about all the things I don't know?
Confronting the unknowns
And that's the wall I keep hitting: all the things I don't know. Those things, the ever-looming unknowns, are what I've fought our entire relationship. At the beginning, they kept me from wanting to risk my heart in the first place. Questions haunted me: What if we don't work out? Do I really want to invest my limited time and emotional capacity in something that has no guarantee of "success"? Is the possibility worth the risk? Six months in, these questions would wiggle their way into my thoughts when everything was at its best and tempt me to second-guess all the good signs I saw. And now that we're looking toward engagement on a concrete timeline, and diving into pre-engagement counseling, those questions sometimes get louder than ever.
I am certainly less afraid than I was when it all began. After all, I've learned so much more about this man that makes me sure of a lot of things I could not be sure of when we first started dating. I'm sure of his care for me, his dedication to his friends and family, his willingness to apologize when he's wrong, his goofy sense of humor that often includes jokes I don't find funny (until he laughs at them himself, and then it becomes entertaining!) But amid all the things I've come to love and trust about him, there are still plenty of unknowns.
Letting go of the illusion of control
If I'm realistic, I know life holds uncertainties for everyone, whether we're single or married, parents or not, employed in the career of our dreams or working just to pay the bills. None of us know what the future holds. But somehow for me, it all feels riskier when you add another person to the mix. Adding him lessens my sense of control, and I like the illusion of control, even if I "know" it's an illusion. All these mixed emotions confuse and cloud my mind. What I want most at this stage in our relationship is clarity: aren't we supposed to just know when we know?
Ironically, it's in recognizing that I tend to give power over my thoughts to life's many unknowns that I finally see that all the things I don't know have been robbing me of the clarity I've so desired. As the singer/songwriter Audrey Assad puts it in one of her songs, "Your worries will never love you. They'll leave you all alone." And if I were to listen to what my anxieties say about our relationship and the future, alone I would find myself.
So instead of letting fears sway my thoughts so easily toward doubt and confusion, I am learning to respond in three simple yet comforting ways:
I embrace confidence based on all I've learned in our relationship up until now, remembering who he has shown himself to be and trusting in his proven character.


I accept that time alone really does tell in some situations, which means, as risky as the waiting feels, it will lead to the clarity I long for.


I recall the unknowns I've encountered in the past, with regard to this relationship or life in general, and the lessons I learned by embracing the limitations of my knowledge and control.
Of course there is a healthy kind of questioning, for example, coming up against something I don't know about him and thinking, "I'll have to ask him about that!" But when my mind starts demanding answers to questions I cannot know the answers to now, questions whose answers only the future will unveil, I pause, breathe, and think instead of these three things. They don't change anything about my circumstances, but they help free me from the tyranny of my own fears. 
As Corrie ten Boom, who helped many Jews escape the Holocaust and survived imprisonment in a concentration camp, famously said, "Worry does not empty tomorrow of its sorrow. It empties today of its strength." So today when I think about preparing to say "yes" to the man I love, I choose to feel excitement, anticipation, and hope, come what may.
Editor's Note: Dating Unscripted is a Readers Write column. Share your own story here.