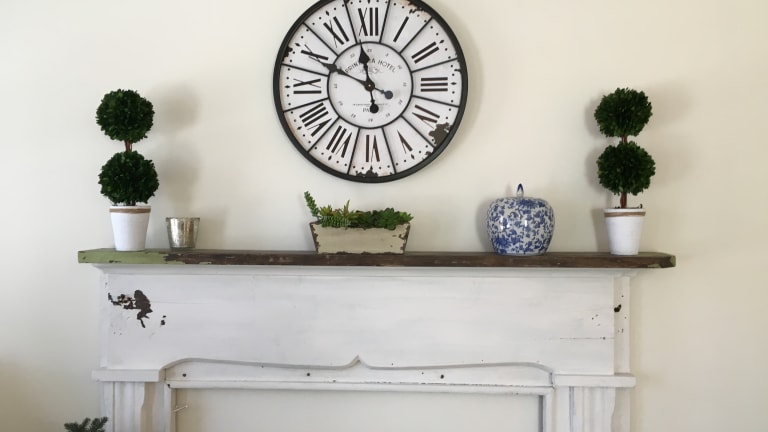 At Home with Her: Turning a Flea Market Reject into a Focal Point
A piece of history brought new life to our home.
Name: Alexandra Davis
Tell us about your favorite spot in your home. Why is it your favorite spot?
A lucky flea market find brought more than just visual interest to a blank wall in our master bedroom—it has made our master bedroom my favorite room in the house. An otherwise square, uninspiring design has now become a cozy and beautiful retreat where we enjoy not just resting, but spending time.
Is there a particular story about how this spot came to be arranged/decorated the way it is? Are there any particular pieces that have significant history to you or your family?
My husband and I were perusing our local market for unlikely treasures when we saw it. It was partially concealed behind a dirty blanket, propped against a bare wall in an abandoned booth. I saw the garish lime-green paint first, then the rusty nail heads. It was no wonder that this seemingly hazardous hunk of wood lay abandoned.
Nonetheless, something about it caught my attention, so I tentatively lifted its dirty shroud and flaked a piece of the offensive green with my fingernail. Underneath was a beautiful, solid natural wood. It was a fireplace mantel, fully intact and very, very old—a rare find.
It was perfect.
My husband ran to find the booth owners while I stood sentry by our reject-turned-treasure (I was concerned Murphy's Law would kick in, my interest suddenly inviting curiosity). We finally tracked down the elderly couple who owned the booth. They informed us that the mantel was salvaged from a late nineteenth-century farmhouse in rural North Carolina. Apparently, the couple was closing their shop and was happy to sell the mantel for what they paid for it: a cool $100. Thinking they could've charged about five times that amount, I handed over my credit card while my husband called in reinforcements: my father-in-law and his trusty jeep.
After a quick exchange of money and goods, we tethered our mantel to the roof of the jeep and began the precarious trek back to our newlywed townhouse—a boxy 1940s situation with no architectural detail to speak of. We'd wished for months that we had a real fireplace in our home but knew its old guts—and our landlord—would not allow it. We were thrilled that our new mantel wonderfully fulfilled this desire.
Over the next few days, we scraped away the lime green paint, hammered the rusty nail heads back into the wood, and covered the mantel with fresh white paint. As a final step, we distressed the wood with sandpaper sheets, leaving just a smidge of the lime green for memory's sake.
Next came the fun part: we mounted the mantel on the wall of our bedroom, styling it with an antique painting, old law textbooks, and a few pieces we collected from antique markets.
When we left our apartment and purchased our first home (which has a real fireplace!), we knew we wanted to take the mantel with us. Now, it adds visual interest to a bare wall in our master bedroom.
Have there been particularly inspiring or moving moments in this corner of your home? Or, is there a particular feeling you get when you are in this space in your house?
Along with HomeGoods topiaries, a mini evergreen, an antique map, two pieces of family antique pottery, and a garage-sale ginger jar, the mantel is a focal point in our room. I've added a desk and chair to our room and enjoy reading, working, and even doing yoga in front of the fireplace. Now, I feed our new baby beside it.
But the mantel is more than just a conversation piece that adds visual interest to our home. It represents two important facts.
First, it taught my husband and me that treasures can hide behind dirty blankets and ugly paint. Sometimes, it is worth pulling back the blanket and scraping off the paint to see what lies underneath. Rusty nail heads aside, the underlying treasure may carry a history—and a story—that runs deeper than its uninspiring aesthetic.
Second, we learned that if your home lacks a feature that you wish you had, you can create it! We didn't have a fireplace, so we created a faux one, staging it with items we loved. And even now that we have a functional fireplace, we enjoy our flea market mantel just as much, if not more—because we ourselves salvaged it, created it, and curated a space that represents our personal styles. Not to mention, I love to think about the families who sat in front of this mantel before us. Feeling this connection to history and tradition makes it all the more special.