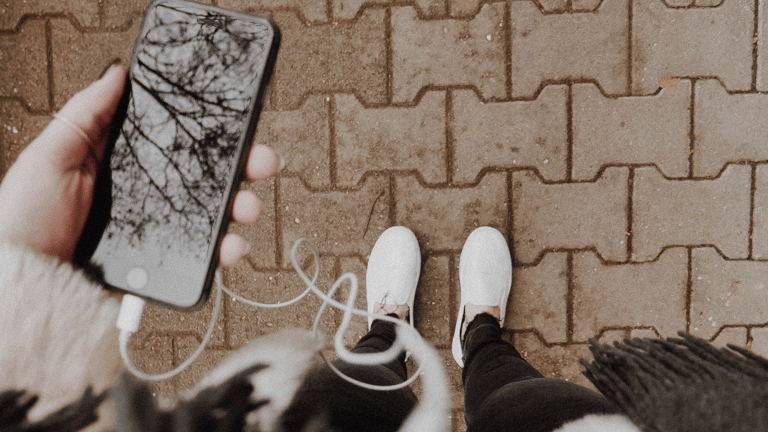 Five Riveting True Crime Podcasts to Investigate This Fall
From cold-blooded murder to white-collar crimes and unsolved cases
Disclaimer: In publishing this piece, Verily is not recommending these podcasts for all audiences. These podcasts all focus on the topic of true crime, which can include very detailed discussions and descriptions of violent crimes. The stories can be pretty intense and are for mature audiences only. If this is not your cup of tea, or if you're not sure whether this is your cup of tea, please skip this one, and check out this article on positive and encouraging podcasts for women instead. If you are unperturbed by stories of murder, mayhem, and even occasional embezzlement, please read on.
As a little girl, I devoured Nancy Drew and Cam Jansen books, graduating to Agatha Christie and Dorothy Sayers mystery novels in high school, and took a course in mystery literature in college. There, I read Edgar Allen Poe's "Murders in the Rue Morgue" and hosted a hilarious and totally disorganized murder mystery dinner with my classmates for some delighted professors. However, it wasn't until I graduated from one college and started working on my second degree that I really developed a fascination for stories, not of fictional detectives like Miss Marple and Lord Peter Whimsey, but of real-world cases of murder, robbery, and all manner of true crime.
Whether in a well-written book (Erik Larson's Devil in the White City, anyone?), a haunting documentary series (The Keepers), or a fun, heart-pounding film (Catch Me If You Can), true crime—from the first shocking discovery to the satisfying or frustrating solution of the case—has captivated me and millions of other American women for years. As Katie Tuttle observes in this New York Times article (mature content advisory), true crime seems to appeal to women even more than to men. The stories of true crime are ultimately human stories, reminding us of both the enormous evil and heroic good of which each of us is capable.
As the convenient medium of the podcast has risen in popularity, so has the number of shows focusing on accounts of true crime. Now, as we move into the cold winds and longer evenings of autumn, many of us are turning a listening ear from brighter topics to chilling and sometimes thrilling stories focusing on the darker side of human nature. Below are a handful of my favorite true crime podcasts, focusing on different topics ranging from cold-blooded murder to white-collar crime to unsolved cases.
01. Criminal
Criminal, hosted by Phoebe Judge, lives up to its name. This podcast tells the stories of practically every kind of crime you can imagine. From white-collar to blue-collar, from serial killers to streakers, from historical trials to ongoing scandals, Phoebe Judge tackles every story with a shrewd professional attitude and a famously elegant voice.
If you're new to true crime podcasts, I'd recommend starting with the episode "Ex Libris," which describes the efforts of book sellers across America to nab an elusive rare-book thief.
02. American Scandal
While American Scandal doesn't bill itself as a true-crime podcast in the typical sense, I think it earns its place on this list. The show zeroes in on large-scale scandals throughout American history, offering a hard look at parts of our own history through eye-opening, detailed journalism and personal accounts. From the corporate collapse of Enron to the Iran Contra fiasco to the stand-off at Wounded Knee, American Scandal weaves un-pauseable, multi-episode stories that will definitely give you some amazing conversation starters!
As a merchant mariner, I may be a little biased, but I recommend starting with "Exxon Valdez: Oil Meets Water." This and then the next four episodes relate the stories of a handful of women and men intimately connected with the tragic oil spill and the legal and environmental aftermath that followed.
03. Swindled
Hosted by an anonymous podcaster who calls himself A Concerned Citizen, Swindled combines real recordings with detailed research to tell the stories of crimes motivated mostly by good ol' fashioned greed. The host relates gut-wrenching accounts of fraudulent televangelists, corporate scammers, deadly medical devices, and multi-level marketing schemers with a somber tone of voice that gives this podcast a grave and intriguing air. (Warning: some episodes have mature content and strong language.)
I recommend starting with "Episode 14: The Downline," which chronicles the scams of charismatic Glenn W. Turner and the pyramid scheme supporting his multi-level marketing company Herbalife.
04. Bardstown
Bardstown relates the story of "The Most Beautiful Small Town in America," a popular and friendly town in Kentucky that has suffered from a string of unsolved murders. Through frank interviews with local folks and careful presentation of evidence, this podcast gets past the headlines to investigate what's really going on in the area and whether the murders are connected.
The episodes are sequential, so start with "Episode 1: The Most Beautiful Small Town in America."
05. The Murder Squad with Jensen and Holes
I had to save the best for last. The Murder Squad is hosted by Billy Jensen, a true crime journalist and "digital detective," and Paul Holes, a retired Californian detective who led a decades-long investigation that resulted in the recent arrest of the suspected Golden State Killer. With a slew of guests ranging from comedians to scientists to families of victims, these two men research unsolved murders from all over North America and present the facts on their podcast, inviting their listeners to help them solve cold cases. If you've ever wanted to help solve a crime, this is the podcast for you! Maybe you read something in the paper or remember a strange detail from a story you heard at a party that could be the missing piece in one of these unsolved puzzles.
I highly recommend starting with the episode "Todd Kohlhepp," which details the murders and crimes committed by a serial killer in Arizona, South Carolina, and possibly other states. Jensen and Holes are joined by Melissa Ponder, the widow of one of Kohlhepp's victims, and I was personally fascinated and inspired by the story of her relentless pursuit of justice for her family.
If you, like me, are intrigued by the thrill of the chase, enjoy a well-told true story, and don't mind some unexplained bloodstains along the way, grab a magnifying glass and investigate these great shows!