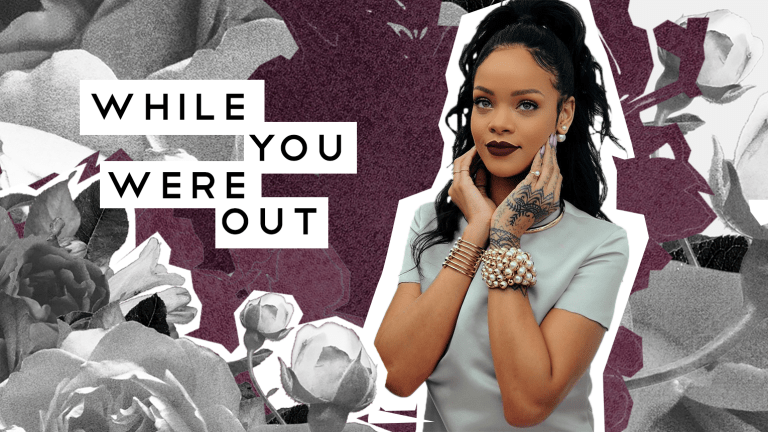 Rihanna Attempts to Out-Do Victoria Secret Fashion Show—And Other Notes from the Week
Catch up on all the news you might have missed with our handy summary of the week's top stories.
We're pleased to bring you "While You Were Out"—Verily quick takes on the happenings of this week.
America Remembers the 9/11 Attacks on 18th Anniversary
It's been 18 years since the 9/11 attacks, and this year's anniversary, like those prior, was marked with observances on every level. Citizens across the country responded by acts of service at food banks, schools, and park clean-ups. At Ground Zero, the names of the nearly three thousand people killed were read aloud among moments of silence and the ringing of bells marking the moments of impact and collapse.
New this year is the 9/11 Memorial Glade at Ground Zero, which consists of six stacks of a combination of granite and steel reclaimed from the towers. There are no names on the structure, but rather a dedication to "the tens of thousands / From across America and around the world / Who came to help and to heal / Whose selflessness and resolve / Perseverance and courage / Renewed the spirit of a grieving city / Gave hope to the nation / And inspired the world." If you haven't already, be sure to read Margaret Brady's story on the Memorial Glade published this week at Verily.
The growing numbers of post-9/11 deceased have been garnering more attention of late, due in part to a federal measure signed this past July to ensure the victim compensation fund does not become depleted. More than 51 thousand people have applied for the fund, which has thus far awarded over $5.5 billion to first responders and others who continue to suffer from exposure to the attack.
May we continue to honor those who sacrificed their lives as a new generation comes of age. —Lindsay Schlegel
Trump Cancels Peace Talks with Taliban
After months of negotiations between the United States and the Taliban in order to end to the 18-year U.S. occupation of Afghanistan following the 9/11 terrorist attacks, the tentative peace deal has fallen through.
President Trump decided to call off the peace talks after the Taliban admitted to a bombing in Kabul last week that killed at least ten people, including an American soldier. Secretary of State Mike Pompeo explained their strategy as "try[ing] to use terror to improve their negotiating position." The President himself opened up with additional information, admitting that he had planned to have the Taliban secret peace talks at Camp David, which he called off after the bombing in Kabul. The ill-timed bombing, he reasoned, shows that the Taliban "probably don't have the power to negotiate a meaningful agreement."
While frustrated that there is once again no clear end to the war in Afghanistan, many U.S. citizens feel that it was the right move to cancel peace talks with the Taliban on American soil, especially as the meeting was set to happen just days before the eighteenth anniversary of 9/11, a very sensitive time for a still grieving country.
As far as the Taliban's reaction to the canceled peace talks, spokesman Zabihullah Mujahid ominously said of the United States, "They will soon regret it." Nonetheless, as Pompeo told reporters, the U.S. government hopes that the Taliban will be open to more talks in the near future, provided they act accordingly. —Mariel Lindsay
Rihanna Attempts to Out-Do Victoria Secret Fashion Show
This week, a new lingerie fashion show, Savage x Fenty, took place in New York, headlined by Rihanna's clothing company. The show, which will be aired by Prime Video on September 20, has been informally considered a revolt against the Victoria's Secret fashion show, which was canceled this year after years of criticism for its narrow representation of female bodies and objectification, and more recently for its connections with Jeffrey Epstein. Harper's Bazaar noted the Savage x Fenty show "swooped in where Victoria's Secret failed, adopting a body-positive, size-inclusive approach to lingerie that celebrates and empowers a diverse spectrum of women." Rihanna expounded on this in a post-show interview for Business of Fashion, "There are a lot of women out there who are feeling in the dark, invisible. 'I can't try that on because I'm not made like that.' This is where you feel safe, right here at Savage."
But it would appear that swapping out angel wings and thin physiques for moody vibes and curvier models may not have fixed the core problem at the center of the VS lingerie show. As New York Times fashion editor Vanessa Friedman critiqued Rihanna's show in contrast to that of VS: "it is [sic] really so different? Or are we simply trading one kind of sexploitation for another?" Friedman notes, "The ingredients are the same," and the models "are still objects, even as they revel in their own willing objectification." I would have to agree that this isn't quite a revolt from, as much as a regurgitation of objectifying portrayals of women. —Mary Rose Somarriba
New Book Reveals Details about the Beginnings of the #MeToo Movement
She Said, a book by the New York Times reporters who won the Pulitzer Prize for their Harvey Weinstein exposé, was released on Tuesday.
Jodi Kantor and Megan Twohey wrote the book detailing their investigative process as they chased down rumors, convinced victims to go on the record, and evaded Weinstein's publicity machine. The journalists share plenty of new information, revealing that their key sources included Weinstein's brother and actress Gwyneth Paltrow.
They tell how a famous Manhattan sex crimes prosecutor tried to discredit a victim's story and helped Weinstein's team connect with prosecutors handling his case; meanwhile, feminist attorneys and self-proclaimed victims' advocates Gloria Allred and her daughter, Lisa Bloom, are revealed to be profiting from the system of nondisclosure agreements that silenced Weinstein's victims. Bloom actually went to work for Weinstein, and Kantor and Twohey produce an incredible Bloom memo in which she told the disgraced movie mogul that she would help him manipulate the press and paint his victims as mentally ill.
The reporters' work underscores the importance of good journalism in holding the powerful to account—Weinstein's career survived decades in which his behavior was an "open secret," but couldn't outlast a news organization with the resources to invest in this project. Determination mattered, too; other reporters tried to pull the threads on the story but gave up in the face of ferocious opposition. —MB
Mail-Order Abortion: Doc Sues FDA in Bid to Keep Sending Pills
A doctor who prescribes abortion pills online sued the U.S. Food and Drug Administration in federal court this week.
Dr. Rebecca Gomperts filed the lawsuit after several patients had their shipments seized by regulatory officials. Her website, Aid Access, allows women to be prescribed abortion-inducing medications called mifepristone and misoprostol and to fill their prescription from a pharmacy in India, without being seen by a doctor. In March, the FDA issued a warning letter demanding that the company stop misbranding and improperly distributing the drugs. Although both pills are approved for use in early abortions, women in the United States must receive them in specific healthcare settings because of the rare but real possibility for serious complications.
For example, Aid Access repeatedly warns women that they should only take the drugs if they are less than ten weeks pregnant and they are certain they don't have a sexually transmitted disease. However, given the telemedicine format, there is no way to actually verify the patient's status. A form similar to popular online due-date calculators is provided for patients to generate a DIY estimate of how far along they are. In contrast, abortion providers like Planned Parenthood routinely perform an ultrasound to check this and to confirm the woman does not have a potentially deadly ectopic pregnancy. Planned Parenthood switched from vaginal to oral administration of abortion medication after multiple women died while taking the pills.
Dr. Gomperts, who resides in Europe, has said she is providing this service to Americans as the number of abortion clinics nationwide continues to plummet, making it more inconvenient for women to end an unwanted pregnancy. But given that these drugs can cost women their fertility and their lives if something goes wrong, convenience seems to be the least important value at stake. ⁠—MB
Investigation Shows Some Period-Tracking Apps Aren't So Private
The non-profit Privacy International has announced via Buzzfeed News its discovery that several popular period-tracking apps are sharing users' sensitive health and lifestyle data with Facebook.
Importantly, the research shows that the biggest players in the cycle-tracking space are not among those playing fast and loose with user information. Apps including Flo, Clue, Period Tracker by Leap Fitness Group, Period Tracker by GP International, and Period Tracker by Simple Design Ltd. were not found to be providing information to Facebook during Privacy International's tests.
Other less popular period-tracking apps—which still have millions of downloads—were not so private. MIA Fem Period Tracker and Maya both disclosed to Facebook when users opened the apps, even before they had a chance to consent to a privacy policy. Once operational, the apps shared data ranging from users' sex lives to their mood and contraceptive habits. With MIA Fem, Facebook also finds out whether a woman is trying to conceive, which is (not quite) priceless information from an advertising standpoint. PI's report notes that an average person's data is worth about 10 cents in the United States, but it's valued at about $1.50 if she is pregnant.
In response, Maya's developer has released a new version of the app that removed the Facebook Software Development Kit component that was implicated in the report. MIA Fem's developers initially were responsive but wound up threatening legal action after Buzzfeed got the story.
Given how much information about a woman's life and health is reflected in her cycle, it's very concerning that some digital period tracking tools are sharing such sensitive data with a major advertising player like Facebook. We're glad that Privacy International has brought this situation into the light. —MB
U.K. Parents Take Hospital to Court over Refusal to Release Their Daughter
A hospital in the United Kingdom is under fire for allegedly planning to remove a child from a ventilator in violation of her parents' religious beliefs, while also preventing the girl from leaving the hospital.
Tafida Raqeeb, a five-year-old, suffered a traumatic brain injury earlier this year and has been at the Royal London Hospital ever since. Doctors there have determined it would be in her best interest to be removed from life support; in contrast, doctors at a specialist children's hospital in Genoa, Italy, are willing to continue treatment. Royal London authorities refuse to let Tafida leave for Italy, saying that the hospital there would simply follow the wishes of her parents instead of determining what was right for Tafida.
On Monday, a hearing for a judicial review of the case took place in which her parents' lawyer pointed out that clinicians believe Tafida is likely to live for decades on ventilation, and based on similar cases, could perhaps even be discharged home. Although there is no hope of recovery, the child is not brain dead and shows no sign of suffering, the attorney claimed.
A lawyer for the National Health Service Trust, meanwhile, alleged that letting Tafida live on ventilation would put her at risk for seizures, hip problems, and a curved spine.
The case recalls similar recent controversies in the United Kingdom over Charlie Gard and Alfie Evans, two brain-injured children who eventually died after doctors declined to continue treating them and prevented their parents from taking them to other hospitals. Our hearts go out to little Tafida as the legal battle over her life and health rages on. —MB
Good News of the Week
This week, two Milwaukee coworkers Nydia Diaz and Angela Fabila-Hintz, who were carpooling to work, helped rescue a man lost in a Silver Alert. The dementia patient Stanley Mastalish was missing from the Milwaukee VA Medical Center when the ladies drove by on their morning commute and recognized him from the statewide announcement. "Sure enough, red shirt, jeans, tan shoes," Fabila-Hintz told her local Fox6 news station. "It was like we were meant to be there."
Diaz picked up Mastalish and drove him back to the VA medical center, describing him as the "sweetest, kindest" man. The senior's granddaughter later told Fox6, "We are so thankful for these two beautiful souls that found him. It's nice to know you can still count on good people nowadays. We are so happy he is found, and safe."
As the local news concluded its report, "Now at Diaz's desk, a photo of Mastalish hangs—reminding her that sometimes it's your ordinary routine that brings about the most unexpected, yet rewarding, moments." —MRS
Watch of the Week
A video journalist who now works at 60 Minutes this week shared his footage from September 11, 2001 in New York City. On that fateful day 18 years ago, Mark LaGanga received a call from his then-employer at CBS News saying to capture footage of what was then believed to be a small plane crash downtown. What he ended up capturing was the gray reality of the second tower falling, and the reactions of those who escaped death. "At the end of the day, what we're trying to do is capture real moments," he says. "So you just kind of follow and try not to get in anyone's way. But document real moments of what's going on."
Miss our "Articles of Note" section? Subscribe to Verily Daily emails and check out our new suggested reading at the bottom, in our new "May We Recommend" section.