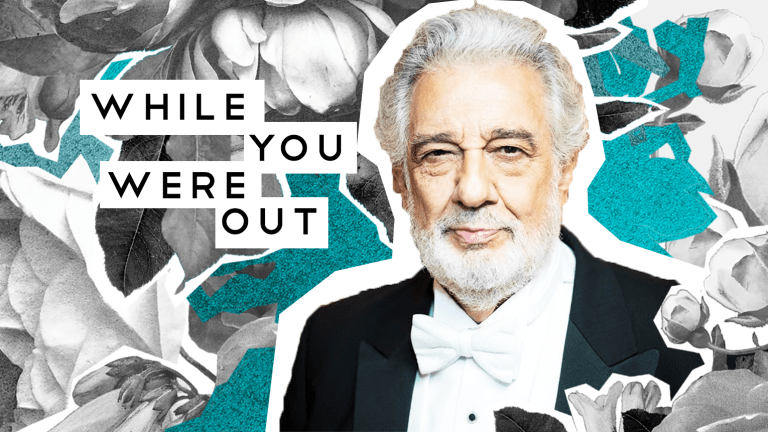 Plácido Domingo Withdraws from Met Opera amid Sexual Assault Allegations—and Other Notes from the Week
Catch up on all the news you might have missed with our handy summary of the week's top stories.
We're pleased to bring you "While You Were Out"—Verily quick takes on the happenings of this week.
Ignoring One's Feelings in a Relationship Could Increase Stroke Risk for Women
New research being shared this week at the North American Menopause Society Annual Meeting in Chicago suggests that women who have a habit of "self-silencing" their feelings in relationships or repressing their feelings to appear agreeable to their partner, experience greater risk for cardiovascular trouble.
Lead researcher Karen Jakubowski at the University of Pittsburgh says "women who felt less able to talk about their needs or feelings in their intimate relationships had a 14 percent higher likelihood of showing the most plaque in their carotid artery . . . Women with no observable plaque turned out to be more able to express themselves in their relationships, compared to the women who had more plaque." Some of the possible causes could be increased anger and depression, which both have connections to greater cardiovascular disease.
Another colleague at the University of Pittsburgh, Dana Jack, who didn't work on this particular study but whose prior work informed this study, told HealthDay, "If you are self-silencing, you are disconnecting, but you're disconnecting not only from the other person but also from yourself." She added, "with self-silencing, women get really confused about what they really feel. 'Is there something wrong with me that I feel angry? Should I be more mellow?' This is what sets up the stress that can lead to physical problems."
It just goes to show how being able to safely express the truth about your feelings in a relationship is essential not only to the health of the relationship—but also to your own. —Mary Rose Somarriba
Plácido Domingo Withdraws from Met Opera After Sexual Misconduct Accusations
Opera star Plácido Domingo has withdrawn from performing at the Metropolitan Opera in New York City after at least twenty women complained he had harassed them with sexually abusive behavior.
Initially, the company's general manager, Peter Gelb, decided to go forward with Domingo's performance in Macbeth, which opened on Wednesday night. At a meeting after a dress rehearsal last weekend, at which Domingo appeared, Gelb said he thought the twenty claims did not have enough substantiation and that the Met would await the results of an investigation conducted by the Los Angeles Opera, where Domingo has a leadership role. Last year, the Met quickly suspended and then fired its music director, James Levine, in the wake of sexual misconduct allegations.
Although Domingo's Macbeth co-star, Anna Netrebko, posted her support on Instagram (referring to "fantastic Plácido Domingo!") much of the rest of the company objected to Gelb's stance, citing their right to a safe work environment. The accusations against the superstar have divided the opera community, with Domingo still receiving standing ovations in Europe even as the number of allegations rose into the double digits. Mezzo-soprano Patricia Wulf, one of the accusers who has gone on the record, noted in an interview with The New York Times that her account had been corroborated by two people, whom she told about the harassment at the time that it happened. "He's an incredible artist, a great performer," the Times quoted her. "I just have absolutely no respect for him as a man." —Margaret Brady
Trump Phone Call with Ukranian President Receives Scrutiny, Impeachment Talks
Near the end of last week, news broke of a story about a whistleblower who had allegedly been so disturbed by one of President Trump's phone conversations that he filed an official complaint. As of Thursday, more information has been added to the story, substantiating the claims and even leading to an announcement by the speaker of the House, Nancy Pelosi, that official steps toward the president's impeachment will be taken.
An official within the U.S. intelligence community found a phone call between President Trump and Ukranian President Volodymyr Zelensky so upsetting that he filed an official whistle-blower complaint with the Committee on Intelligence. Within the complaint, the unidentified official writes, "I have received information from multiple U.S. Government officials that the President of the United States is using the power of his office to solicit interference from a foreign country in the 2020 U.S. election." This official also alleges that on this call the president asks the Ukranian leader to investigate presidential hopeful Joe Biden along with his son Hunter. While the whistleblower admits to not being directly present for the call, the statement implied a connection between Ukraine's willingness to assist in the investigation and the U.S.'s willingness to provide aid to Ukraine.
The White House released the transcript for the call on Wednesday, in which Trump requests that Zelensky assist him in getting information on the Crowdstrike server that is allegedly located in Ukraine; later in the call Trump mentions the Bidens, specifically Hunter Biden who has been accused of corrupt connections with a Ukranian oil company before his father Joe Biden intervened to stop Ukranian prosecutions. We'll be watching while the story continues to unfold. —Gabriella Patti
Super Bowl Announces Halftime Show Performers
This week the Super Bowl announced its halftime performance will be bringing some Latin flavor to the stages, featuring Jennifer Lopez and Shakira. The two artists teased on Twitter before the announcement was made official on Thursday. J-Lo's presence in film and TV continues to keep her popularity fresh with the American public, while Columbia-born Shakira continues to sell out tours on an international scale. As we prepare to see the two perform on the same stage together for the first time, I for one am hoping for some infectious Latin beats alongside their well-known radio hits. —MRS
Police Investigate after Doctor Performs Abortion on the Wrong Woman
A South Korean doctor and nurse are facing a criminal investigation after they terminated a pregnancy in the wrong patient.
The incident happened in August when a woman who was six weeks pregnant visited a clinic in the South Korean capital, Seoul, for a nutritional injection. Instead, after the medical staff mixed up her medical chart with that of another patient, she was given an anesthesia shot and the physician performed an abortion. The mother was not aware of what had happened to her baby.
Authorities announced the investigation on Monday. "The doctor and nurse have acknowledged their fault," a police source told CNN. Reportedly, neither health professional attempted to verify the patient's identity before beginning the procedure.
Abortion is technically illegal in South Korea, although its constitutional court has ruled that the law must change by December 31, 2020. About 50 thousand abortions are believed to have taken place in the country last year, but given the illicit nature of the procedure, the reported figures may not reflect reality. Performing an abortion can result in one year of prison time; however, the doctor at the center of this case is specifically being accused of negligence.
Our hearts go out to everyone traumatized by this incident—not only the mom and dad who lost their little one, but also the medical staff who must have been horrified after they realized what they'd done. —MB
Planning a Wedding? J Law Has Tips for Your Registry
"Jennifer Lawrence, actress and philanthropist, is getting married!" a page in Amazon's bridal section reads, in the chipper tone anyone who has scrolled through a wedding website will recognize. Below that appears a list of giftables from recipe books to a pizza stone to a GoPro camera.
"Planning a wedding is so exciting, but it can be overwhelming," the Oscar-winning actress writes on the page. "For anyone else needing a little inspiration, I thought it would be fun to collaborate with Amazon to share a few of my favorite registry wish-list items." Several excited media outlets reported that the page hosted Lawrence's actual bridal registry. But in fact, fans can not send her wine glasses or cutting boards; instead, the list consists of her suggestions for brides- (and grooms)-to-be. As part of the collaboration, the actress is making a donation to a charity that helps the Amazon rain forest.
The items do provide an interesting window into the household Lawrence is setting up: she's a fan of the Joy of Cooking recipe book (aren't we all?) and likes table settings with a sophisticated gray, gold, and brown color scheme. To fill out the higher-end of a registry mix, she recommends a CobraCo copper fire pit.
Lawrence is engaged to art dealer Cooke Maroney. Recently the pair was spotted at the New York City Marriage Bureau, suggesting their nuptials may be imminent. —MB
Vaping-Related Deaths May Be Caused by Black-Market THC
The death toll from the mysterious lung illnesses that have affected more than 800 Americans and are under CDC investigation reached 12 people this week. While many news headlines suggest a danger with vaping in general, reporting this week from the Washington Post zeroed in on the problem of street-bought THC as a culprit. "Many sick patients said they bought vape products containing THC, the psychoactive component of marijuana, on the black market, officials and clinicians said." This would explain why the CDC currently recommends "anyone who uses an e-cigarette or vaping product should not buy these products (e.g., e-cigarette or vaping products with THC or CBD oils) off the street, and should not modify or add any substances to these products that are not intended by the manufacturer."
Coming in from China in great quantities, THC is cheaper and more accessible when bought off the black market than vaping products sold in regulated stores. The Washington Post's investigative interviews found that "black market operators are using more thickening agents to dilute THC oil because of a crackdown by state authorities that has made the oil scarcer on the black market."
Meanwhile, a study published earlier this year found vaping to be more effective than nicotine therapy for people seeking to stop smoking tobacco, which comes with a much higher death toll. One hopes that while health officials and legislatures are considering safety measures for vaping that they keep in mind the distinction between black-market vaping products and the regulated vaping products purchased in stores, which many former tobacco smokers say have improved their health. —MR
Epstein Accused of Paying Victims to Buy Their Silence
Disgraced billionaire Jeffrey Epstein, who committed suicide in his jail cell early last month, still continues to make headlines with newly revealed sordid details of his attempted cover-up of his crimes. Even after being thrown in prison, it seems, Epstein continued to harass his victims via handlers who paid them for their silence.
Knowing that his impending trial meant the press would be digging voraciously for information, he succeeded in paying off at least two of them, according to a source that informed Page Six. Each woman was apparently given an envelope containing ten thousand dollars in cash "to make sure she was comfortable not speaking to the press." Indeed, both women, when approached by a reporter with questions about their involvement with Epstein, declined to speak about him, each saying she had already made a financial settlement with his camp.
Months earlier federal prosecutors had already uncovered similar tactics by Epstein, alleging that he paid hundreds of thousands of dollars to potential witnesses as a means of influencing the outcome of his trial. Perhaps most chilling, prosecutors also claim that Epstein made it known that "those who help him will be compensated and those who hurt him will be dealt with." —Mariel Lindsay
Meryl Streep Lends Her Voice to Charlotte's Web
Penguin Random House Audio announced earlier this week that acting legend Meryl Streep will narrate an upcoming audiobook recording of Charlotte's Web, the beloved children's classic penned by E. B. White. This new effort will be the first recorded edition in nearly 50 years, when White himself performed as narrator.
Charlotte's Web was a Newbery Honor book in 1953. It memorably begins with an eight year old farm girl, Fern Arable, pleading with her father to spare the life of a baby pig who was born too small, the runt of his litter. "This is the most terrible case of injustice I ever heard of," she tells her dad, and he puts down his ax. The pig, whom Fern names Wilbur, is still destined for slaughter, but his life is saved again by Charlotte, a barn spider who spins messages in her web to convince the humans that Wilbur is "Some Pig" too special to eat.
E.B. White's story touches on themes of change, death, friendship, and even the author's perspective on the creative life: "It is not often that someone comes along who is a true friend and a good writer. Charlotte was both," the narrator says at the end. The new audiobook will be available for download on October 29, so we have plenty of time to stock up on tissues before then. —MB
Another Person is Sentenced in the USC Admissions Scandal
While actresses Felicity Huffman and Lori Loughlin steal most of the headlines in the ongoing college admissions scandal, there are presently 52 defendants in the case, 35 of whom are also parents. This week, California businessman Devin Sloane was sentenced to four months in prison and a fine of almost $100,000.
While Huffman was sentenced earlier this month to two weeks in prison for paying $15,000 to alter her daughter's SAT score, Devin Sloane paid an exorbitant $250,000 so that his son could pose as a water polo recruit at the prestigious University of Southern California. Pleading guilty, Sloane admitted to his role in the crime and tearfully told the judge, that his crime was "unacceptable," even if he thought it was "best for [his] son." Judge Indira Talwani, who sentenced Sloane, questioned that motive, pointing out the "exclusive" nature of the coveted college and suggesting that parents like Sloane engage in fraud "for their own status."
Indeed, case evidence shows that Sloane not only staged a photo of his son in water polo equipment, but he also purchased a plethora of said equipment for the expressed purpose of committing fraud. When questioned by suspicious high school counselors, he reportedly flew into a defensive rage. The federal prosecutor commented on this entitled behavior by stating that "prison is necessary here as a great leveler between rich and poor."
Meanwhile, actress Lori Loughlin and her husband, fashion designer Mossimo Giannulli, have pleaded not guilty (unlike Huffman and Sloane). Accused of paying over half a million dollars to get both of their daughters into USC, most experts expect them to be found guilty and sentenced to relatively lengthy sentences. —ML
Good News of the Week
Science teacher Jim Freeman made sure that one of his students with spina bifida could participate in a class field trip by carrying her on his back for the duration of the outing. Ten-year-old elementary student Ryan Neighbors is in a wheelchair due to spina bifida, making it difficult for her to participate in most class trips. Her mom began making alternative plans when Ryan's class planned a field trip to hike at Falls of the Ohio State Park, which is not wheelchair accessible. Ryan's mom planned to carry her daughter in a specially designed backpack carrier when Freeman stepped in and offered to carry Ryan himself. "I overheard their conversation and said, 'We can do that. We can make that happen. Done,'" Freeman said in an interview. "When it was time to strap her in, she was ready to go. She was pumped and had a big smile on her face." Ryan's mom said that this meant a great deal to herself and Ryan. "(Ryan's) your average 10-year-old, where she wants to be independent from me," she said. "Especially because I'm with her most of the time, helping her in most of life's situations, so the fact that she got to be independent from me, and I didn't have to hover over her or be there was a huge deal for her. She felt grown." —GP
Watch of the Week
This week on the Ellen Show, a little drummer boy named Justin showcases his musical talent. Then Lenny Kravitz surprises the four-year-old fan. Watch and enjoy.
Miss our "Articles of Note" section? Subscribe to Verily Daily emails and check out our new suggested reading at the bottom, in our new "May We Recommend" section.