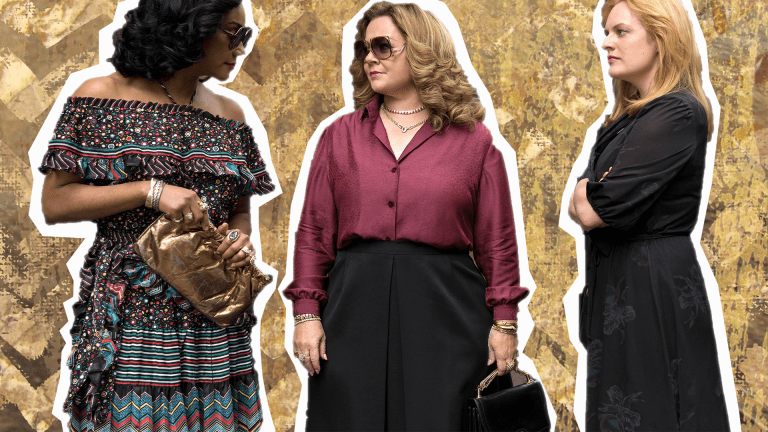 Why We Need to End the 'Men's-Movie-but-with-Women' Trend Once and for All
Films like "The Kitchen" are getting more and more common—is that a good thing?
The Kitchen, a gritty mob drama starring Tiffany Hadish, Melissa McCarthy, and Elizabeth Moss is the film industry's latest failed attempt to empower women in Hollywood. Despite its rockstar cast, the film has not been well-received, earning a whopping 22 percent on the review aggregation site Rotten Tomatoes (that's, um, really bad, in case you didn't know). In particular, critics have lambasted the production for wasting its massively talented cast on such a royal mess of a movie. "The Kitchen Wastes a Sizzling Idea and Terrific Ingredients," writes Stephanie Zacharek for TIME Magazine. "Not even Melissa McCarthy, Tiffany Haddish, and Elisabeth Moss can salvage this confusing attempt at a gangster film," writes David Sims in The Atlantic.
Written and directed by Andrea Berloff, The Kitchen is based on the DC Vertigo comic book series of the same name. According to Angelica Florio, the comic book series' "most thrilling part . . . is the way that it puts women in roles so often dominated by male characters." I could say the same of the movie—it has little else going for it. In short, it tells the story of three mob wives who take control of the organized crime operations in New York's Hell's Kitchen neighborhood after their husbands are arrested. The triumph of the story (if there is one) is that the women, previously hiding in the shadows of their mobster husbands, rise to meet all the grisly demands of their new occupation: intimidation, murder, dismembering bodies in a bathtub and then sinking them in the river, etc. As a reviewer for Slate put it, the movie's message is that "women can be just as vicious as men . . . an argument few would contest and no one asked for."
Beyond its female writer-director and strong female cast, The Kitchen is deliberately packaged—albeit rather sloppily—as something of a feminist flag planted in the male-dominated cinematic territory. The movie opens to the sound of Etta James crooning Tom Jones' "It's a Man's Man's Man's World," a less-than-subtle hint (OK, more of a flashing neon sign) of what's to come. The dialogue is drowned in clunky girl-power platitudes and feminist buzzwords. "I half-expected every scene to end with a freeze-frame high five or the women yelling 'girl power,'" writes Angelica Jade Basterin for Vulture.
At least for me, the frustration of watching some of Hollywood's greatest talent squandered on an "empty paean to girl power" is heightened by the fact that The Kitchen is not the first of its kind. As Bastein explains, "The Kitchen's faux-feminist angle isn't an isolated incident but a symptom of a larger problem in a Hollywood landscape where filmmakers and executives are aware that audiences are hungry for representation of women's stories but are widely unable to give us thoughtful considerations, instead feeling satisfied with the forgettable characterization of Ocean's 8 and on-the-nose fight scenes of Captain Marvel (set to No Doubt's "Just a Girl")."
A tired trend
This is not the first time that one or more of Hollywood's strongest, funniest, most badass actresses have wasted their time on a movie whose only apparent purpose and merit is to draw women into a previously male-dominated cinematic space, either by placing women in traditionally male roles or, more often, by rebooting male-dominated movies with female casts.
Examples abound. In 2002, Mila Kunis played, as the movie's tagline proclaimed, an "angrier, deadlier, and sexier" killer than Christian Bale's Patrick Bateman in American Psycho II: All American Girl, which scored a dismal 11 percent among critics. Three years later, at the height of her career, Lindsay Lohan played Herbie's new female owner in Herbie Fully Loaded (41 percent). In 2010, the unrivaled Helen Mirren played Prospero in The Tempest (30 percent).
But recent examples are more numerous. In 2017, I wrote about Rough Night, a gender-reversed version of the 1998 film Very Bad Things that was hailed as "the first hardcore R-rated studio comedy directed by a woman in nearly two decades." Directed and co-written by Lucia Aniello and starring Scarlett Johansson, Kate McKinnon, Jillian Bell, Ilana Glazer, and Zoe Kravitz, it seemed impossible that Rough Night could disappoint. It did, earning 44 percent on the Tomatometer. This year alone, we were gifted both with What Men Want (44 percent), a remake of the Nancy Meyers rom-com What Women Want that swapped Taraji P. Henson in for Mel Gibson, as well as The Hustle (14 percent), a remake of Dirty Rotten Scoundrels with Anne Hathaway and Rebel Wilson in place of Steve Martin and Michael Caine.
Even some of the more successful examples still fail to live up to their source material. The 2016 Ghostbuster female reboot managed a 74 percent score on Rotten Tomatoes, but the critical consensus was that the "freewheeling, marvelously cast supernatural comedy . . . can't help but pale somewhat in comparison with the classic original." Likewise, Ocean's 8 earned a 69 percent score for its "cast chemistry and flair," even though it "isn't quite as smooth as its predecessors." In other words, good, but not as good as the original male versions.
From imitation to inspiration
Surveying the wasteland of these star-studded flops and disappointments, I can't help but ask: is any of this really empowering? Some insist the answer is yes. Angelica Florio of Bustle writes that "seeing women in traditionally male roles can be empowering in itself." But is it? Is playing a two-dimensional caricature of a mobster really any better than playing a two-dimensional manic pixie dream girl?
To be clear, I don't think there is anything inherently wrong with re-envisioning traditionally male stories from a female perspective. In fact, the 2018 heist thriller Widows also tells a story of mob wives stepping in after their criminal husbands screw-up, but it does so much more skillfully than The Kitchen. So it's possible to do this kind of thing well—it's just difficult. It's not enough to cast women in male-typical roles or reboot male-dominated classics "but with women." It takes effort and imagination to revisit old ideas from a new perspective, to create what ought to be fresh, original writing. Don't women deserve that?
But re-envisioning a traditionally male story from an authentically female perspective doesn't always appear to be the goal. The objective of The Kitchen seemed to be the opposite: to showcase women in stereotypically male roles doing stereotypically male things in a stereotypically male way simply to make a statement. In which case, we're just giving the best actresses in Hollywood the worn, battered hand-me-downs of their male colleagues. That isn't progress—just more sexism masquerading as empowerment.
All of this suggests to me that we need to rethink our approach to empowering women in Hollywood, which—undeniably—has a gender problem. When women achieve the representation in Hollywood we deserve, it won't be because we got our own version of Goodfellas, it will be because we are playing (and directing) roles crafted with the same imagination and genius that made Goodfellas a classic. It will be because of movies like Ladybird or shows like Big Littles Lies and The Marvelous Mrs. Maisel—strong female productions that stand on their own and not just in opposition to the male-dominated movies of yesterday. So maybe instead of attempting to give women their own versions of every male-dominated film in every male-dominated genre, Hollywood should focus on ensuring that women get the original, brilliant, inspired scripts they deserve.