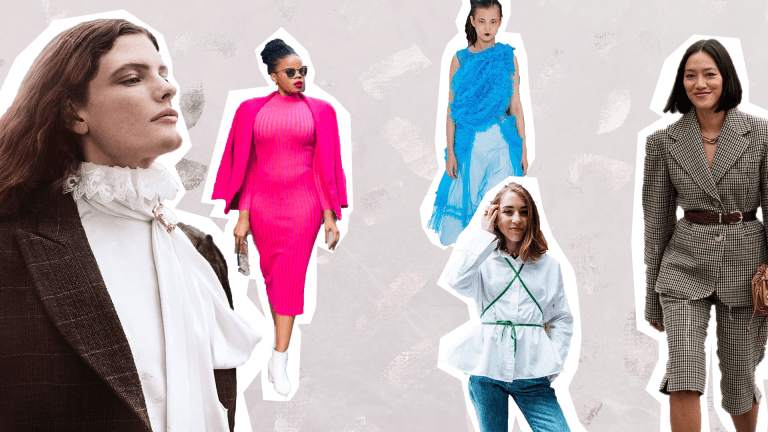 The Best of New York Fashion Week
Recreate these trendy looks at home
New York's Spring 2020 Fashion Week furthered a number of trends that have already been around for the last six months to a year—good news for you if you're excited about the return of wide-leg pants and seventies styles. Here are some of the best trends from the runways and the street that you can recreate at home.
1970s style
This look combines a fitted sweater or blouse, a nipped-in waist, and bottoms that are a little looser. Or, it could be an argyle sweater paired with a pencil skirts, for something of a sensible-librarian look. Colors often tended toward warm browns, oranges, and greens.
(Rebecca Taylor for NYFW.)
(Chloe's 1970s vibes from Fall 2019, which continued in many collections for Spring 2020.)
Volume on the bottom
Many Fashion Week ensembles featured volume that migrated down: many women wore wide-leg pants, billowy pants, and gowns with big skirts and lots of fabric. Wide-leg pants and skirts can easily be found at a thrift store, and it's also pretty easy to sew a wraparound skirt or pants. You can also add volume to the bottom by wearing a dress over wide-leg or flared pants.
(Voluminous trousers in Tory Burch's collection.)
Blazers, big shoulders, and suits
Blazers and suits are still in. Wear them oversized with camisoles, and belt them at the waist. If you want to get a blazer to match your pants for a suited look, check out the thrift store: blazers are a thrift store's strong suit. Runway styles mostly featured jackets and suits in neutrals such as grey, navy, or brown plaid, but there were some brighter colors, too.
(Street style in New York.)
Bright colors
The runway and the streets both saw splashes of bright colors: canary yellow, orange, aqua, and red. Many were entirely monochromatic outfits. You can incorporate this trend into your wardrobe by keeping your bright summer clothes in rotation throughout the year, layering them over sweaters and long-johns for warmth.
(Trisha Penn's bright street style.)
(Erdem's summery colors for Spring/Summer 2020.)
(Molly Goddard's bright blues.)
Florals
NYFW runways were strewn with florals, often large rose prints in contrasting colors, sometimes silk rose embellishments or corsages. This fall, pair your florals with black tights (also seen all over the runways this year) and a warm jacket. You can also add flowers to your wardrobe with rose patches that are easy to sew onto coats and pants.
(Tory Burch for Spring/Summer 2020.)
Embellishments
Runway ensembles often incorporated sequins, feathers, and rhinestones, especially in everyday outfits. You can dress down a sequin dress with sneakers and a blazer or denim jacket. A sequin or feathered tank can also be paired with sneaks, jeans, and a blazer, or slacks and a cardigan. Craft stores carry sequins, feathers, rhinestones, and other embellishments that you can add to tanks, sweaters, and jackets.
(Feathers in Christopher Kane's Spring/Summer 2020 show.)
Play with shoelaces as accessories.
This one's a little different: I saw a woman on the the street during NYFW wearing shoelaces tied around the bottoms of her skinny jeans. "That's interesting," I thought. Then, much to my surprise, a week later I read a post in Man Repeller about having fun with your shoelaces. One of Elizabeth Tamkin's tips was to tie your shoelaces near the hem of your pants. Will this be a trend? You decide!
(Elizabeth Tamkin wearing shoelaces wrapped around her shirt.)