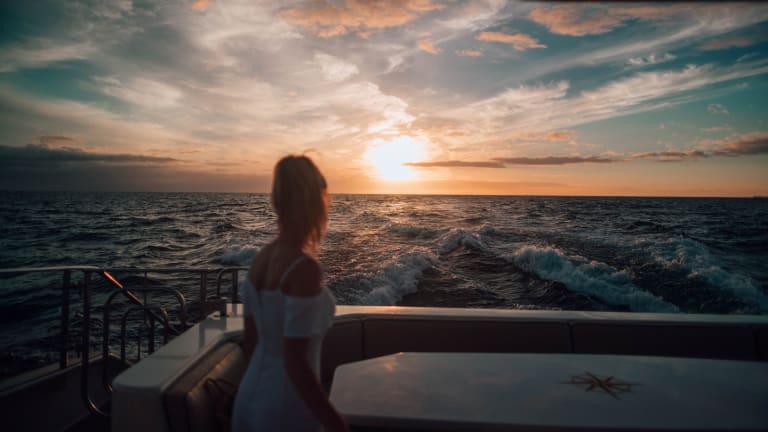 What I Learned from My 2-Month Hiatus from Work
It was in the pause that I saw the clarity.
On a particularly bleak Friday in April, I sloshed down the sidewalk to my car in a torrential downpour—the kind of rainstorm where the water stands two inches deep on the sidewalk so there is no hope for salvaging your shoes—and contemplated quitting my job.
I had a wonderful job doing deeply meaningful work at one of the largest nonprofits in the country. It was fast-paced and fulfilling. There were late nights eating pizza at the office and early mornings so busy I didn't look up to eat breakfast until noon. I started drinking coffee on this job—and I don't even like coffee.
But it had been three years, and I knew that I wanted to move to a city that I loved near my family. The palm trees of South Carolina were beckoning.
In light of some developments at work leading up to that Friday, the time had come. I handed in my resignation letter the following week and packed my bags.
While the decision itself was sudden, it had been building in the background for a while, and I did a couple of practical things to prepare before making the leap. Thankfully, I have a very supportive family that was on board with me quitting before having another job lined up, and they let me crash at home in between my new travels. I had set aside part of every paycheck for the last three years to build up a small savings account for travel. And I had paid off my car. So I was debt-free—and job-free.
I also did a lot of cleaning out before I moved. My closet was decently organized and minimal. I got rid of random books, the canvases I'd used to practice painting, and anything extra I had and did not need. This made moving a lot simpler. (Except for the massive sunflower painting I made for my office, which only fit in my convertible with the top down. So I drove home with it flapping like a massive yellow and blue sail behind my head, cranked up the music, and ignored the shocked stares of my fellow drivers.)
So began my two months of rest and travel. I spent some time with my sisters exploring the botanical gardens in Copenhagen and nearly passing out from the heat on the hike up to see the Liberty Statue in Budapest. I went to New Orleans to welcome my precious niece into the world and gorged myself on biscuits. I spent time at the beach with a dear friend, began writing a new novel, and sat by the pool with my laptop applying for jobs.
In this season I learned a couple of important things, things people tell you but that sometimes don't "click" until you take the leap yourself.
Your job is not your identity
This is, of course, much easier said than truly believed. When you find your work meaningful and it lines up with your faith, it's really easy to start blending your identity with your career. I try to remind myself that my value is not based on my performance, and my identity is rooted in my faith, not my late nights at the office. There's nothing quite like quitting your job to really test that world view.
I couldn't be identified by my work anymore because I didn't have any work to identify with. I wasn't "producing" or "adding value" as we traditionally consider it in America.
In a culture that is deeply performance-oriented, it's amazing what stepping away can do for you. Our tradition of success is so ingrained in us, sometimes we don't even see it: go to a good school, get a nine-to-five job, work hard, make money, climb the corporate ladder.
But what if success for you doesn't look like that? What if you don't want a nine-to-five and would rather work part time to pay rent but spend the rest of your effort building your own business? Or what if success for you looks like taking care of an aging parent with grace and courage? Or investing in your art?
Success looks different in different seasons. Sometimes success is prioritizing your career, sometimes it's prioritizing family or ministry or creativity or travel. Don't let our culture's definition determine your path. Decide what success looks like for you in this season, and then chase after it.
Rest is very important—get some
I had not realized how tired I was until I stopped. There were no looming deadlines, no late nights poring over my computer, no stress dreams about fundraising campaigns. The days were long and blurred together. It felt like being a kid again, to have the whole summer stretching before me.
I slept a lot those first few weeks: 10 to 12 hours a night. And it was incredible. But it also made me realize how shortsighted it is to run yourself too hard for too long. If you don't want to be burnt out by 35, it might be a good idea to reevaluate your rhythms of rest.
What surprised me most was how long it took my brain to unwind. A three-day weekend or even a weeklong vacation, while helpful, never truly gave me enough time to unplug and reevaluate my decisions. Having two months to pause, reflect, pray, and consider my options was incredibly helpful. I had enough time to truly reflect on where my life was headed and where I believed I was being called to go.
If the idea of a weekend or a couple days off is daunting or just not possible for you right now, then maybe your rhythm of rest in this season is something shorter that you can incorporate daily or weekly. An hour with a good book. A 20-minute walk alone. A yoga class. A 10-minute meditation session. Keep an eye on yourself, and make sure you get rest that actually restores your soul.
Your values are reflected in your calendar
I say that I love yoga. And I do. But if you look at my calendar from the past year, it would tell you a different story. I haven't gone to a yoga class since the fall of 2018. In reality, yoga is not a top priority for me right now, and I actually love watching Netflix more. I love cooking dinner more. I love my job more. So yoga consistently gets pushed to the back burner.
If you want to know what you actually value—take a look at your calendar. How you spend your time matters.
Speaker, author, and television host Mel Robbins has some great practical advice on this. Instead of telling yourself, "I don't have time for that," she says, be honest with yourself and change your language to, "That's not a priority for me right now." In reality, we all have time for what we actually care about. It can be a little painful to realize what your true priorities are by looking at how you spend your time, but it's very worthwhile.
I took a long, honest look at how I had been spending my days. Work dominated, but I was thankful that I had made time for friends, family, and travel too. I know that in this new chapter in South Carolina, I want community and family to be my top priorities, so I am structuring how I spend my time to make sure my calendar reflects that.
What is the life you want? And what is stopping you?
Seriously, take an hour or two and ask yourself this. What do I want? What life am I called to live? What good work am I called to do? Whom am I going to serve, and how am I going to make this world a little bit (or a lot) better?
It is insanely easy to get stuck in your routine or trapped in the expectations of our culture. But take a step back. What is it you truly want in your life? Do your commitments and actions now reflect that? Are you taking the steps you need to take in order to get there?
When I looked at my life, I realized I was not taking the steps I needed to take to be on the path to the life I wanted to live.
It really isn't as glamorous or difficult as we pretend it is. You don't have to quit your job or move to Australia tomorrow. Just take that first step. Apply for the job. Ask for the raise. Move to the city you love. Get on the plane. Walk across the street. Invite that acquaintance you want to be friends with to lunch. Say hello.
Was it hard to leave a job I loved and some of my dearest friends? Absolutely. I have pages of prayers and pages of journal entries debating the pros and cons of each possible route my life could take. But was it worth it? Absolutely.
Because at the end of the day, here's the truth: you get to choose what you prioritize. You get to choose what relationships you invest in. You get to choose how you live out your values.
So don't drift through life waiting for the magical career or the perfect person to show up. Get out and create the life you want. Step outside the box of what you're "supposed" to do, and live the life you long for. As my sister Hailey wisely said, "What if everything you have now was everything you ever needed to do everything you've always wanted?"
Take the leap.